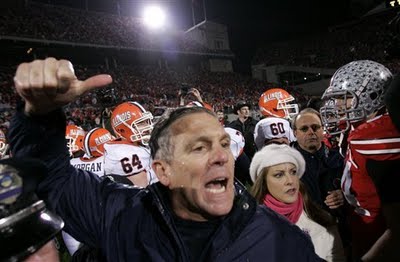 With his team's season teetering at 3-3, Coach Luke Fickell stepped to the podium in the Alumni Lounge of Ohio State's Fawcett Center today to answer the assembled media's questions. Who did the little things, which those of us in the stands didn't realize? Who was still competing? And, most pertinently, what kind of federal investigation is Kenny Guiton under to not warrant any playing time?
Things certainly won't get easier for the Buckeyes this week, as they travel to the barren stretch of land known as "Champaign, Illinois." Illinois' peculiar coach, Ron Zook, has the Fighting Illini off to their best start since 1951. Nathan Scheelhaase is fifth nationally in passer efficiency. Dynamo receiver A.J. Jenkins is averaging 135 yards per game receiving. To make matters worse, their defense ranks fifth nationally against the run. (79.5 yards per game).
HERE'S HOW IT ALL WENT DOWN:
… Coach Fickell started by saying they were "disappointed" with last week's game, but they "have to move on." He said the team will all grow and be better from the loss, as long as "they handle it the right way."
… Braxton Miller "looks like he will be okay," but Fickell noted it all depended on how Braxton performs in practice this week. Fickell also noted that "the growth is there, and there's potential to continue to grow."
… Kenny Guiton "will get some more reps," this week. Fickell said Guiton "has been getting more reps at quarterback and special teams" and said Guiton will get "more opportunities in the weeks to come."
… "Could [Bauserman] have done better? Yes, but we could've done better as coaches, we could've blocked better… We have to continue to get better."
… When asked if the game was called in a way which gave his team the best chance to win, Fickell skirted the query with a flurry of coach-speak, but did mention "hindsight is always 20/20", but there was "nothing he wanted to say publically about 'we should have done this, we should have done that.'"
… Fickell pinned the defensive meltdown at Nebraska to missed tackling, but did say the first half was about as "lights out" as the defense has been all year. "Ultimately, we didn't get the job done."
… The biggest challenge Fickell has faced in his first year of coaching is about "finding a balance in [his] life." Fickell also noted it is strenuous talking to the various groups which the Ohio State coach has to meet with because "he isn't about a lot of talk."
… Fickell refused to speculate on his future. "We don't get into that, we tell our guys not to get into that."
… Boom Herron "will get some touches," but said Buckeye fans may get their first view of him on special teams.
… The psyche of the defense doesn't seem to concern Fickell. "To me, some of the worst things happened when the guys got tired." 
… In regards to Mike Adams getting his starting spot back and Boom Herron being relegated down the depth chart: Adams immediately returned to his starting spot, but that wouldn't have been the case if Ohio State "didn't have a mix-up at offensive line."

… On Marcus Hall being back and what it would do to the offensive line, Fickell advised the media to "look at the depth chart. It will probably look a lot like last week."
… Mike Adams played "pretty well" last week.
… Nathan Williams "probably won't be with us the rest of the year… He will probably have another surgery." Fickell wouldn't shed any light on the injury, which people thought had been minor.
… Fickell couldn't speculate on why Illinois always seems to be the thorn-in-the-side of Ohio State, but said "it goes all the way back to when I was in school."
… On what Guiton could potentially bring to the table, Fickell said, "Kenny starts with his passion to play right now… He wants to play football."
… When asked about any caution being applied to Braxton due to the hits which he's accumulated thus far, Fickell said, "You're always worried about that… but sometimes, you have to do what you do best."
… A.J. Jenkins, Illinois monster wide-out, "is a play-maker. If you see a long pass from them… it's probably going to Jenkins." Fickell noted the tendency is to stuff the box against Illinois, which opens things up for Jenkins.
… Fickell declined to single out the defensive line, which was vaporized by Nebraska's offensive line in the second half. "It's on the whole unit."
… Fickell had noted the tightness of the group coming into the year, but said, "it's easy to be tight right now." With adversity hitting them in the face the last few weeks, Fickell seemed confident in the cohesiveness in the team. "I believe they're all with us."
… Ohio State has one player in the Big Ten's Top 50 tacklers. Fickell joked that other programs seemed to be much more liberal with assigning their own players' tackles.
… When the idea of permanent captains was broached, Fickell said "they made a decision [with rotating captains] and we're going to do that."
… Does Fickell have the authority to change who or how the plays are called? "Yes. Who would I have to check with? My wife?"
… Fickell makes "a couple suggestions" to the offense during the game.
… Jaamal Berry, Ohio State's lost running back, has been "most focused" with special teams. "He has a lot of ability," but Fickell noted there were other backs getting more opportunities. "I'm sure it's tough for him, but he knows it's about the team… His attitude has been right."
… John Cooper's quote of "Ohio State fans are with you win or tie," was brought up, but Fickell said the criticism from fans didn't bother him. "We love them when they're with us too," but Fickell said he may not have turned on the TV the last six weeks. He also went back to saying to saying criticism motivates him much more than praise does.