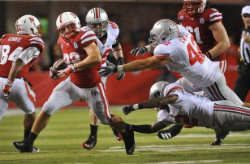 | | | | | | |
| --- | --- | --- | --- | --- | --- |
| | 10 | 10 | 7 | 0 | 27 |
| | 3 | 3 | 14 | 14 | 34 |
Most of you are like me at this very moment, frustrated and pissed that Ohio State continues to make the same mistakes as the season progresses. I am trying to be as calm as I can be as I write this, so excuse me if this seems a little short.
Nebraska made history tonight, not only were they playing their first home B1G game, the 21 point deficit they erased was the largest in the 120+ year histroy, taking down the Buckeyes 34-27.
There was hope in the first half, as Ohio State opened the game with a 13 play drive that covered 56 yards and chewed up 7:44 off the clock. After a delay of game on the first play?!?, the Buckeyes used a nice variety of pistol formations, designed QB draws and crisp passes from Miller, highlighted by a strike to Philly for 21 yards and a play action rollout to Zach Boren for another 12.
On 3rd and 10, Miller scampered 12 yards to the Nebraska 27, but another false start by the O-Line turned a 3rd and 2 into a 3rd and 7, which ultimitely lead to Ohio State settleing on a 41-yard FG by Drew Basil.
Special teams let the Bucks down once again on the ensuing kick, as the kick was short and Ameer Abdullah returned it 37 yards to the Ohio State's 46. Thankfully the defense held the Huskers and forced them to make a 50 yard FG to tie the score.
The new wave offense continued on the next series, as we actually saw a draw play to Jordan Hall for 5 on first down and then after a short pass to Devin Smith for 4, Miller scrambled for 12 yards on 3rd and 1 off another draw. After a short run by Hall and an incomplete floating duck to Fragel, Miller had a beautiful scramble for 24 yards on 3rd and 7, taking the ball to the Nebraska 32.
The next play was a thing of beauty. Miller faked the handoff and rolled right, only to turn back left and hit Stoneburner on a TE screen. Stoney made one move and had open field to the endzone. This is what we were all talking about seeing this past week.
OSU's defense held Nebraska on 4th and 1 from the Buckeyes 42 on the next drive, as Roby fought off a block to make the stop on the Husker's wildcat formation. Then after another JB Shugarts false start, Carlos Hyde took the ball and bounced right, showing some breakaway speed in his 63-yard TD scamper, that put the Bucks up 17-3 with 12:46 left in the second quarter.
Once again the defense stepped up on the next drive, forcing 3, third downs and holding Nebraska to 18 yards on 9 plays. You were probably feeling pretty good at this point and decided to oder an early round of victory shots.
A nice punt by Brett Maher gave the ball back to the Bucks at their own 6 yard line. Unfortunately, Jordan Hall couldn't pick up 10 yards on the next 3 carries and OSU gave the ball back to Nebraska at their own 43.
The Buckeye created another 3rd down situation, but in what would become a theme for the night, Sabino got beat for a 10 yard completion across the middle and Nebraska took the ball to the OSU 41. Two plays later, Martinez would find Khiry Cooper on a play action fake for 17 yards, setting up another FG to make it 17-6.
For the second stright possession, Ohio State went 3 and out, giving the Cornhuskers the ball back with :52 left in the half. On their second play of the drive, Orhian Johnson made the last significant play on the night for the defense, picking off Martinez with :15 seconds left.
The next play left you breathless, as Miller razzle dazzled his way for 29 yards to the Nebrask 18 and I'm sure the next round of victory shots were ordered as Drew Basil hit the 35-yarder to send Ohio State into the half with a 20-6 lead.
For the half, Ohio State held Burkhead to 10 yards on 11 carries, while Martinez had just 5 carries for 10 yards and was 10/13 through the air for 79 yards and that pick. For the Bucks, Miller was 4/6 for 68 yards and the TD, while also rushing 7 times for 79 yards. Carlos Hyde carried it just 4 times, but had 73 yards, while Jordan Hall struggled to the tune of 10 carries for 26 yards.
Passing
|   | Cmp/Att | Pct | Yds | TD | Int | Rat |
| --- | --- | --- | --- | --- | --- | --- |
| Miller | 5/8 | 62.5 | 94 | 1 | 0 | 202.5 |
| Bauserman | 1/10 | 10.0 | 13 | 0 | 1 | 0.9 |
Rushing
|   | Att | Yds | Avg | Lng | TD | Fum |
| --- | --- | --- | --- | --- | --- | --- |
| Hyde | 13 | 104 | 8.0 | 63 | 2 | 0 |
| Miller | 10 | 90 | 9.0 | 29 | 0 | 1 |
| Hall | 17 | 50 | 2.9 | 9 | 0 | 0 |
Receiving
|   | Rec | Yds | Avg | Lng | TD | Fum |
| --- | --- | --- | --- | --- | --- | --- |
| C. Brown | 3 | 60 | 20.0 | 26 | 0 | 0 |
| Stoneburner | 1 | 32 | 32.0 | 32 | 1 | 0 |
| Boren | 1 | 11 | 11.0 | 11 | 0 | 0 |
| D. Smith | 1 | 4 | 4.0 | 4 | 0 | 0 |
After the Silver Bullets held Nebraska to a 3 and out on the first possession of the half, Ohio State marched 47 yards on 7 plays, aided by a defensive holding call on 3rd and 8, which gave the Bucks new life and 3 plays later, Miller found Philly Brown for a 27-yarder down to the NU 7. Two plays after that, Hyde would score his second of the night from 1-yard out and that third round of victory shots was coming your way, along with a 27-6 Buckeye lead.
Then after another Silver Bullet 3 and out, the wheels started coming off and those 3 shots you did earlier would come back to haunt you.
After 2 rushng attempts by Hyde, Miller appeared to have picked up the first down on 3rd and 5, but LaVontae David simply took the ball away from him at the Ohio State 24.
Two plays later, Martinez scored on a 18-yard keeper and the Huskers had new life at 27-13.
On the next Buckeye drive, Hall went for 3 yards on first down and Miller picked up another first on the ground with a 7-yard scamper. After another false start, Hall ran for 8 and then it happened.....
Miller was trying to make another play with his feet, when he got smashed by 3 defenders and hurt what appeared to be his ankle. Miller would leave the game and it would never be the same, as The Baus came in with no warmup and promptly threw one 40 yards over Stoney's head.
Nebraska got the ball back at their own 20 and it took them just 7 plays and 2:37 off the clock to march down the field for another TD. This one was a 36-yard strike from Martinez to Quincy Enunwa. To me, this is where the defense started to look shell shocked and tired, as they would continue to miss tackles the rest of the night and allow gashing holes to form for the Husker rushers.
The next Ohio State drive showed some promise and featured Bauserman's only completion of the night. After a 12 yard completion to Philly Brown and a 15-yard penalty against Nebraska to close out the 3rd quarter, OSU got the ball to the Husker 29, but failed to get it any closer, as Hyde lost 3 yards on first and The Baus couldn't connect on either second or third. The Buckeyes would punt and pin NU at the 9.
The two teams would trade punts over the next two possessions, with Ohio State's "drive" featuring a pass from JB on first, a 2 yard run by Hall on second and you guessed it, another incompletion on third down, with the team still up 27-20.
When Nebraska got the ball at their own 28 with 10:26 left, you could sense that this game was really getting away from Ohio State. Martinez and Burkhead would combine for all 72 yards needed to tie it up. The drive took just 7 plays and 2:51 off the clock, as Burkhead rushed for 22 and caught the 30-yarder to tie the score. Remember, Burkhead had 10 yards on 11 carries in the first half.
The next drive exemplfies why Bauserman and Bollman should be the ones that are disassociated from the program. Carlos Hyde picks up 16 yards on the first 2 plays and then Bollman dials up a Bauserbomb that is picked off at Nebraska's 22.
There was simply no need for the bomb in this situation. Hyde had been the best back on the field all night and if you did want to pass it here, how about a 7 yard timing route towards the sidelines or on a comback. Nope, instead the Walrus was paying homage to Al Davis by continually calling 20 yard routes with an immobile QB under center.
Of course, the Huskers got an 18-yard run from Martinez on the first play(after an OSU penalty), with a weird personal foul called at the end of the run, that gave the Huskers the ball at OSU's 40. Burkhead took care of things from here, toting it for 22, 1 and 17 tor pay dirt to put NU up for good. 
Ohio State's last glimmer of hope for a successful season went like this: sack, incomplete, incomplete, missed tackle, missed tackle, bad personal foul call, gaping hole, Ryan Brewer wannabe running all through them, kneel down, kneel down, game and season over.
On the night, Nebraska outgained Ohio State 422-350, including a 190-107 advantage through the air. The return of Mike Adams was noticable and at least the Bucks look like they have their O-Line locked down for the season, gaining 5.9 YPC on their 41 rushing attempts. 
It looks like early word is an ankle sprain for Braxton, but if he didn't come back in, I'm not too hopeful for his chances against Illinois.
I'll let you and the rest of the 11w crew hash out all the problems there were as the week progresses, it is late and I just have to forget about this game for a little while. Let's just hope Miller can play this week and Boom Herron can inject some life into this team.
Ohio State always seems to play bad in Champaign and The Zooker has his team off to a 6-0 start for the first time since 1951.