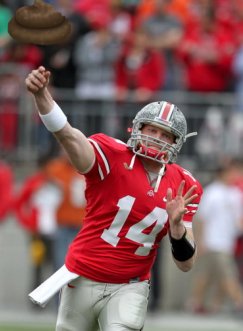 So, last week I went with a positive intro in hopes of giving the team and readers some positive mojo. Hey, at least it worked for 2.5 quarters. 
I also included a pic of Dominic Clarke as a way of introducing him to Fickell thinking that might help Clarke get noticed. Well, that didn't quite work out as I intended. Instead of being a factor in Lincoln, Fickell noticed Clarke as he allegedly brandished a Daisy Tactical Blowback BB gun on campus (ok, maybe not that particular model but damn have BB guns come a long way since I was a kid) and now The Other #5 will have to watch the game from Posey's couch.   
In that vein, I give you the picture to the right. A man can dream, right? I figured I'd better explain myself to ensure a powder filled envelope didn't anonomously make its way to 11W headquarters. 
Now that I've exposed myself for thinking I might have any control over what happens with this football team via images on the site, come sit with me and half of the 11W crew as we discuss what's happening in the land of Buckeye...
Fickell hinted in his presser that Boom will likely see action on special teams and may not be as big a factor in the running game. I know Hyde and Hall have played well but it seems like the perfect opportunity to put Hall in the slot more frequently and let Boom/Hyde share the bulk of the carries. How do you see Bollman splitting the carries this week? How would you cut them up?
Alex: I think Luke Fickell knows as well as anyone that this team can use as many offensive weapons as they can get. Boom Herron may be the most lethal of those weapons on the roster so I don't expect the time to work himself back into the rotation to take too long. I think this week, Hall gets 10, Hyde gets 10, and Boom gets 12, or something along those lines. I'd really like to see Bollman get creative in using these three backs, but it's Walrusball we're talking about here.
Jeremy: I love the work that Carlos Hyde has put in, and I love the effort of Jordan Hall.  I think that Ohio State is set at the running back position for the foreseeable future, and that the future, at this point, is more important than this year.  If Carlos is the starter, let him get the bulk of the carries, move Jordan into the slot and use him as a scat-type of back with Boom as the #2 guy out of the backfield.  Of course, the things that make sense and that we all recognize as fans rarely coincide with the things that Jim Bollman decides to do.  I expect Boom to begin this weekends game as the reserve, but once he comes in and rips off a few 10+ runs in a row, he will be left on the field most of the time.
Ramzy: Boom is by far the best blocking tailback on the team and the kind of spark that was missing during the final 20 minutes in Lincoln. But yeah, moving Hall to the slot would give the Buckeyes on more receiver that won't have a ball thrown anywhere near him (sorry, I still haven't gotten over Saturday) 
Elika: I hate Jim Bollman. 
The Illini come in ranked 9th in the country in Rush Defense yielding just 79 yards per game albeit against some shady competition. How do you see the OSU offensive line responding to that challenge?
Jason: Despite the three losses, the Buckeyes have been able to run against every team they've faced this year with the exception of Michigan State. While Champaign historically brings out the worst in Ohio State's offense, I think the Buckeyes will be able to run a bit on the Illini with the "A" offensive line in place for the first time this season.
Ramzy: I don't see them responding to the challenge. I see Jim Bollman putting them in absolutely terrible position to overcome Illinois' defensive strengths by offering nothing in the way of scheme or strategy to give Ohio State a competitive advantage. (I assume the question is to predict what will happen, not what should happen.)
Corey: I think the line has been strong all year, minus the MSU game. With Adams and Hall back in the fold, I think it solidifies this line and gives them more depth. I think OSU can run on Illinois and whoever plays QB should be handing off plenty on Saturday.
Another Fickell head scratcher was his comment about Guiton seemingly working his way into the fold as the backup QB while still seeing reps on special teams. It seems slightly idiotic to have your potential backup QB possibly injured on special teams. That said, who do you think is the backup QB and if it's Guiton where do you stand on his repping on the special units?
Ramzy: "Your car is on fire. What should you put in the CD player, Blue Oyster Cult or Chumbawumba?" If Guiton is worse enough to have had Bauserman separate from him in camp, then it doesn't matter. If it turns out that it was a grossly bad assessment by Bollman and Siciliano and Guiton is actually decent, both of those imbeciles should be brought up on charges - which they should be, anyway.
Jeremy: If Guiton isn't the backup QB come this Saturday (and let's hope we don't have to find out who actually is), then Luke might as well call a realtor and find a place to stay in Champaign, because there is no way he will be welcome back into Columbus.  That said, I don't personally care if Guiton is repping on special teams, as long as he is the guy taking the second most snaps on offense, too.  I suppose my thinking is that if he gets hurt, who cares? We are dead in the water at that point anyway.
Jason: I have to believe that's a bit of gamesmanship out of Fickell and him not wanting to tip his hand. If Guiton is indeed the backup this week, which I expect him to be, then he won't play any special teams. If Bauserman is still the 2nd quarterback in, then yes, Guiton could see more special teams action. 
The Illini pass defense is ranked just 56th nationally surrendering 217 yards per game through the air. Knowing some poor teams have had some success, what kind of passing day does Braxton need to have for OSU to pull the upset?
Corey: We have all cried out for weeks now, wanting some quicker timing route passes. Seven step drops and 20 yard routes gives this Illini defense too much time to get in the backfield. I think Ohio State needs to lean heavily on the running game and allow Miller to pass no more than 18 times.
Elika: I really think it'll be the run game that needs to win this one for us, as long as Braxton doesn't make mistakes and gives a performance that we could all call "decent" by the time it's all over, we should be okay.
Ramzy: 404 FILE NOT FOUND 
Alex: I think OSU's game plan will still be to make Illinois stop them on the ground. Eventually Zook's team will be stacking the box enough that passing the ball should be easy, even for this team. I don't think there's a set number of pass completions, etc that Miller needs to be make, but in a win I think you may see something like 10/15 for 120 yards and a TD.
Looking at the Illini offensive attack, I see they are ranked 104th nationally in sacks allowed at 2.83 per game. Can the Buckeyes exploit Illinois' pass blocking struggles? Who might be a defensive lineman to keep an eye on this week?
Jeremy: John Simon gets groped more than a Muslim at an airport, and he never gets the benefit of the doubt from officials, and I think at some point, he's going to explode and rip the arms off of an offensive lineman, and then kill the quarterback with them.  I think that happens this week.  The "other" pass-rusher that could make an impact is Ryan Shazier, but of course, he will not play because our coaching staff really loves playing the little "More guys will play this week....but not really" game. 
Jason: One silver lining this year has been the emergence of Michael Bennett. Offenses are keying on Simon and to a lesser degree, Hankins, so the emergence of Bennett is huge. If the defensive front can continue to improve, the rest of the defense will look good. 
Ramzy: I think the key is not so much with the OSU DL, which should get some push, but the OSU linebackers, who lack the lateral speed to chase a QB like Scheelhaus down when he's running away from the front four. Simon, Hankins et al need to actually finish their pressures with sacks.
Behind Scheelhaase's dual threat ability and some depth at RB with Pollard and Young, the Illini are very balanced rushing for 226 per game and throwing for 221. Still, the 221 represents just the 68th most prolific passing attack despite AJ Jenkins being a beast. As such, how would you scheme to slow down the Illini offense?
Ramzy: Lock Roby on Jenkins the entire game and force him to put his money where his mouth is. Get Sabino off the field and go smaller/faster with Bryant and Moeller. Buckeyes should spend most of the day in the nickel and they should.
Alex: I think the key is limiting big plays. As Fickell said, watch the film and if there's a long pass, AJ Jenkins is usually on one end of it. I would make sure that I am shadowing a safety to Jenkins side the entire game, while putting Bradley Roby, our best corner so far this season, on the Illini's best receiver. As far as the run game and Scheelhaase, I think the best play is to contain the dual threat. For that, our linebackers will need to step up big time after the defensive line ties up the U of I offensive line.
Elika: For starters, I'd scheme to keep OUR offense on the field a bit longer than we were able to in the 2nd half last week. YOU HEAR ME BOLLMAN?! 
Corey: I think you put Roby on Jenkins all day and try to give him some safety help over top. Ohio State has had trouble defending the crossing routes and Scheelhaase is veteran enough to find holes if OSU plays zone all day, so that needs to be tightened up. Getting pressure up front will also help force Scheehaase into quicker decisions and hopefully some mistakes. 
It seems like it's always dreary and exceptionally windy in that structure they call a stadium in Champaign which got me thinking, what stadium do you list as the most janky in the B1G? Any personal experiences to support your choice?
Jason: While I've never been to Illinois' Memorial Stadium, I've always thought that the environment has bored superior Buckeye teams into mediocrity in the past, so I have to give the edge to Memorial Stadium, Champaign edition over Memorial Stadium, Bloomington edition.
Alex: I'll have to go with Ross Ade at Purdue. While Illinois may seem a bit dreary, it at least is very historic and cool looking. Indiana even got a makeover and Northwestern is on the lake. Purdue just has nothing.
Corey: I think it's a tie between Illinois and Indiana, but the Hoosiers take the slight nod. There are only a couple of ways into Bloomington and if there is any construction or traffic problems, you're screwed. Plus, there is really no tailgating scene and just a ho-hum environment in general. At least Illinois is good every now and again.  
Elika: I've been to 7 B1G stadiums, and while I thought Michigan was pretty sucky before their upgrade... Purdue and Illinois were the worst.I went to Purdue in '09, and I'm sure we all remember what happened there, so I'll give them the benefit of the doubt that my opinion was tainted. Illinois was gloomy, drizzling, filled to a whopping 70% capacity or so... and other than Beanie literally HURDLING a grown man while I watched from field level because you can get so freakin close there, was nothing to write home about.
Fickell announced Tuesday that Nathan Williams is done for the year and appears to be facing a 2nd knee surgery. It sounds like a medical redshirt is the plan but as amateur doctors, do you see him being able to actually come back next year and be a legit player?
Corey: He will be fine, now that he has a year to heal it. It actually could be a blessing in disguise having him come back next year. He gives this defense 10 starters back and will be that leader this team lacks. I really think his presence has been missed more than anyone else this year. 
Jeremy: I think the idea of Nate coming back next year (along with almost everyone else on the defense has to have Urban Meyer salivating.  I don't see any reason Nate can't come back and be a star after a year off.  
Alex: I think as long as he gets the surgery and commits to rehab he can definitely come back and have a big impact. We really could use him this year as a pass rusher, but with the way this season's going, maybe it's a blessing in disguise he's back for 2012. He may not be 100% of what he was right away, but I'll take 80% of that, because right now it's still better than the play we've gotten out of the LEO position.
Bollman thought it wise last week to throw on 10 of the 18 Bauserplays once Braxton got hurt. In turn, what property of yours did you think it was wise to destroy as you watched the collapse unfold?
Ramzy: I lost an entire year of my life that second half.  Bollman belongs in jail for crimes against basic football logic.
Jeremy: For me, it was my liver.  Don't need that anyway, right?
Elika: My dignity. Bollman seriously has me one loss away from getting perma-banned from my favorite sports bar in California. It also happens to be a mecca for B1G fans... did you know they all hate us? Who woulda thunk?! 
Corey: My eyes. 
If you could ask Bollman one question in a presser, what would it be? How would he answer?
Jeremy: I would ask him exactly what he is doing in the unflattering photos of him that Joe Bauserman must own.  I imagine his answer would be something along the line of "Look at how I balance this ball on my nose!" 
Ramzy: Me: "Coach Bollman, where do you see yourself in six months - bagging groceries or selling insurance?" Bollman: OY OY OY (chews on microphone) OY OY OY OY OY." (poops in pants)
Alex: What Ramzy said.
Elika: I'd ask if he thought of Adam James while he was locked in a closet for 2.5 hours in Lincoln, and how did he eventually manage to find his way out? He'd likely respond incorrectly and then have Fickell make a statement that his wrong answer cannot be pinned on to one person. 
Who probably has the "better" Affliction collection, Zook or Fickell?
Alex: The question should have been who wears boxers and who wears tighty whities. Zook is definitely a tighty whities guy.
Ramzy: This is obviously Fickell. Zook is an Ed Hardy guy.