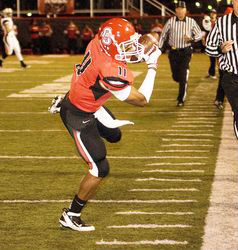 Welcome back Buckeye fans to another edition of the 11W Recruiting Notebook.
It's really hard to keep focus this week on anything other than the weekend ahead, as I'm giddy to be returning to Columbus to partake in all the Eat Too, Brutus festivities, as well as having a mini-college reunion, as about 15 of my old OSU buddies are making the trip back to town as well.
The coaches are pretty excited about the Wisconsin game as well, not only because they get the chance to avenge last season's upset up in Madison, but also because a game of this magnitude offers a tremendous opportunity in the recruiting world.
Night games at OSU, while not so friendly to the Buckeyes in recent history, always do set a great environment. After a day of boozing, the crowd is extremely loud, into the game, and energy is high for the home team. In addition, the game will be broadcasted nationally on ESPN in primetime. What better way to be brought to the recruiting forefront than for prospects to attend such a spectacle in person or get to watch the game on their home TVs in wherever they reside throughout the country?
In this week's notebook, we take a look at some of the prospects that will be making the trip to Columbus for this weekend's game, how the committed Buckeyes faired in last week's contests, and which high school senior Luke Fickell chose to go watch during the Buckeyes' bye week.
Friday Night Lights
Thanks again to Matthew Hager of BSB for providing this great rundown of all the action in Ohio High School Football on a weekly basis, as well as our correspondents out in Buckeye territory that help fill me in and future OSU stars.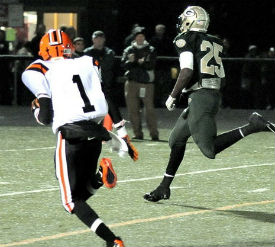 We start this week in Cincinnati, where Columbus DeSales took down LaSalle 52-7. Warren Ball was the talk of the night, compiling three of his four touchdowns in the first quarter and totaling 67 yards on 18 carries. The Stallions moved to 5-3 on the season with the victory.
With a 34-0 win over Grove City, Pickerington Central clinched a share of the OCC Division title, which would be their sixth in a row, as they start to channel the Tressel Era Buckeyes. Roger Lewis caught a 40-yard touchdown pass for the Tigers, while Jacoby Boren continued to be a monster on both sides of the line for Central. 
Bri'onte Dunn continues to help Canton Glen Oak to one of the better seasons in school history, as they improved to 8-1 (4-1) on the season with a 38-13 win over North Canton Hoover. Dunn racked up 154 rushing yards to go along with 3 TDs in the win.
Steubenville continued to prove it was the real deal, beating Massillon Washington 24-7 on Friday night. Najee Murray had an outstanding game for the Big Red, rushing for 34 yards, and catching a touchdown in addition to 67 yards receiving on offense, while playing lockdown defense to hold the Tigers to just 5 first downs and 106 yards of total offense. Steubenville improves to 9-0 on the season.
Josh Perry did all he could, but it wasn't enough as Olentangy fell to Westerville South 42-20. Perry ran for two touchdowns, while also throwing another on a half back pass, but on defense he and his teammates couldn't stop the Wildcats from pulling away in the final stretch of the game.
Finally, while his team lost 22-0 on Friday, there is some good news about Tyvis Powell in this article. I suggest you give it a read, but be warned, you will fall in love with this true-blooded Buckeye all over again.
Weekend Visitors
Speaking of the committed Buckeyes, almost all of them are expected to be in town this upcoming weekend for the Wisconsin game. Some of the verbals we could confirm to be in attendance include Bri'onte Dunn, Frank Epitropoulos, and De'van Bogard, but word is that it would be surprising if any of the 2012 commits were not in the 'Shoe on Saturday. While these names will be familiar to fans at the game, there will be some other big time prospects in the house to soak things in.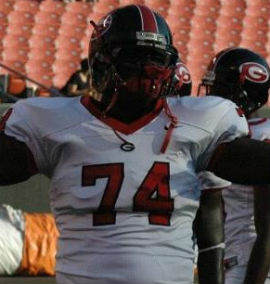 Bogard will be bringing down a Glenville crew that includes Alex Pace, Justin Hardee, V'Angelo Bentley, Sean Draper, and Willie Henry. None of those prospects have Buckeye offers at this time, but word on the street is that the 6-3/270 defensive tackle Henry is close to landing a scholarship from OSU. Keep a close eye on the situation this week as Henry may be the next Tarblooder to hop on board the Buckeye train.
Other 2012 players that are expected to make the trip are Cincinnati LaSalle LB Joe Burger, Gahanna Lincoln PK Tyler Grassman, Trotwood-Madison OL LJ Mosley, Upper Arlington OT Jimmy Henry, Trotwood-Madison DB Bam Bradley, Cincinnati Taft DE Adolphus Washington and WR Dwayne Stanford, and Fork Union Military Academy QB Cardale Jones and WR Michael Thomas. Out of that group, all but Burger and Grassman have Buckeye scholarships, as they are still waiting word on if they will be offered.
2012 players that are not confirmed, but may be in attendance are OL Alex Kozan and S Demetrious Cox. Kozan recently landed a scholarship offer from OSU, his childhood favorite, and will make the trip from Colorado either this weekend or for the Indiana game the following weekend. Cox has mentioned possibly coming to Columbus for an unofficial visit, which would be a huge coup, considering many feel the Bucks are dwindling in his eyes.
Finally 2013 prospects expected to be in attendance include Warren Central (IN) LB Tim Kimbrough, Fort Wayne (IN) Bishop Luers LB Jaylon Smith (brother of Rod), Richmond (VA) Heritage RB Derrick Green, Middletown ATH Jalin Marshall, Shaker Heights WR De'Niro Laster and DT Donovan Munger, Trotwood-Madison DB Reon Dawson, DB Cameron Burrows, LB Michael McCray, and DE Trey Williams-Brown, Westchester Lakota West OT Kyle Meadows, Huber Heights Wayne OL Lovell Peterson, Centerville OT Evan Lisle, Kettering Alter QB Malik Zaire, Cleveland Heights WR Shelton Gibson, Colerain OT Dylan Wesiman, and Cardinal Mooney LB Courtney Love.
It's safe to say we have a full house folks. Get loud.
Fickell Showing Face
It's not every day that the head coach of The Ohio State University shows up to your game to watch you play and let you know he's more than interested in bringing you to Columbus.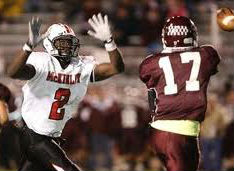 Well, it was that day for Canton McKinley DE Se'Von Pittman, who had Buckeye head boss, Luke Fickell, show up to his game Friday evening to see him play live and let him know that despite his commitment to Michigan State that the Bucks were still going to show him some love..
Pittman was once though to be a lock to end up in Scarlet and Gray, but things changed a bit once Tatgate hit hard and forced the resignation of Jim Tressel. Pittman had developed a good relationship with The Senator, and with that gone, the opportunity for Mark Dantonio to jump in and capitalize on the chance to sell the McKinley stand out on the Spartans came to the horizon. Pittman committed to MSU in the summer and has said he is solid on his decision.....for now.
That "for now" is a fine line, as Pittman made a visit to Columbus for the Colorado game. While he claimed the visit was just to watch his old teammate and good friend, Steve Miller, he was indeed a guest of the university (as compared to taking one of Miller's ticket allotment) and rumor has it that he was the one who reached out to the staff to feel things out. Pittman took a visit to East Lansing for the MSU-Michigan game and said he had a great time, but once again, didn't close the door on how firm his verbal was, once again using the verbiage "for now".
Many, including myself, think Pittman is waiting to finalize things once he hears the NCAA's ruling on Ohio State, as well as who the next coach will be. All of that should be wrapped up in early December, so don't expect to hear too much more on this front until then. It is still about 50/50 whether Se'Von actually takes an official to Ohio State, but those odds go up big time if the Buckeyes get a favorable ruling from the COI in the next month or so.
This one should be fun to watch, as until the ink goes on the paper, Pittman is still in play for the home state team.