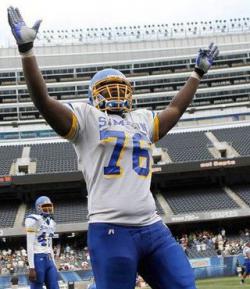 Lost in all the hysteria over what is turning out to be the darkest year in Ohio State football history, is the fact that there may be a very exciting future lying ahead. That future may (very likely) or may not consist of a new football coach, but one thing that will certainly be included is a new group of talent from the recruiting classes of 2012, 2013, and 2014.
Now more than ever, recruiting is extremely important for Ohio State. Forget the output on the field, the damage control needs to be done off the field. Florida State, Miami, Alabama, Michigan, and others could tell you how the stuff that happens outside of the gridiron can affect recruiting and, thus, your future on the field. It is impreartive that the bleeding stop now and the powers that be at Ohio State hold on to the standstill going on in the recruiting world before the negative spiral takes its course and the momentum of a new sheriff in town comes too late.
That being said, we bring you to this week's edition of the 11W recruiting notebook. In this feature we'll talk about the players that may be responsible for bringing the Bucks back to the top, news on a potential player that Jim Bollman's successor could be working with, and some hardwood news. Join us after the jump for the latest in the Buckeye recruiting world.
Friday Night Lights
Thanks to Matthew Hager and some other contributors, we can bring you another week of what went on around Ohio High School football in the past week.
Warren Ball rebounded from a poor performance last week, to amass 171 yards and 2 TDs on 27 carries in a 27-10 win over St. Charles. It's going to be a battle until the end to see whether Ball or Bri'onte Dunn are rated higher in the final rankings, and both backs (more on Dunn later) are certainly making their case.
Pickerington Central was spurred by a Roger Lewis 98-yard kickoff return for a touchdown and took that momentum all the way to beating Gahanna Lincoln 28-7. Jacoby Boren also played a stellar game for the Tigers, as he continued to star on both the offensive and defensive line for Pick Central.
Across town, Pickerington North defeated Reynoldsburg 41-6 in an easy victory. Stars of the game were 2013 prospect Jake Butt, who caught two touchdowns at tight end and also recorded two sacks and three tackles for a loss at defensive end. Buckeye commit Patrick Elflein contributed as well, opening up holes all night on the offensive line and returning an interception for a touchdown while on defense. 
Frank Epitropoulos was out three games due to surgery on his thumb, but returned to action on Friday in a 33-0 Upper Arlington victory (their 600th) over previously undefeated Hilliard Darby. "Frank E" caught 4 passes for 84 yards, including nabbing 2 TD grabs of 53 and 11 yards. The super athlete could end up playing receiver, safety, punter, or some combination of the three at OSU and it was good to see him get back into action for the Golden Bears.
Roger Lewis wasn't the only one to take a kick to the house this week, as Najee Murray helped Steubenville to a 41-0 win over East Liverpool with a 95 yard return on the opening kick. Murray also helped the 6-0 Big Red hold East Liverpool to just 69 yards on the offensive side of the football.
In a tough game against rival Olentangy Liberty, Josh Perry scored two rushing touchdowns in leading Olentangy to a 13-7 win. Perry had 91 yards on 24 carries, as well as played a stellar linebacker to help his team get back to .500 on the season.
Finally, Luke Roberts ran for 192 yards and 2 TDs in a 28-7 Lancaster win over Grove City. Roberts, who will play linebacker for the Buckeyes, showed impressive athleticism, running through and around defenders on his two touchdown runs of 40 and 54 yards.
Mr. Football Ohio?
You'll notice we talked about Warren Ball above in FNL, but left out Bri'onte Dunn. That's because the super back from Canton Glen Oak (6-0, 3-0) deserved his own segment this week after a gutsy performance in a 16-7 win against rival Canton McKinley.
Dunn, coming off an in injury in his previous game, rushed for 17 times for 73 yards, including a TD run to put Glen Oak ahead 9-7. The most impressive thing about Dunn's outing was that the touchdown, as well as 15 carries and 70 yards all came in the 4th quarter after the big back was limited for most of the game, but stepped up most with his team trailing 7-3 entering the final stretch of the game.
Dunn has put up eye boggling numbers this season, but its effort like this that puts a player over the top when it comes to the recruiting rankings. It also won't hurt his candidacy for Mr. Football in Ohio, an award he'd certainly like to add to his mantle. 
Check out video of Dunn's game against McKinley here.
No DiamonD IN ThE Rough For Bucks?
It's no secret that the Ohio State offensive line is thin. The Bucks lose three seniors after this year in Mike Adams, Mike Brewster, and JB Shugarts, making a unit that consists of just seven rotating players this year looking even bleeker for 2012.
While Andrew Norwell, Jack Mewhort, Brian Bobek, Corey Linsley, and Marcus Hall seems like a decent line, the coaches are looking for more players in the 2012 and 2013 classes to come in and play right away. The biggest name on their recruiting board is Jordan Diamond, who appeared to have OSU, Wisconsin, and Iowa at the top of his lsit, but things may have changed after his visit to Camp Randall this past weekend. 
I am hearing Diamond's trip up north went extremely well. Not only did he get to see Wisconsin's offensive line manhandle Nebraska in a 48-17 win, but he also got to experience the great atmosphere that the Badgers fans bring for a night game in Madison. Factor in the recent success of UW linemen in the NFL, coupled with the close proximity of the school to his Chicago home, and it almost feels like a match made in heaven for Diamon and Bret Bielema.
Don't count out the other B1G o-line factory in Iowa, or the Buckeyes just yet. There's a reason the Hawkeyes have been on Diamond's list from the start, and the Bucks obviously provide this stud prospect with the opportunity to compete for a starting tackle job as a true freshman. If Urban Meyer or another big name coach comes on board, OSU's chances can get even better, but either way it looks like a Diamond decision is still a little while off.
Hoosier Daddy
Buckeye fans may be saying that to fans of the schools in Indiana if they can pull off one of the great upsets in recent basketball recruiting history.
Gary Harris, unanimously regarded as one of the top basketball players in the entire nation, seemed to be down to a final list of Indiana, Kentucky, Purdue, and Michigan State. He said he'd be taking official visits to all four schools, but left his fifth visit up for grabs. That visit may go to the Buckeyes.
Ohio State was originally in the thick of the race for Harris, but things cooled a bit when scholarship numbers seemed to favor a big man coming to Columbus. Sully's successor may still be on the way, but apparently something has caused the staff to rethink their interest in Harris, as Thad Matta paid a visit to the star's Hamilton Southeastern High School on Tuesday morning. 
Now don't get too excited, it's still a longshot to beat Harris's four favorites, but with Thad Matta's recent success of putting freshman in the line-up and then right to the NBA, don't be surprised if Harris shows a good amount of interest in checking out what Ohio State has to offer. A deadly off-ball guard could be just what this team needs in 2012-2013, so this is definitely a story to keep an eye on.