Buenos días, amigos. Forma en que se este hermoso día?
My apologies for the Spanish lesson, Buckeye fans.  I am merely preparing you all for the linguistic escapades you'll no doubt experience as you travel to Miami this weekend. The sun, the beach, the paid-for hookers...ahh...that's real beach living.  Please remember to keep on the lookout for LeBron James this weekend, as he surely will find a way to infuriate many of you by supporting the Buckeyes ("He surrendered that right last summer, that "Decision" makin' SOB").
As we start off the football watching portion of your week, look towards tomorrow night's slate to get a barometric reading on where the young Buckeyes are heading into Saturday. Toledo hosts Boise State in the Glass Bowl Friday, and it should answer some questions about whether the Buckeyes played that poorly last week, or if Toledo is the real deal this year. Stay tuned for lamenting and gnashing of teeth.
MOORE OPPORTUNITY FOR JT. No, not that JT (although I have often thought there was a way to get him back into coaching again without drawing the attention of the NCAA), J.T. Moore, the redshirt freshman DE from Youngstown.  Moore, who got his first career start last week against Toledo will see extended playing time again this weekend after Jim Heacock confirmed that senior Nathan Williams will be out for an indisclosed period of time following a knee scoped Wednesday morning. Moore, who struggled against Toledo (he was the guilty party on the whiffed block that led to the blocked punt), will be expected to step up his game early against an experienced Hurricanes line.  Against Toledo, Moore was credited with three tackles, including one solo stop. 
The Buckeyes thought initially that Wiiams would be available this weekend. However, as his leg continued to bother him, it became necessary to get the surgical procedure done.
MILLER TIME? No, not that Miller. I mean Steve Miller. No, not that Steve Miller, although I would argue that we could all use some "Jungle Love" after last week's heart-stopper against the Rockets. I mean team joker Steve Miller, the lauded freshman who followed in the footsteps of Mike Doss and Kenny Peterson among others, and matriculated to Columbus from Canton McKinley High School. As a top 10 recruit at his position, Miller was one of the first freshman that many Buckeye fans expected to see make an impact on the field this fall, and although he has played sparingly, he has not "flashed" in the way that others, like Michael Bennett, have. This weekend may be his best chance to make an early season splash, as the Buckeyes will rely on a heavy rotation of defensive lineman to try and wear down Miami's line and to put Jacory Harris on his back.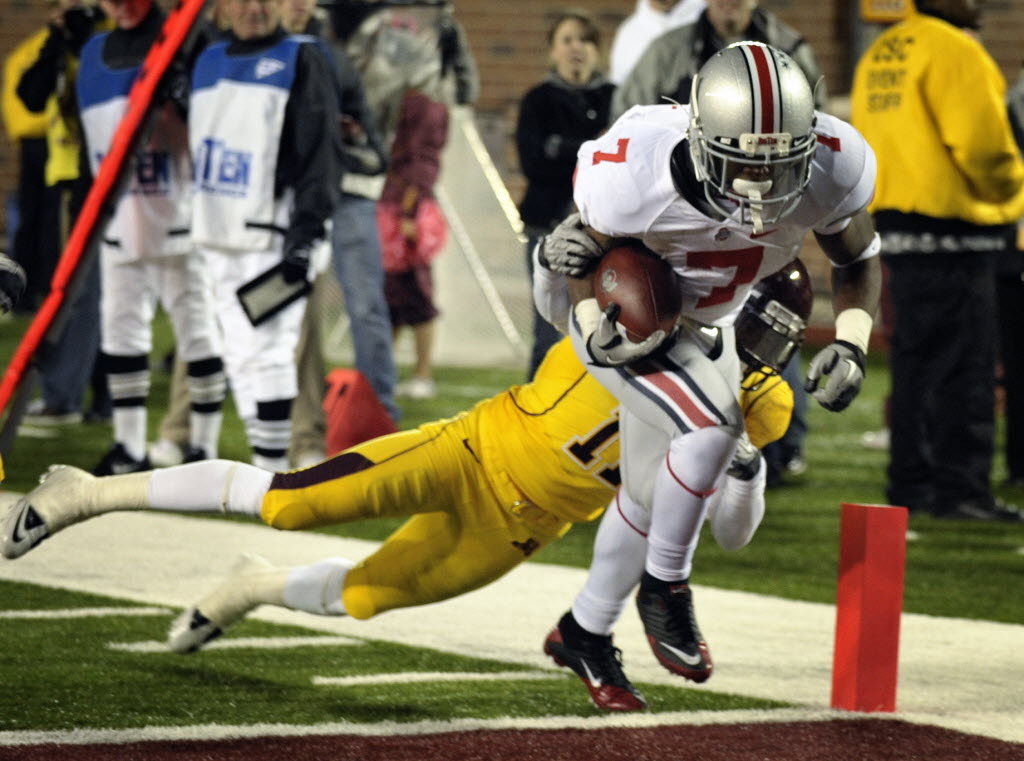 HALL RETURNS, CARLOS HIDES. With the return of tailback Jordan Hall this weekend, the Buckeyes instantly find themselves back to near full strength at running back after two games at half-capacity.  Last week, when the Buckeyes thought Hall would be eligible for return, Carlos Hyde was still listed ahead of the Jeannette, PA native on the depth chart.  That does not appear to be the case this week, at least according to Jim Bollman, who said Wednesday that Jordan Hall would take over the starting responsibilities. Hyde, who has 39 totes for 169 yards in the season's first two games, has been consistent, but not spectacular.  He also has five catches on the season, including 4 in the opener against Akron, Hyde had been forced into being a focal part of the Buckeye offense so far this year.
It would not be surprising to see Jordan Hall match that productivity in the passing game this weekend, especially with the loss of sophomore WR Philly Brown, who injured his ankle against Toledo. Perhaps the most versatile of the Buckeye backs, Hall will bring additonal value to the field for Ohio State as a kick and punt returner.
PRYOR DISCOVERY, CURRENT PROBLEMS? Yesterday, Ohio State booster Bobby DiGeronimo admitted that he was responsible for the "charitygate" players being suspended. Yesterday, Ohio State, which had previously allowed players to attend this charity event, acknowledged that the payments were made by a university booster.  The revelation apparently came to light when former Buckeye QB Terrelle Pryor was stating his case for NFL eligibility.  Pryor, attempting to prove his Ohio State days would be over, was put in a position where he had to lie to protect his teammates who broke rules with him, or tell the truth to make sure that his closet full of skeletons was completely exposed.
Interestingly enough, at least from what I can discern, it doesn't appear that the players receiving money for attending the event was in itself against NCAA rules. Instead, the main issue was the decision to attend without getting consent from the school. By not clearing the event with the school, the players prevented the school from verifying the reimbursement amount before they (OSU) gave the money to the players seems. The NCAA does allow for players to receive money in these cases, as they state in their bylaws (12.5.1.1):
a noninstitutional charitable, educational or nonprofit agency may use a student-athlete's name, picture or appearance to support its charitable or educational activities or to support activities considered incidental to the student-athlete's participation in intercollegiate athletics, provided the following conditions are met: (a) The student-athlete receives written approval to participate from the director of athletics (or his or her designee who may not be a coaching staff member), subject to the limitations on participants in such activities as set forth in Bylaw 17....(f ) The student-athlete may accept actual and necessary expenses from the member institution, member conference or the charitable, educational or nonprofit agency related to participation in such activity..
MICHIGAN MOMENT. After watching the Michigan football team for the last two weeks, I have come to the conclusion that they are, for all intent and purpose, the same exact team they were a year ago. Yes, they are a bit more successful blitzing the quarterback than they were a year ago, and their receivers are a bit better at catching poorly thrown balls. Denard Robinson, without a doubt one of the most electrifying players in the country, seems to have had the plug pulled on his dynamic skill set, and that makes me giddy.
Robinson, who somehow managed to be named the Davey O'Brien Quarterback of the Week despite only having four completions through three quarters against Notre Dame last Saturday, is out of his element in the pocket, and it is glaringly obvious. His successes against the Irish were nothing but jump-balls, and Notre Dame's defense, hardly the most athletic in America, was able to contain his rushing ability for the majority of the game. Yes, Denard got 100+ on the ground, but at roughly six yards per carry, the Irish did a nice job most of the game, only giving up one big run (at a crucial time, of course). Robinson is a true weapon in the offense if UM lets him play to his strengths, but if Michigan OC Al Borges is counting on Robinson's receivers averaging 33 yards per catch, he may want to re-evaluate his offensive scheme.
One thing that night did leave me surprised though, was the atmosphere in Michigan Stadium. It impressed me that they so recklessly disregarded the impending wine headaches that Sunday morning assuredly brought them, as they cheered for the home team. No doubt they were late to brunch the next day.
QUICK SLANTS. This gives a whole new meaning to "Taste the Rainbow"...Karma doesn't play nice...Well, that was unexpected (NSFW - watch speaker volume)...Former Buckeye MVP started Miller Time...Credit where credit is due - ESPNU mascot logos are pretty sweet.