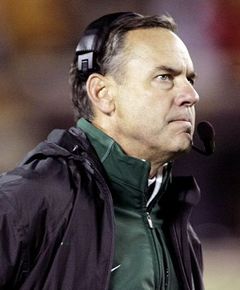 Ah, Sparty. When I was a kid I harbored an unusually strong hatred for the Michigan State Spartans, mainly due to a night game in 1998 that ruined my dinner at Lone Star Steakhouse and turned my traditional teenage frown into a full on scowl.
But that was then. Then, I was young, foolish, and spiteful, and as the years went by I would grow to understand, and yes, even learn to love Sparty. Because the truth of the matter is that the essence of college football is chaos and throughout the years the Michigan State Spartans have been the closest thing to some unholy combination of Loki and Willy Loman that will ever exist in organized sports.
Even when these guys find themselves on the winning side of the coin, everyone and their mother knows that it's only a matter of time before the universe corrects itself and MSU ingloriously falls flat on its face in dramatic and oftentimes hilarious fashion.
In 2011 the Spartans had one of their most successful seasons ever, winning 11 games for the first time in school history and being the Big Ten's representative in the Capital One Bowl. Edwin Baker had over 1200 yards on the ground, Kirk Cousins threw for over 2800 yards and 20 touchdowns, and it looked like for once, maybe, the Spartans had overcome their sisyphean nature and established a foundation for a consistent future.
But that's only if you ignore Mark Dantonio having a (probably) victory induced heart attack and Sparty losing to Alabama by 42 in the bowl game. And then getting completely torn apart against Notre Dame this year for no reason.
Ah, Sparty.
Opponent
On paper the Spartans field one of the best teams in the Big Ten. Mark Dantonio still opts for a run-first venture, but the heartbeat of the team is still Kirk Cousins. Captain Kirk (oh ho ho) has improved every year he's been a starter, evolving into one of the best quarterbacks in the Big Ten. Against the Irish he threw for over 300 yards, but if Cousins ends up throwing over 50 times like he did in South Bend, something is amiss in the Spartan offense. His role is to be a facilitator, and he does it pretty well; 200ish yards and a couple of TDs is what you get out of this guy almost every time. Unless he doesn't, like say, at the end of the game in the opponent's red zone.
Edwin Baker and Reynoldsburg native Le'Veon Bell are here to make Kirk Cousins look way, way better than he might otherwise. Baker's spirit animal is Javon Ringer, but truthfully this year Bell is the guy who has looked the best of the two of them so far this year. Bell is a big dude who can wear out a defense if given the opportunities, but that brings us to the unit on the Michigan State team which will probably decide the outcome of the game.
The Spartan offensive line is more or less made from the hopes of small children and bits of string at this point. Injuries have decimated this unit, with three guys expecting starting or significant playing time out against Ohio State. Left tackle Dan France was originally a defensive tackle, and his backup Micajah Reynolds has more or less the same backstory. Notre Dame's d-line ate these guys for breakfast and neither Bell or Baker could get anything going on the ground, effectively shelving their offense.
Statistically MSU has the best defense in the nation; in reality it isn't as good as some nice games against FAU and Central Michigan would have you believe, but for our purposes all that really matters is that they're at least as good and probably better than Miami. The d-line has William Gholston, Big Vern's cousin, but the real star is DT Jerel Worthy, who will likely make every Dave play even more excruciating to watch than usual.
The other two units on defense don't provide any household names, especially after the loss of Greg Jones, but cornerback Johnny Adams (woah, cool name, bro) has experience and will make plays when provided with a boneheaded mistake. What's more important is that this group is very gap sound and solid on fundamentals, and given their propensity to go into nickel quite often, should have a pretty interesting dueling banjos thing going on with the OSU defense during the game.
Buckeye Breakdown
Normally I start with the offense here, but I truly think that this game will be won or lost depending on who wins the battle between Michigan State's offensive line and Ohio State's defensive line. Hankins, Bennett, et al should be able to be solid against the run, but they absolutely cannot miss on tackles. Until Nate Williams' injury, John Simon was mostly seen lining up closer toward the middle of the line, but recent weeks have seen him moving closer towards the Leo role. If he can be effective coming off the edge and stay on the field, OSU should have a decent shot at containing MSU's run game.
Moving Christian Bryant into Orhian Johnson's spot has paid dividends so far, and hopefully Tyler Moeller continues to improve along with the rest of the secondary and safeties. They'll need to be solid against WR B.J. Cunningham, who is off to a ridiculous start in 2011, but even more worrisome is that Andrew Sweat and the rest of the linebacking corps will be asked to not screw up their coverage assignments against the billion or so TE's Sparty will throw at them. Ryan Shazier getting more and more playing time sounds pretty awesome, but may be less so if he ends up forgetting which coverage scheme the defense is in and a tight end gets behind him for a 30 yard gain.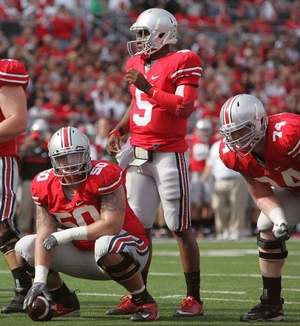 Hard to say exactly how much Braxton Miller is going to be able to get from the MSU defense. This may be another situation like last week where Miller ends up being about as effective on the ground as he will be through the air. Michigan State's obvious play on defense is to stack the box with like 8 dudes and just blitz everybody else, but this could lead them to overextend themselves and allow Braxton some room to pick up yards on the ground.
Jordan Hall still needs to keep 'em honest, though. The offensive line has been playing at their highest level in years, so Hall (and Hyde) should in theory have the opportunity to strut their stuff against a pretty decent linebacking corps. Still, both of those guys will probably find it tough going unless receivers can get some open looks downfield. Jake Stoneburner has disappeared in the past few games, and if he could re-emerge in the endzone with a couple of footballs, that would be a pretty huge help.
Finally, there's a better than decent chance that special teams will play a significant factor in this game. The Buckeye special teams unit has been coming on strong lately, what with Ben Buchanan and Drew Basil both having two consecutive games of excellence and the return game looking strong. Michigan State has had some special teams lapses recently, and boy oh boy wouldn't it be just perfect for them to lose on a punt return or something?
Prediction
Braxton Miller runs this show now, and this is the first time where he might be asked to win the game. A lot of the passes that he misfired on last week he'll absolutely have to be able to hit this week; MSU's secondary won't give up much, and if their d-line gets pressure things could get pretty hairy for the freshman. Zero turnovers is a must, because I think that eventually either Bell or Baker are going to break out on a run and get a quick 6 for Sparty. Right now Ohio State is not a team that can play from behind, and unless the Spartans hand the game back to the Buckeyes, this game will have to be all about ball control.
Last week the 11W council of elders was almost as divided as we are this week, but Sam managed to claim the crown of King Cool Guy with a prediction of 42-13. This week we've got some dissension in the ranks with some calling for an OSU loss, but in the end we feel that the Buckeyes will pull out a squeaker at home:
Ohio State 22, Michigan State 19