Happy B1G Conference Schedule Kickoff Eve, my fellow Buckeyes. What a big day we have coming up tomorrow!
Luke Fickell enters his first B1G game as a head coach. Kirk Cousins has the privilege of playing in the 'ol Horseshoe, down by the banks of the mighty Olentangy River. And Mark Dantonio tries again to nab his first victory over the Buckeyes as Sparty's fearless leader. Perhaps third time's a charm? We shall see. Till then, some goodies for your reading pleasure...
JAAMAL BERRY, DAZED AND CONFUSED. In a bizarre story on Thursday, The Lantern reported that running back Jaamal Berry was involved in an assault on the OSU campus, in the South Oval, on Wednesday morning. Allegedly, Berry assaulted another student with his "hands, feet and teeth," according to the police report, which listed the incident as a misdemeanor in the first degree.
Witnesses stated that Berry seemed disoriented after the fight, in which he was wrestling with the other student down on the ground. Berry was unaware of what was going on around him, and a police officer at the scene said he was "mentally unable to provide me with any of his emergency contact information." Luckily, Berry agreed to go to the OSU emergency department after the incident to get checked out. 
Jerry Emig, Associate Director of Athletics Communication, stated that the athletic department does not yet know if this will affect Berry's ability to play in the game this Saturday against MSU. "He's had a number of tests from doctors to try to figure out what caused the incident," he said. "Our primary concern is his health and well being." Though alcohol has been ruled out as a factor, it is still unclear whether Berry was in his confused state prior to the incident, or as a result of injuries sustained during the fight.
While it would be easy to assume the assault was drug related, I thought the same about Wyatt Sexton and his Lyme disease induced religious moment. Not claiming Berry has Lyme disease, but let's hold off on bashing the kid until we get more details.
KENNY GUITON MAY... WHAT?! This is definitely news I didn't expect to wake up to yesterday. Coach Fickell announced on Thursday on his coaches show, GameTime with Luke Fickell, that Kenny Guiton "is still there, might see him running down on special teams."
We could certainly use a replacement for Basil on the 40+ yarders, but it seems that Guiton may be seeing time on the kick off coverage and return teams. So, to those of you that were hoping to see some Kenny G on the field... be on the lookout tomorrow afternoon.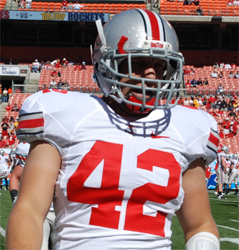 HEY MIKE, SAM AND WILL... STEP UP! Fickell admitted on his show on Thursday that he checks in with the linebackers more than any other position groups on the team, understandable considering his time as a defensive assistant. 
He announced that he would like to see more leadership and confidence out of the linebackers, mentioning that their production thus far hasn't been good enough, and he's looking to them to show him more as the team opens up the conference schedule tomorrow.
Fickell further explained:
"One thing we need to get better at is leadership. What we had there in the past, we had guys very comfortable at making some calls and some changes, whether they're right or wrong. I can't sit here and tell you that Brian Rolle made every correct check. He had a lot of checks you didn't want him to make, but he made them knowing that's what he wanted and with some confidence, and everybody followed suit."
Apparently, senior Andrew Sweat is feeling the best he's felt all season as Fickell said, "This week might be one of the first times he feels really, really good." Hopefully this improvement will give him the confidence he needs to step in and show the leadership Fickell is challenging the group to display. Heacock mentioned we may possibly see Shazier, Sweat's backup, out on the field, particularly in the nickel package. "Shazier went in there and was starting to act like he was comfortable with what he was doing," he said. "We need some of the young guys to step forward."
Fickell elaborated on the linebacker situation, adding "you've got four guys a lot closer in their ability and you can keep them fresh and move them around in there," so it looks like he'll have four guys ready to play. He talked about Curtis Grant moving to the Sam position, hoping he could help against run heavy teams in the absence of Nathan Williams, who doesn't seem to be returning any time soon.
DELVON ROE. In Sparty basketball news, Delvon Roe, a 6'8" forward from Euclid, Ohio will be quitting basketball due to ongoing knee pain. According to SI, "Roe says the pain in his knee has taken away his love of the game and it's not fair to his team to try and play." He will still be on scholarship and is scheduled to graduate this May.
Roe definitely contributed a great deal to the Spartans' program during his three year tenure, averaging 23 minutes per game in the 2010 NCAA Tournament and racking up 106 blocks in his career, second in MSU history. Best of luck to Delvon on all his future endeavors.
OTHER THAN YOUR NAME, YOU DIDN'T HAVE IT THAT BAD. According to a statement by Baylor University, the NCAA informed their officials Thursday afternoon that, "redshirt freshman running back Lache Seastrunk's waiver and subsequent appeal of the organization's transfer residency requirement have both been denied." The statement further said, "The Temple, Texas, native and University of Oregon transfer will have three years of eligibility to play three seasons when he takes to the field for the 2012 Bears. Seastrunk redshirted as a true freshman at Oregon a year ago."
The NCAA decision was in response to an application by Seastrunk for a hardship waiver from the NCAA that would allow him to play this season after transferring from Oregon in August. Typically, he would have to sit out one year before suiting up, but had hoped for a hardship waiver due to the issues that went down in Oregon because of his connections to Willie Lyles. Seastrunk made headlines again just recently in a story regarding a former Tennessee assistant of Lane Kiffin's wiring Lyles $1,500 for an unofficial visit to Knoxville by Seastrunk and his mother.
 STILL NOT READY TO GET BACK TO WORK? I'd think with this passing game, we need a drink now more than ever... This whole realignment deal feels like the last call scramble at a bar before the lights turn on... They'd rather go naked, but they're not really naked... This bad-ass will have you rolling... The SEC dominates once again.