Losing on the road to Miami has cast a pall over the Ohio State program. It may seem like things are pretty dark right now, but things have been darker in the past, and the beginning of the 1986 season is a good example of that. How that OSU team found their way out of the darkness holds both a ray of hope for the current team and a bit of a warning as well.
Fans were cautiously optimistic entering the fall of 1986, knowing that the team had great promise but also knowing that they needed to fill a key position of need before things would start rolling. They needed to have their "A-game" right away, because for the first time ever OSU was scheduled to play in an extra pre-season game, the Kickoff Classic game at Giants Stadium in East Rutherford, NJ.
In 1983, Nebraska had used the inaugural Kickoff Classic as a launching pad for their run at the national championship. Ohio State was hoping to do the same after an up and down season in 1985 that featured the highest highs and the lowest lows. The Buckeyes had finished the season with a 10-7 victory over Brigham Young in the Citrus Bowl, and the national media was keeping their collective eyes on Ohio State for a possible run.
The OSU offense returned nearly all of its regulars, led by senior QB Jim Karsatos and junior WR Cris Carter. Record-setting RB Keith Byars had moved on to the NFL, but his back-up John Wooldridge seemed up to the task, and former Dublin High School star Vince Workman was working his way up the depth chart. Nate Harris replaced Mike Lanese at the other WR, and most of the offensive line returned. Also returning was versatile fullback George Cooper.
The defense would have to recover from the loss of noseguard Larry Kolic and All-American LB Pepper Johnson, but it was bolstered by the return of LB Chris Spielman and DE Eric Kumerow. CB's Greg Rogan and William White led the secondary, along with safeties Sonny Gordon and Terry White. Another defensive weapon was punter Tom Tupa, who excelled at pinning opponents deep in their own territory. 
It seemed like everything could come together under the right circumstances, but things went downhill almost immediately. Prior to the kickoff classic, Terry White was going to be suspended from the team due to off-field incidents and so he transferred to West Virginia. Nevertheless, the defense played well against Alabama, but not well enough as they fell 16-10. White's presence would have been helpful in a defensive struggle, but then as now the absence of a key player hurt the team. 
Things did not improve when the team went back on the road for game 2 in Seattle against the Washington Huskies. OSU was stymied on offense for much of the game, while Washington ran off 24 unanswered points in the 2nd quarter to cruise to a big halftime lead. By the time the Buckeye offense got on the board they trailed by 40 and ultimately lost the game 40-7. Despite the presence of an experienced quarterback and a fantastic receiver, the offense had scored only 6 TDs in its last 5 games going back to the previous season. 
Against this backdrop of player suspension and offensive struggles, Ohio State welcomed the Colorado Buffaloes to the Horseshoe for the home opener. OSU had gone out to Boulder the previous season and spanked the Buffs 36-13. Coach Bill McCartney's wishbone offense had been a bust that day, turning the ball over 4 times and generally struggling against Spielman and company. This time, they were fired up and ready to take advantage of OSU's recent offensive futility.
It was a defensive struggle early, as both teams traded punts. Having Tupa in this situation was a benefit for OSU, allowing them to mostly win the field position battle. Eventually, the Buckeye offense got things going with a decent drive leading to a 29-yard field goal by Pat O'Morrow. Later, Karsatos connected with Carter for a 14-yard TD pass and Ohio State led 10-0 at halftime. It looked like another whitewashing of Colorado was in order.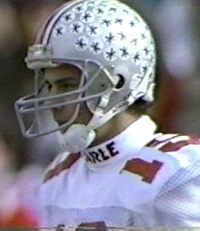 McCartney had other ideas. Known as a master motivator, he rallied his team at the half and they came out fighting in the 3rd quarter. Meanwhile, the OSU offense went back into struggle mode, and restless Buckeye fans began to shift nervously in their seats. The tension built to a fever pitch in the 4th quarter as Colorado marched 80 yards in 13 plays to tie the game at 10-10 with just over 5 minutes remaining. Now the struggling OSU offense would have to win the game for the team, something they had failed to do in a similar situation against Alabama.
It was a windy day and so field goals were going to be tricky. O'Morrow warmed up as he watched his team move methodically down the field into Colorado territory. The drive stalled momentarily, but Ohio State got new life when the Buffaloes were whistled for pass interference inside their 10 yard line. It was a questionable call, and McCartney protested vociferously, but to no avail. Ohio State was given a first down and goal at the Colorado 8 and they conservatively ran out the clock before kicking the winning field goal. The final was Ohio State 13, Colorado 10.
After that nail-biter of a home opener, the Ohio State offense would take out all of their frustrations against an out-manned Utah team to the tune of a 64-6 win. OSU rushed for 394 yards and passed for 321 in that game, breaking all kinds of single-game records. The roll continued throughout the remainder of the season as the Buckeyes ran off 9 straight victories. Everything was set up for them to win the Big Ten if they could handle Michigan at home.
As fate would have it, the Wolverines were looking ahead to Ohio State and dropped a home game against Minnesota right before the season finale. Thus, it was with renewed vigor and a personal guarantee of a win from QB Jim Harbaugh that UM came into Ohio Stadium and they escaped with a 26-24 victory, despite a team record 29 tackles by Spielman. A potential game-winning 45-yard field goal attempt by OSU's Matt Frantz sailed just left to seal the loss.
Nevertheless, Ohio State rebounded to dominate Texas A&M in their first-ever trip to the Cotton Bowl. Spielman led OSU to victory with 2 interceptions, one of them for a TD, leading to a 28-12 victory. At the game, coach Earle Bruce surprised everyone by appearing on the sideline wearing a very sharp charcoal gray suit with matching fedora (see picture above). After the season, Bruce was courted by Arizona for their head coaching job, but he decided he was a Buckeye at heart and would not leave Ohio State. Ironically, Bruce would be fired the next season after a home loss to Iowa, but his Buckeyes would go on to defeat Michigan in Ann Arbor the next week as a salute to the departing coach.