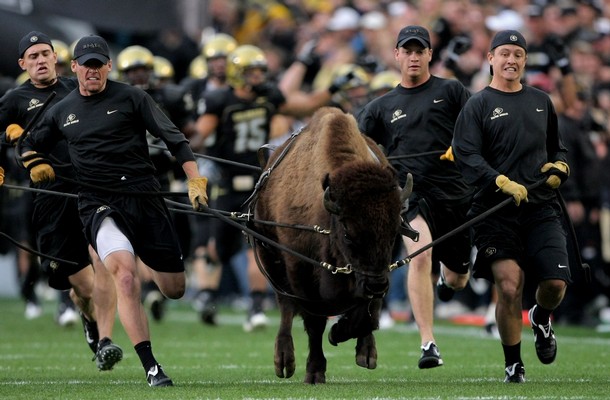 With the Ohio State Buckeyes vanquished from the AP polls for the first time since Usher's "Yeah!" was topping America's music charts, head coach Luke Fickell took to the podium to answer the media's questions.
After last week's debacle in Miami, the Buckeyes shift their gaze to the 1-2 Buffalos of the University of Colorado. With the Buckeyes needing to improve in every facet of the game, Colorado offers a good opportunity for such improvement, before Big Ten conference play begins next week. (Ohio State is the only Big Ten team playing a team from a BCS conference this week).
So how would Fickell go about parrying the media's questions with deft coach-speak this week?
... Fickell opened up by saying his team would make no excuses, and they would focus on how to become a better football team (and a better football coach) going forward.
... The plan for quarterback hasn't been established this week. Until Fickell sees his quarterbacks "compete" in practice, then he's not going to set anything in stone. While the team has had a tough time throwing the ball, but Fickell says there are other things they can improve on to help the offense moving forward.
... Fickell planned to call a time out on Miami's 3rd down conversion, but Miami ended up calling one anyway. With Ohio State down two scores, they figured they would need as many timeouts as possible if they got the ball back. Later in the interview, Fickell was again asked if he regretted ending the game with three timeouts in his pocket. Fickell said "maybe the last one, right before they went for it on 4th down, which could have saved us 20-25 seconds."
... Ohio State didn't lack fight, in Fickell's eyes. He noted that with expectations so high, the defense was a little shell-shocked after Miami's first touchdown, which may have led to Miami's second one. This was something that Fickell said was to be expected with a young team. Still, while they "didn't make some plays", Fickell refused to say his team wasn't handling the adversity.
... Fickell talked about his staff wanting to "coach these guys up as much as possible," this week.
... Turnovers and "missed shots" were some of the critiques of his quarterbacks' play, but refused to divulge specific instances. "We have to get better, across the board," he said, but mentioned he didn't entertain the idea of inserting Kenny Guiton or Taylor Graham into the Miami game.
... With the subject of Braxton's fumbling broached, Fickell said you "expect it with a young guy." He also talked about how the lack of hitting the quarterback in practice could have something to do with it. He acknowledged that turnovers are up ~327% this year and said it was something they had to get better at.
... Jordan Hall is 100% this week. "It was just a cramp issue."
... The success of Ohio State's running game against Miami's frontline was something Fickell said he liked and something "they could build on."
... Is the confidence of the team something Fickell is worried about? "We'll see," Fickell said.
... When asked if there was a clear-cut number one in the Bauserman-Miller duel, Fickell said "we need to see them practice." When asked if he sees any upside in what Braxton Miller can do as opposed to Bauserman, Fickell said, "Sure, if he can hold on to the ball." He then was quick to add that he also saw ways which Bauserman could help the team too.
... Fickell didn't see Joe Bauserman laughing on the sidelines late in the game, but did say "that's not something you want to see," though he added he hasn't seen anything "that says Joe isn't with us."
... 17 minutes into the press conference, Colorado was finally brought up. "They have some serious weapons," he said, noting the Buckeyes would have to "play sound" and "start fast". While they haven't started fast the last two weeks, Fickell noted that it was on him.
... "They're a group who has some athletes and has some ability," Fickell noted of Colorado. He also noted a "sense of revived leadership," there. 
... Fickell says John Simon has done a great job this year, as the defense has asked him to move around to multiple positions.
... Fickell says that, in football, it's hard to gain the experience needed without actually playing. Fickell said he was not aware by any college player's career stunted by being put in before he was ready.
... When asked if he was pondering taking a look at Guiton or Graham or if it was still a two-horse race, Fickell said, "There will probably be more snaps for all of those guys." (Still, after watching the Miami game, if Guiton or Graham haven't done enough to earn playing time by now, it's hard to envision anybody but Bauserman or Miller going forward).
... With Colorado wanting to come in and sling the ball, Fickell says that his secondary will have to improve "everywhere".
... Andrew Sweat is "dinged up--he's got some things," Fickell said, but he expects Sweat to "fight through it and get better." Corey Brown's status is still up in the air, but Fickell said they'd know more later in the game.
... There was booing in the Horsehoe during the Toledo game, and Fickell had himself a chuckle when asked if he had thought about the potential of booing going into the Colorado game.