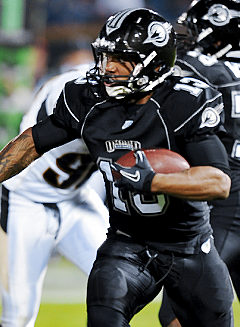 One week removed from (sonically) the worst podcast we've ever done and Ohio State's worst football game in 3 years, we (and the team alike) look to bounce back. We certainly do our parts starting out rehashing what went right (not much!) and discussing the many, many, many, many, many areas for improvement.
All Drew Basil/Ben Buchanan hero worship aside, we also discuss the week that was in college football. Who are this season's movers and shakers and why on earth did Florida State and Oklahoma alike look so relatively pedestrian in Week 3?
We then shift from reminiscing to looking forward with former Ohio State Buckeye and national champion Maurice Clarett. Maurice discusses what life playing professional football is like, how things have been going with having former Buckeye teammates Troy Smith and Roy Hall around the lockerroom, his take on Jim Tressel's abrupt departure from Columbus, the NCAA's role and their handling of Ohio State's scandal, and whether or not Luke Fickell is the right man for Ohio State's high profile head coaching role.
Finally we look forward to Saturday's Colorado game and if you stick through it all the way to the bitter end, you might just catch one of your two cohosts busting a rhyme.
I've said it before, but honestly, this time I mean it: If you're going to listen to one Eleven Dubcast this year, make it this one. Right click save as here if you wish to manually load it onto your mobile devicee (#teamandroid, y'all; I see you too, Blackberry/Windows 7-ites), click play underneath if you've got head phones or really want your coworkers to know you're the coolest guy or gal in the office, or finally, feel free to check us out on the iTunes Store. As a one time-Apple employee, I can... Naturally say nothing conclusive about their products for fear of getting black bagged. Why do you think they purchased all that land in North Carolina?