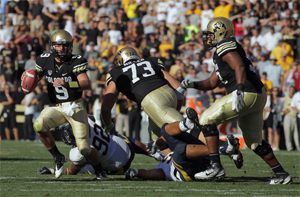 Greetings, Buckeye Nation! I hope by now your [insert multitude of mixed, negative emotions here] have started to subside and you are ready for another week of football. As brutal as we all thought the Toledo game was, it would've been a welcome sight compared to the meltdown in Miami last week. Alas, a new week brings a new game and hope for better things to come!
Ohio State, coming off their first loss of the season, hosts the Colorado Buffaloes, coming off their first win of the season, at the Horseshoe on Saturday. It'll be interesting to see how these teams both play, given their recent turn of events. Like the Buckeyes, the Buffaloes are dealing with the growing pains of a new coach this year. They also have a record breaking running back, in Rodney Stewart, who hails from Columbus and went unrecruited by Ohio State. Lots of interesting things to watch for this week.
Without further ado, I'd like to welcome Bob Bell of The Ralphie Report, who was gracious enough to give us some great insight on the Buffaloes this season and his thoughts on this week's matchup. So enough of my babbling, let's get to it...
Like Ohio State, Colorado has a new coach this year in Jon Embree. Three games in, what are your thoughts on the job he's been doing so far?
Ultimately, the Buffs have had a chance to win the two games they lost, especially California who beat the Buffs 52-7 last season. So that is an improvement. I think offensive coordinator Eric Bieniemy has done a solid job calling plays in his first stint at running an offense. The thing we at the Ralphie Report are judging this year on is game over game improvement which we have seen. Some of the things that are still frustrating fans after three games are the mental mistakes and penalties. Colorado continues to be one of the highest penalized teams in the nation, something that carried over from the Dan Hawkins era apparently.
The Buffs are lacking in depth and overall talent which is something Embree will have to improve over time. If Embree can get that talent, I think this coaching staff has the ability to be a good one.
As you mentioned, penalties have been a big issue for this Colorado team, averaging almost 10 penalties for 90 yards per game, and it seems to be getting worse with time. What's the story behind these numbers and what seems to be the problem?
You are right, the penalty issues have continued. Dan Hawkins had similar issues when he was here and so far the players are continuing their ways. We keep thinking this is a temporary problem with Embree's no nonsense approach but we keep seeing double digit penalties each game. Embree has obviously acknowledged the issues and said he will fix it, but that has not happened yet.
Buff fans have been wondering what the problem is for years now. A lot of the penalties are simple false starts or illegal shifts which have to be on the player. A solution for the Buffs is get more depth and start pulling players until they figure it out themselves because nothing has worked so far. Unfortunately, solid depth is at least two years away.
Colorado got it's first win of the year on Saturday against Colorado State. What pleasant surprises did you notice in that game that make you optimistic for the rest of the season?
Tell you the truth, I was more optimistic after the California game. Colorado had 582 yards of total offense, QB Tyler Hansen threw for 474 yards and WR Paul Richardson had 284 yards. CU scored 33 points while not scoring a touchdown in the redzone, going 0-4. If we could figure out how to score in the redzone, that sounds like a great offense. Against Colorado State, the Buffs started slow, something that we have seen each of the first three games and didn't really get going until late in the second quarter. There were some positives, though. Colorado finally got a little bit of the running game going with a season leading 145 yards, the first time going over the 100 yard mark this year. RB Rodney Stewart, an All Big 12 performer a year ago, had his best game, going over 200 yards all purpose. Offensive coordinator Eric Bieniemy has really gotten Stewart involved in the passing game which has been a difficult match up for the opposition.
Colorado also finished above 50% on third down conversions and 2 for 2 scoring a touchdown when they got into the redzone which is an improvement. On defense, the Buffs held a rather powerless Colorado St. Rams offense to 243 yards. Other than CSU's 80 yard opening drive, the Buffs defense dominated the game.
Whether running or throwing, QB Tyler Hansen has had a hand in all TDs the Buffs have scored this year. Does the lack of variety in scorers concern you at all?
The running game improved last week but it is certainly a concern. Colorado has not been healthy on the offensive line. Against, California and Colorado State, they played without their starting right tackle and left tackle. LT David Bakhtiari, arguably the best offensive linemen on the team, should return against Ohio State. RT Jack Harris is out indefinitely after breaking a bone in his leg. So far this season, the Buffs have averaged just 2.87 yards per carry which puts CU at 103rd in the nation, not good enough to win games consistently. The Buffs aren't good enough to throw the ball 50 times a game so as fans, we hope to see the running game continue to improve.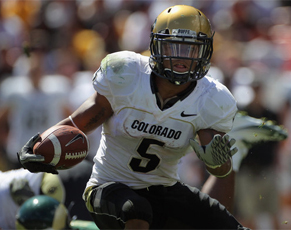 RB Rodney "Speedy" Stewart, of Columbus, OH, seems to put up great numbers and is getting better each week. Where do you think he'll end up ranking in terms of Colorado's all time rushers? Do you think Saturday's game might leave Buckeye fans disappointed that Stewart wasn't recruited by his hometown team?
Stewart has been special ever since he arrived on campus. He was the "other guy" in the 2008 recruiting class when #1 rated running back Darrell Scott signed with Colorado. Since day one, though, he has been the best running back on the team.  He is only 5'8" but is one of the strongest players on the team and is unbelievably shifty. It is scary to think where this offense would have been without Stewart the past few years. He moved into fourth place on CU's all-time rushing yards list, closing the Colorado State game with 2,967 career rushing yards. He is within striking distance of being the top Colorado running back ever in terms of rushing yards. His teams haven't won like other Buff teams have so he won't be known as the top rusher when his career is over but certainly in the discussion for the top five.
He has been a treat to watch and every game finds a way to amaze you. I think Ohio State fans will appreciate how hard he plays and his quickness when they see him run.
Are there any players we haven't discussed yet that have Colorado fans really excited to watch this year, and that Ohio State fans should watch for on Saturday?
On defense it would be fellow Columbus, Ohio native LB Doug Rippy. He has been far and away, Colorado's best defensive player this season. He is second on the team in tackles with 26, averaging 8.7 a game and two total sacks.  Rippy has been all over the field and has made an big impact in his first year as a full time starter.
On offense, we mentioned WR Paul Richardson a little bit but he is worth mentioning a lot more. He is Colorado's best playmaker. Like we said above, he set a Colorado record with 284 yards against Cal. He has four touchdowns and is ranked 11th in receiving yards per game with 120. The true sophomore emerged late last season to be a big time threat and he continues to show that ability in 2011.
Colorado kicked off it's first season in the Pac-12 this year, starting with an OT loss to Cal in Week 2. What are your thoughts on the differences between the Big XII and the PAC 12? Do you think it'll be an adjustment for the team to play in the new conference, and for the fans to watch?
One of the weird parts of our incredibly hard schedule this season is the game against California was not a conference game so we are still undefeated in Pac-12 play. It was a home and home return from last season when we played Cal in Berkeley. Yes, it is weird. So far, we like the Pac-12 a ton. The road trips will certainly be better and the University of Colorado is much more like Pac-12 schools than Big 12 programs (academic reputation, quality of life, alumni base, etc). Throw in the fact that the Big 12 is days/weeks away from not existing, CU fans are excited we got out when we did.
As fans, although it will be a tough year, we will get to see first hand Oregon, USC and Arizona at home which is a heck of a lot better than last year's home slate that included Iowa State, Kansas State, Baylor… you get the picture.
What's your prediction for the rest of Colorado's season? Do you see a bowl game in their future this year?
With the Buffs going 0-2 to start the season, it will be hard to get to a bowl game this season especially since we have to win seven games (played 13 total games this year with Hawaii). Our schedule is one of the hardest in the nation with games @Hawaii, a non-conference game against California, @ Ohio State, @Stanford, @Utah (who looked great last week against BYU), vs USC, vs Oregon, vs Arizona, @Arizona State. Coming off five poor years in a row and a new coaching staff, we knew this was going to be a tough year.
With Colorado coming off of a confidence boosting win, and OSU having gotten a reality check in Miami, what are your thoughts on Saturday's game?
Colorado has lost 19 consecutive road games. They haven't won a road game since 2007 against Texas Tech. Breaking that streak in Columbus would be an unbelievable way to get the monkey off the back but it is going to be a tall task. I expect Ohio State to be one angry team playing at home after a couple shaky games in a row against Toledo and Miami. If Colorado can avoid the slow start and stick with Ohio State early, who knows.
I've taken a liking lately to taking the liberty of selecting the favorite moment of our upcoming opponent's history. So, with that, I give you my favorite moment in Colorado football:
Special thanks to Bob Bell of The Ralphie Report for providing his insight for us this week. Check out more from Bob and the rest of The Ralphie Report crew at www.ralphiereport.com. You can also follow them on Twitter at @RalphieReport.