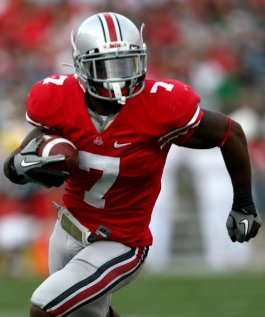 Sporting a 3-1 mark through the non-conference slate, the 2nd season begins for an Ohio State team still one week away from the return of Boom, Adams and Posey as the Buckeyes welcome Sparty to town. 
Suprising to many, Fickell's crew is listed as a three point favorite despite featuring the 109th best passing attack in America though they have shown the ability to rush the football, ranking 39th via 184 yards on the ground per contest.
Whether or not the offense can move the ball will loom large in determing the outcome as though the OSU defense is certainly a capable unit, they'll be facing a very experienced QB in Kirk Cousins, a definite threat on the edge in WR B.J. Cunningham and a stable of RB's led by Columbus product Le'Veon Bell. Damn, I love that name. 
Still, this is the kind of game Sparty loves to lose. Ohio State has beaten the green and white seven straight times and haven't lost at home to MSU since that fateful day in '98. Having brought up that demon, let's get to this week's table de round...
I thought it a bit interesting that Fickell named Jordan Hall one of the rotating captains for this week. What's your take on that specific decision and more generally, what are your thoughts on Fickell's decision to not have permanent captains for 2011, instead opting to rotate to bring everyone into the sense of team?
Alex:  I have no problem with Hall being a captain, just like I'll have no problem with DeVier Posey, Mike Adams, or Boom Herron being a captain when they return. These players did something wrong, served their punishment and don't need to be penalized further. If they are the leaders of the team they deserve to be captains, as long as they are playing in the games.
Ramzy: The rotating captains gimmick screams of indecision and as terrific as Jordan Hall has looked in games it is a curious move to put a kid who was suspended 20 minutes ago for taking money at midfield for the coin toss.
What do you project as Devin Smith's ceiling? Can you think of a former Buckeye he compares favorably to? How so?
Jeremy: I have been beating the Devin Smith drum since before the season started, and I won't stop now.  I see Smith and I see Terry Glenn.  So athletic, smooth yet explosive and a penchant for the spectacular.  Future All-American.
Ramzy: Devin Smith's ceiling: Terry Glenn.  Devin Smith's floor: Drew Carter. The only thing that should be able to derail this kid's trajectory is health. 
Jason: In terms of his hot start and acrobatics (his vert is off the charts), I think Terry Glenn comes to mind. I don't think he's as fast as Glenn, but not too far behind, either. In that regard, his ceiling is pretty high, especially considering the rapport he seems to have developed with Braxton Miller.
Can Ohio State beat Sparty completing less than 10 passes?
Alex: Can they? Yes, as long as they get one heckuva day from their running backs/Braxton's legs and some help via turn overs from the Sparty offense. That being said, it wouldn't be an easy task, but definitely a possible one. I do think Miller will have to come close to 10 passes if he doesn't hit that mark, as the MSU secondary is the weak spot on the defense.
Ramzy: In 2003 Ohio State won five games without scoring a single offensive TD. They're Buckeyes: They can win or lose any game, inexplicably.
Can Miller conceivably stay healthy all season running the ball roughly 15 times a game? Or is that not a concern for you?
Jason: It's a definite concern for anyone that followed him even briefly when he was at Wayne. In both his junior and senior seasons, injuries kept him out of games and in the case of his junior season, an extended stretch of games. I'm sure the coaches are on him to a) take care of the football and b) avoid getting hurt, so I think we'll see him take steps to limit potential injuries. That said, running and creating is what he does best, so there will be a few hold-your-breath-moments this year, no doubt.
Ramzy: No he can't. He'll get Denarded. The difference between Miller and HE16MAN is that Miller could become a credible pocket-passing threat if he had an actual QB coach instead of a VCR repairman from the Geek Squad as his position coach.
Alex: The way he is built right now, I don't think he can. Can Denard Robinson? Can Michael Vick? No, and they aren't that far off in size. I think we were all spoiled with Terrelle Pryor, as the guy was an absolute beast and able to sustain hits, as well as dodge many with the strength of his stiff arm. Braxton is 6-2/215, not 6-6/240 and I think eventually that will catch up to him if he continues to run the ball like he did against Colorado.
Speaking of which, I continue to be shocked at the lack of bubble screens to WR's and straight screens to RB's being called by Bollman that could get Miller into a rhythm. Do you share this sentiment and/or what strategy would you employ to get more safe balls into the air?
Jeremy: With the lack of experience and productivity out of the WR group (Still scratching my head about why Chris Fields gets time on the offense with Reed, Smith and Spencer all far better options, IMHO), it is puzzling where the screen game is.  Jordan Hall and Carlos Hyde have both proven to be effective pass-catchers, and heck, what about a middle screen to Stoney? 
Ramzy: I couldn't read this question; I was too distracted by the image of Bollman rolling around naked on all of the cash he's taken from Ohio State over the last decade while overseeing an offensive line that annually hangs on by a thread and relies on no injuries to avoid total catastrophe. 
Kirk Cousins is a seasoned vet completing nearly 69% of his passes so far this season. How would you scheme in the secondary to slow his effectiveness Saturday?
Jason: The two things you want to do to slow down quarterbacks are disguise blitzes and coverages. Cousins is pretty salty, so he's seen his fair share of each by now, but you have to do it anyway. If Ohio State can get to him and hit him early, that will go a long way as well.
Alex: If the Buckeyes had Cousins, we could potentially be booking a trip to New Orleans for the MNC. As you said he is a seasoned vet who isn't going to get rattled on the road and is very comfortable with this offense and with what Mark Dantonio needs him to do on the field. That being said, he did throw 10 INTs last season, so it's not like he won't make a mistake in throwing the football. The best play for the Buckeyes is to get as much pressure as possible on Cousins. A pass rush has been lacking outside of what the front 4 is able to do by beating their man, so I think however Heacock wants to get guys to the passer, he needs to. This will help the secondary dramatically when going against a veteran passer like Cousins.
Jeremy: Pressure. Pressure. Pressure. Cousins needs to be hit early and often, if he gets protection and time to throw, the WRs for MSU will eventually get open. I like our CBs against their WRs athletically, but they can only cover for so long.  
Ramzy: Disguise coverages per usual but roll the safety over to Cunningham's side and blitz the star from the opposite end.
Which defender could play the most pivotal role this week? Why?
Alex: Jonathan Hankins will play the biggest role this week. Michigan State, in addition to having a solid passing game, uses the running game as it's bread and butter. Dantonio has three backs in Baker, Caper, and Bell who are capable of running the ball effectively, and OSU will need to stop the ground game if they want to win. The man key in doing this is Hankins, as he is the only OSU lineman with enough size, strength, and talent to take up two MSU blockers, allowing the other linemen to go 1-on-1 with their blockers, as well as let the Buckeye linebackers roam free to come up and make some plays at the line of scrimmage. Big Hank must do his thing on Saturday for the Bucks to win the battle in the trenches. 
Jason: Johnny Simon. If he can take up residence in Cousins' face, that will go a long way towards securing the win.
Sparty WR B.J. Cunningham is averaging 107 receiving yards per game through four contests. If OSU lines up in man to man which cover guy do you want checking Cunningham and why?
Jeremy: Dominic Clarke. The most athletic of the OSU CBs and has showed impeccable timing in breaking up passes to start the year. 
Alex: Travis Howard. I know he's had some bad plays, but I think that's the product of some rust. On the flip side, he's also had some really good plays and I think that's the norm you will see out of him now that he has two games under his belt. Cunningham will get his catches on Saturday, but the key will be to keep everything underneath and not let him beat you for the big play.
It's 4th and goal from the Sparty 1 yard line and the Buckeyes need a TD to win. What play are you calling and why?
Jason: Braxton on a naked bootleg. Dantonio is probably smart enough to be looking for it, but I still like his speed and shifts on the edge. 
Alex: I'm calling a run for Jordan Hall right behind Jack Mewhort and Mike Brewster. This is what Ohio State is all bout, taking their best up front and going against the opponent's best up front. If the Bucks can't get enough push on the line to allow Hall to get one yard with the game on the line, they don't deserve to win.
Ramzy: I-formation play-action naked boot to the strong side with a TE outlet/Miller keeper.
Jeremy: Play-action, naked boot run/pass option for Miller to with Stoneburner on a corner route.
Where were you in '98 when Sparty beat the best Buckeye team on paper assembled in my lifetime? What do you remember most about that game and how did you eventually cleanse your soul and move forward?
Ramzy: Section 18C, row 12, seat 5. I remember MSU down 24-9 and punting in the third quarter. The punt hit Nate Clements in the back and Sparty recovered and then eventually scored. What unfolded after that was a sequence of mathematical improbabilities, crazy jump balls and standard-issue Crisis Management failures from the Cooper era that I still haven't gotten over.  I will never find peace, nor move forward. MSU lost to Purdue the following week and failed to get bowl eligible after beating - legitimately - a superb Ohio State team with no holes.  
Jason: I watched the game with some friends and was absolutely crushed. The '98 team was the best team I'd ever seen (and with the best player I'd ever seen - Winfield) and I was still young enough to take losses like that way too hard. 
Jeremy: I was watching the game with three of my brothers, my little sister had a play that night - I didn't go.  My brother disappeared for a legitimate four days afterwards.  We had no idea where he went.   What  I remember the most was just sitting there in absolute silence.  All of us.  Just silence.  That never happens.  Soul cleansing?  Blowing out Michigan and A&M to finish out the season was a good start.