Top of the morning Buckeye fans and welcome to what I hope will be the internet's version of Four Loko as we start your hump day skull session. 
There's just a few days left before Ohio State faces the NCAA, taking one more step toward putting all that drama in the rearview, and coupled with the fact fall camp has started - with full pads also set for Friday - I'm happier than Hoke with a $10 Golden Corral gift card. 
With said start of camp enhanced by increased media access combined with fans and players alike starving to talk football, it truly is a great time of the year. I love seeing the comments more focused on football and the watercooler talk has also shifted. Optimism is running high and mild to wild predictions are flowing like the salmon of Capistrano. 
Speaking of which, I threw out a couple over beers last night and figured I'd share them with you and invite you to offer your own in the comments. First, I think I've said it on these airwaves but in case I haven't, I'm feeling Storm Klein having a very good shot to be the starting Mike by game three or at least being heavily involved in a rotation that sees him stay on the field when Heacock runs with just two linebackers joined by Moeller. Wherever he lines up, I won't be surprised if he is widely considered the 2nd best LB on the team after we have the opportunity to see a decent sample size of game action. 
My other hunch is Bradley Roby beating out both Dionte Allen and Dominic Clarke for the starting corner spot opposite Howard Island. What you got? 
While you mull it over, let's see what's under the hood in today's skully...
The Great Twitter Debate. With teams across the land kicking off fall camp, lots of coaches are fielding questions about player twitter usage and what type of policy they have in place. It's pretty fascinating when you think of Twitter's impact on the sports world. The real time access to player thoughts, and ultimately their personalities, is insanely addicting as it gives us a chance to interact and examine our Saturday heros on a much deeper level. 
Think about it. How much better is your life thanks to following the likes of Keyboard James, Duron Carter and JNewsome? 
Of course, that access can come with a price if kids are too free and easy (ie. incredibly stupid) with their tweets as we saw with Marvin Austin launching what became a tweet-pedo leading to mass casualties at  North Carolina, amongst countless other examples. 
The worry of tweetageddon has caused the likes of Steve Spurrier and Chris Peterson to install twitter bans while causing the masses with keyboards to take sides. Gregg Doyel opines that such bans are for the benefit of the kids, therefore a wise move. Conversely, Darren Rovell makes a solid argument that banning players from twitter only further proves that college sports isn't about education. 
Personally, I side with Rovell in that kids, like all of us, learn from their mistakes and as long as there's plenty of coach/player discussion on the expectations, you give the kids a chance to show they can be responsible, armed with the knowledge there are consequences for missteps. What's your take? 
Like a back-footed post pass, Pryor's status still up in the air. Around dinner time yesterday, word began to circulate that TP was not on the first list of eligible players for the Supplemental Draft slated for August 17th. 
Soon after, Drew Rosenhaus applied salve to the situation tweeting, "we spoke with the NFL today and were told that no decision has been made yet regarding Terrelle's eligibility for the supplemental draft." 
With Pryor being the face of the supplemental draft, I'm a bit surprised the NFL would publish what is likely an incomplete list though I admittedly have no idea what the typical protocol might be. Bottom line, the kid should eligible and deserves a chance to make a living in the NFL this year. Hopefully for his sake the ruling is soon and favorable so he can move on. 
As we've noted, no good can seemingly come from him taking a year off (both for him and OSU) and it would be a nice boost for him to be knowingly eligible for the draft ahead of his pro day this Friday, with the likes of at least the Cowboys and Browns on hand.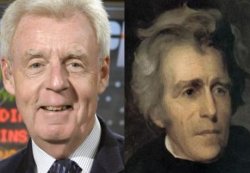 Yay! Another reason I can loathe Andrew Jackson Peter Gammons. Taking a break from his incessant Red Sox homerism, the baseball loving reincarnate of Andrew Jackson decided to dip his toe in the college football universe, making himself look like a jackass in the process. 
Speaking specifically of Nebraska hotshot QB recruit and 5th pick in the MLB Draft, Bubba Starling, and his supposed rift with Bo Pelini over Starling's impending 8/15 deadline to either sign with the Royals or join the Huskers, Gammons tweeted, "Bo Pellini going off on and threatening Bubba Starling is great news for the Royals." 
The allegation against Pelini forced the coach to respond, noting Starling was purposefully held out of camp because the risk of injury while Starling mulls his decision is far too great. Further, he takes a veiled shot at Kevin Millar's former stalker:
As I discussed Saturday, Bubba Starling, his family and I are all on the same page, and have been throughout this entire process. Bubba has a lot at risk. We are all aware of that, and everyone involved is comfortable with how the situation is being handled. I have a complete understanding of how this situation works, and from the outset we have supported Bubba and his family as they make a very difficult decision. All of our interactions as a staff with Bubba and his family have been nothing but supportive, and have been very respectful from both sides. Any information contrary to that is not accurate. It is disappointing that media would comment on the situation without talking to any of the primary parties involved.
Pretty impressive out of Bo. You know he wanted to strangle the Nomar out of Gammons but toned it down fairly well in his prepared response. 
"Blue 32, Blue 32, Ready, Set, Triangles!". Chris over at Smart Football published his latest lesson in I'm smarter than you, taking a look at the three foundations for all effective pass plays, because you know, "football is governed by its immuatable twins of strategy - arithmetic and geometry." Seriously, how awesome is this guy?!
Chris takes a deep but understandable dive at vertical stretches, horizontal stretches and "object receiver" reads exploring how they work including the usual video examples. If you do anything today, block out 30 minutes and check it out. 
I spent about 45 minutes digesting it all and I'm now scanning Monster looking for offensive coordinator gigs at places I'm gambling won't complete a background check. 
Fresh Eats: Some background on fresh commit Roger Lewis...Seantrel's back surgery went well...Psycho cloud...Realistic Stadium Bathroom Rules...Shaq in jorts with his lady...Ultimate Batting Practice. I love the last line, "probably fake." Ya think?