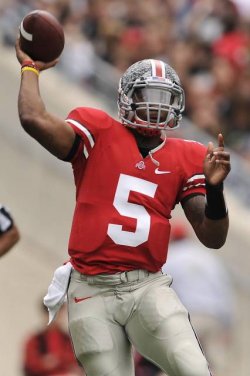 An offseason like no other in OSU history has nearly come and gone and left in its wake is the realization that the identities of the offense, Terrelle Pryor and Jim Tressel, are no longer in the fold and there's just fall camp to determine who fills those shoes, and how.
It looks as if Jim Bollman will be the last word on most offensive play calls which is a bit of an unknown in and of itself, an unknown that is further muddied by the lack of a clear cut starting quarterback. 
Because the quarterbacks have such varied styles, whoever wins the job will also impact playcalling and considering the inexperience level of the candidates, the run/pass balance Bollman is able to achieve.
Throw in the fact that we've got no idea as to which receivers will emerge on the outside and just how often Drayton's influence might lead to passes to the stable of running backs complemented by using our depth at tight end and it leaves you wondering, what the heck is the passing attack going to look like? 
My brain refuses to process anything other than Braxton Miller playing well enough to earn either the starting job or at least significant playing time in the event the coaches think it's a good idea to play two QB's for an extended period which obviously it's not. I guess even if Miller were to falter, the offense still projects to be a run heavy outfit with safer passes such as screens to backs, shorter looks to the tight ends and bubbles / quick hitters to the WR's as the preferred tosses of choice. 
Thinking of Miller's skill set and inexperience, I was curious to see how the offensive balance stacked up in 2008, when a similarly inexperienced dual threat QB took the reins basically in the 3rd game before making his first start the following week. Of course, Miller is ahead of Pryor's passing curve at this stage with TP being superior physically. Additionally, I was interested in seeing how prominent the RB's were in the passing game knowing we have at least six (Boom, Berry, Hall, Smith, Boren, Homan) that can be focal points or safety valves when Miller looks to throw the football.
As you'd expect, the 2008 offense was a run-first unit with 540 rushes out of 807 total plays, leaving just 33% of the plays to result in passing attempts. When healthy, Tressel opted to lean on Beanie and Pryor was more likely to make plays with his feet than his arm. By comparison, the 2009 offense attempted passes 36% of the time while the 2010 offense pushed that total to 39%. Surely, Pryor's seasoning led to more passing attemps as he got more comfortable actually throwing on pass plays coupled with the likelihood more were called as Tressel gained confidence in Pryor's passing abilities. 
In the '08 offense, the running backs were not featured prominently through the air:
| Name | rec | yards | avg | rec rank |
| --- | --- | --- | --- | --- |
| Beanie Wells | 8 | 47 | 5.9 | 9th |
| Maurice Wells | 6 | 42 | 7.0 | 10th |
| Brandon Saine | 3 | 37 | 12.3 | 11th |
| Boom Herron | 6 | 29 | 4.8 | 12th |
| Lamaar Thomas | 4 | 29 | 7.3 | 13th |
The group combined to represent 17% of the overall receptions and just 9% of the total passing yards. The screen game was clumsy, under utilized and TP was far from delicate with his placement. The result was a paltry 6.8 yards per completion. 
Pryor's '09 sophomore campaign saw pass attempts increase to being 36% of the plays called, the running backs caught more balls and did more with the opportunities:
| Name | Rec | yards | avg | rec rank |
| --- | --- | --- | --- | --- |
| Brandon Saine | 17 | 224 | 13.2 | 3rd |
| Boom Herron | 11 | 66 | 6.0 | 7th |
| Zach Boren | 4 | 23 | 5.8 | 9th |
| Lamaar Thomas | 1 | 10 | 10.0 | 10th |
| Jordan Hall | 1 | 5 | 5.0 | 10th |
Tressel lined up Saine at numerous spots on the field and as Pryor scrambled with the intent to buy time instead of tucking and running at a what felt like a higher frequency, Boom and Zoom combined for 24 catches compared to just 14 for the top two backs the previous year in addtion to producing 201 more yards (290-89) and three more TD (3-0).
Then 2010 came along and Pryor dialed back his rushing attempts by nearly 30 while Tressel grew increasingly comfortable with using RB's as receivers, leading to a huge jump in their production:
| name | rec | yards | avg | rec rank |
| --- | --- | --- | --- | --- |
| Brandon Saine | 23 | 195 | 8.5 | 4th |
| Boom Herron | 19 | 180 | 9.5 | 5th |
| Zach Boren | 10 | 68 | 6.8 | 6th |
| Jordan Hall | 8 | 83 | 10.4 | 8th |
| Adam Homan | 3 | 18 | 6.0 | 12th |
Overall, the backs accounted forr 28% of the total completions, a big step up from the 20% in '09, pushed their percentage of total passing yards from 14% to 18% and upped their TD catches from four to six. The backs were part of Pryor/Tressel's continued efforts to be more balanced as pass plays made up 39% of the total plays. 
All of this brings us back to 2011 and the wonder of just how often OSU will throw the ball and to whom. On one hand, you can argue the offense will revert back to the run dominated attack we saw in '08 as the QB struggles to thrive in the passing game causing Fickell to rely heavily on the defense to win games. The integrity of the blocking up front and green receivers could also play a role in a buttoned down approach. 
On the other, Fickell could instruct Bollman to be more aggressive with his calls, Miller could show an ability to at least handle the intermediate stuff and Drayton's influence on the playbook could create plenty of diverse ways to exploit the talent at running back and might actually lead to OSU building on the RB REC numbers from a year ago. Boom has proven what he can do as a receiver and with Jordan Hall expected to line up all over the field they should be the top two receivers out of the backfield with Berry, Smith and Boren providing support production. 
Already having Stoneburner and Fragel as solid tight ends with Stoney even capable of splitting out wide, the Buckeyes just need at least one of the group made up of Philly, Fields, Williams, Reed, Spencer, and Smith to emerge and eventually partner with Posey giving the chosen QB a myriad of options. 
When it's all said and done on the '11 campaign, my gut says Miller shows tremendous growth as the season wears on allowing the staff to go from a more conservative approach early to an increasingly aggressive tack that coincides with the return of Adams, Boom and Posey. Only 27 more days until we can start to find out.