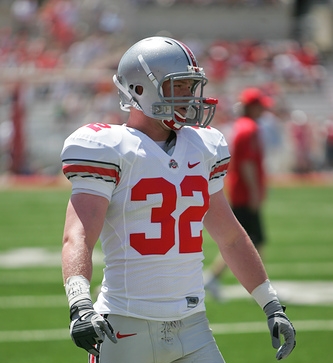 Fall camp will be here before you know it and unlike the typical new season in Columbus, 2011 brings with it a slew of question marks on both sides of the ball from a personnel standpoint.
I think most of us feel pretty good that the cupboard is far from bare, it's just a matter of waiting to see which players seize the opportunity in fall camp and parlay that into meaningful roles on gameday.
With that in mind, it feels like a good idea to discuss just who might step up this fall. We'll look at the defense today and explore the offensive side of things next weekend.
Each year, I think it's pretty much a ritual that all of us try to pick those one or two "out of the blue" players that will have an impact so we can brag to our Band of Brothers all year long that we had Player X pegged for stardom way back when he was being overlooked by everyone else.
Plus, it's too easy to point to the John Simon's and Andrew Sweat's of the roster as primed to have big years so let's take a look at a few defenders who might surprise and make it big in 2011.
C.J. Barnett
Barnett, a 6'0", 190 lbs. junior, quickly captured the attention of Buckeye fans with aggressive play from his safety spot but just as quickly his season ended when his knee blew up against Miami.
Interestingly, I get the feeling most fans think he'll pick up right where he left off which is possible but that is far from certain and it's also worth remembering that his strong play came in a small sample size against bad teams making him not quite the proven commodity some make him out to be.
That's not to say he won't be a force, I thought he looked like he could be a factor on an elite defense, just that maybe it's not a slam dunk. Is Barnett your breakout guy?
Adam Bellamy
This kid really improved as last season progressed. An imposing specimen at 6'4, 302 lbs., Bellamy finished with 11 stops in 13 games including a couple TFL's and hurries.
In spot duty, he looked to have an impressive motor and the Buckeyes need somebody to step up at defensive end opposite Nathan Williams. Bellamy is clearly the favorite to claim the stating nod.
I suppose Solomon Thomas could challenge for time after serving his five game suspension but that will probably be as a rotational backup. With Melvin Fellows failing to live up the hype for various reasons through three years (R-So.) in the program and the other guys at the position being either very young (Hayes, Miller) or seemingly just so-so depth (Moore), Bellamy's emergence would be a boon for Heacock's defense.
Johnathan Hankins
Big Hank, a 6'3", 325 lbs. trench clogger out of Dearborn Heights, MI showed flashes of extreme promise last year recording 16 tackles while showing surprising agility for such a girthy frame.
He'll be counted on to take a big leap forward this year with Ohio State needing Nathan Williams and John Simon to have room to operate in addition to helping protect the lesser experienced spots in the back seven.
Taking on multiple blockers and/or setting up shop in the opposing backfield would go a long way toward solidifying the defense. Does Hankins have enough skill and inexperience to exceed expectations and become a dominating anchor?
Storm Klein
The 6'2", 240 lb. linebacker out of Licking Valley seems primed to take advantage of the departure of both Brian Rolle and Ross Homan in this his junior season.
Klein played in 11 games a season ago registering 18 stops and one TFL to go along with a pick.
Admittedly, it could just be because I want it t happen but Klein is my personal choice as the breakout player on defense.
When OSU fields three LB's, Klein could definitely earn the starting spot at Sam and as Alex wrote a few weeks back, Klein could potentially be a force against the run. Personally, I won't be shocked if he takes the starting Mike spot from Sabino in camp or sometime during the season.
I like his nose for the football and it's very possible he is more knowledgeable of the defensive scheme as a whole.
By the same token, just because I'm not sold on Sabino doesn't mean many of you aren't, and for good reason. He's got all the physical tools and just because he has been challenged by the schematic complexities thus far he could finally have that down and be primed to live up to the hype this season.
Bradley Roby
Who will start at corner opposite Travis Howard is shaping up to be one a main storyline to watch in fall camp. Roby, a 5'11" redshirt freshman is one of as many as four guys could conceivably win the job.
Roby impressed Johnny and I in a jersey scrimmage that feels like years ago showing good closing speed and the ability to actually spot the ball in the air and make a play on it versus the receiver.
He's green but outside of Dionte Allen (9 starts in '09 @ FSU), Roby isn't that much greener than Dominic Clarke (13 games, 14 tackles).
Who's your guy to win the starting boundary corner gig?
With the departure of seven starters, it's amazing how many guys will have legit shots at earning playing time and potentially becoming that out of nowhere big time contributor. In discussing the five names above there's still guys like Allen, Clarke, Doran Grant, Curtis Grant and Christian Bryant to consider. So, who's your pick to be breakout Bullet?