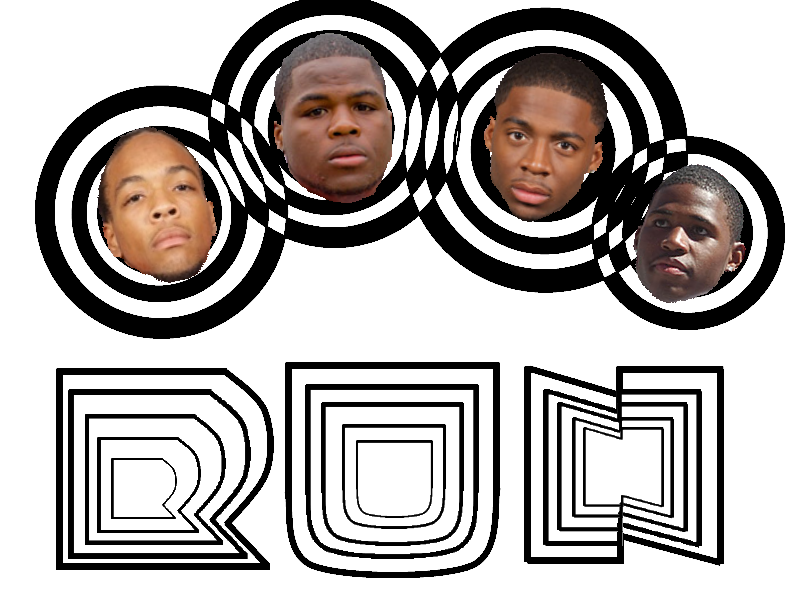 In a good way though!
One of the things I'm most looking forward to this season is seeing how the running back position shakes out with Boom Herron sipping martinis in C-Deck. Conventional wisdom has been saying that OSU has an utter embarrassment of riches at tailback, and that any one of Jaamal Berry, Carlos Hyde, Rod Smith, or Jordan Hall could step up to the mic and be the Brian Johnson to Boom's Bon Scott.
Of course, as is my wont, the first paragraph of the story is to introduce an accepted premise, while the second paragraph tears it down to make a dissimilar case. Two things to  keep in mind before I continue, however. First, I think all four of those guys are extremely talented and have the potential to be amazing. Second, add the word "eventually" to the tail end of that statement.
Because there's this thing about being a running back, something that is not easy to attain and something that I think Boom Herron exemplifies to a tee: consistency. Boom knows better than anyone how difficult consistency is to come by. Boom was given 20 or more rushes five times last year. Against Arkansas, Iowa, and Illinois, he averaged a pretty terrible 3.73 yards per carry for a total of 251 yards. But against Penn State and Michigan, he averaged 8.5 yards per carry for a total of 365 yards.
Point is, without a proven running threat at QB and a deceptively good WR corps, Ohio State needs a starting running back with the ability to bring consistency from day one.
So today I want to look at the resumes of the guys looking to become the feature back for at least the first five games of the 2011 Ohio State football season, and who I feel has the ability and experience to be the Back In Black to Boom Herron's Highway to Hell.
One caveat before I get started: none of these guys have any real prime time experience, so much of this is a projection based on how they looked given limited playing time. It isn't scientific, but it's all we've got.
First up is a guy who has actually been rumored to be part of a position change, and that is Jordan Hall. There have been whispers that Hall will be moving to wide receiver to supplement a pretty weak WR corps, and given his overall athleticism this may turn out to be a great idea. Another reason why it might turn out to be a great idea is because I think Hall is somewhat overrated in the minds of OSU fans as an RB. In his playing time he will occasionally break off an 8-10 yard run, but then have little to show for the other three or four handoffs he's been given, averaging just 4.35 yard per carry last year on 37 attempts. He just doesn't have the burst or lateral quickness to make the kind of jaw dropping runs people might be hoping for out of an OSU RB.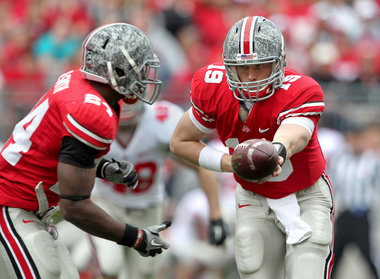 One guy who does have that burst is Rod Smith. Since he began practices just a short time ago, he has been turning heads with an outstanding combination of speed and power. His balance is incredible for a guy who has to be at least 6 foot 2, and he when he runs he reminds me of an Adrian Peterson-type back. Still... he's a true (ed- I'm dumb) freshman with zero in-game experience. Any other year, I'd say get him carries early and often to see what he can do. Not this year.
If Jordan Hall is overrated, Carlos Hyde might be underrated. Hyde is the prototypical "big man" RB, but interestingly enough he was found splitting out wide as a receiver during spring practice, and holding his own. I think he's far more athletic than people give him credit for, and in limited playing time last year he was consistent enough, going 5 rushes/32 yards/6.4 ypc against Eastern Michigan, 9/48/5.3 against Indiana, and 5/21/4.2 against Purdue. Not brilliant, but I think it's a mistake to count this guy out of the mix.
Jaamal Berry has the "wow" factor going for him, and statistically at least, he's head and shoulders above anyone right now. Let me put it this way: Jordan Hall had 5 more carries than Berry did last year, but 105 fewer rushing yards. 67 of his 266 yards last year were on account of a late game TD run against Eastern Michigan, but that kind of speed combined with his ability to change direction has proven him to be the kind of player we had hoped Mo Wells would have been. Add this to his ability to return kickoffs (which helped make OSU the best kickoff return team in the Big Ten last year), and I think you have the makings of a guy who can be a featured back.
It's unlikely that either Hyde, Berry, Hall, or Smith will be taking the reigns from day one. Luke Fickell has an imperative to find what works best, and quickly, so unless one of those four can establish themselves as head and shoulders above the rest during fall camp, expect to see all of them in the backfield at some point. To add to that point, depending on who the primary RB is, any one of these guys would provide OSU with an excellent change of pace back.
Still, if we're talking about guys who I feel absolutely need to be seeing time on the field? It's Jaamal Berry. Berry's speed and versatility make him a terrific weapon at the disposal of an inexperienced QB; if Hall figures to be more of a receiver than a rusher, having both him and Berry on the field would make for endless possibilities in the rushing and passing game.
Ultimately the goal of the Ohio State offensive plan is going to have to be finding the personnel that can afford the new QB the maximum amount of comfort and security in both the running game and passing game. When Boom Herron comes back, he'll be the guy, but until then, I believe Fickell, Bollman, and company will do whoever the QB is a great service by valuing versatility and consistent production over an idealized version of the traditional OSU running back.