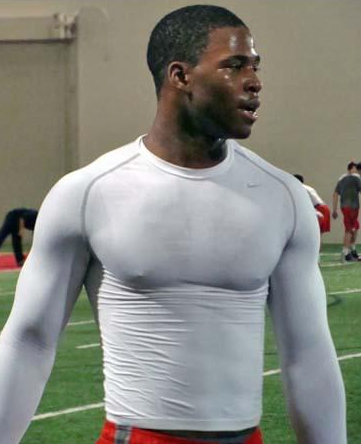 Last weekend we took a look at the defense in search of the player that will be a surprise breakout performer in 2011.
Today we turn our focus to the offensive side of things looking to identify the guy that will blow up and become a lynchpin of a unit looking to overcome the lost production of Terrelle Pryor, Dane Sanzenbacher and Brandon Saine, and holes in the trenches left by Justin Boren and Bryant Browning in addition to managing the five game suspensions to Boom Herron, DeVier Posey and Mike Adams.
With so many productive offenders to replace for either the full season or the first five games, a myriad of young Bucks will get ample opportunity to seize a starting spot and become household names in the Buckeye state.
Your job, of course, is to predict which player will have the biggest impact, being mindful that you always get bonus points amongst your friends, family and coworkers if your pick is a darkhorse as opposed a blue chip getting all kinds of run in the media before camp even starts.
Here's a short list of guys who could be poised to get loose this fall.
Braxton Miller
It doesn't take a daredevil to tab Miller as this year's scene stealer. I'm not sure he even belongs on the "breakout" list given just how many folks assume it's a no-brainer that the kid out of Huber Heights will make an impact in spades but that doesn't change the fact it's a rare occurrence for a true freshman quarterback to step right into an elite program as a starter and/or major contributor.
Still, it's hard to ignore the athleticism and playmaking ability Miller brings to the table and with the offensive line breaking in some new faces, his improvisational skill is not only necessary, it's something Bauserman can't do.
At the very least, I have to believe Miller willl be groomed to execute a shrunken but expanding package of plays in a two quarterback system as the non-conference slate unfolds with the opportunity to parlay that into the starting gig if can make some big plays without turning it over.
When it all shakes out, the odds overwhelmingly say Miller will be the new guy to have the biggest season. That's exactly why you shouldn't label him as your breakout player. Way to go out on a limb there, Knievel.
Jaamal Berry
On the surface, Berry seems like another safe pick because of his success on paper and the flashes of brilliance from a year ago. The shifty redshirt sophomore put up an impressive 8.3 yards per carry but only his staunchest supporters forget that much of that damage was done against some pretty bad 2nd and 3rd team defenses.
No matter, for at least the first five games this year, it's guaranteed he'll log significant carries and I'm definitely wowed by his blazing acceleration and the ability to make people miss.
If Berry has improved his skills in the passing game - both blocking and receiving - he can fend off a stable of stiff competition and allow the coaching staff to use Jordan Hall's versatility, lining him up all over the field, helping compensate for the lack of proven weapons in the receiving corps.
I'm excited to see what Berry can do when he gets into the flow of the game over a period of quarters instead of just getting a series here and there in mop up duty. The more touches he gets, the more chances to reach the 2nd level and use his shifty moves to break off some big gainers. Dude is slickery but I do have at least a hint of concern over his durability.
Corey Brown
Somebody in the receiving corps needs to step up. It's easy to see Philly being that guy.
With the QB situation as it is, the Buckeyes won't be airing it out this year but they need to at least have an effective intermediate passing attack coupled with an effective show of a deep threat to keep defenses from stacking the box at will in an effort to take away the run. Brown figures to be a top target from the WR spot and the Buckeyes might see him roaming free in the secondary with defenses cheating up to the line of scrimmage.
Brown disappointed at times last year, showing a case of the dropsies but the good news is you have to be open to get the chance to drop balls. Typically a pessimist, my tendency is to think Brown will always be drop prone, as we've seen with DeVier, but I'm giving Brown a little more slack. I'm choosing to think it's possible that a burner like Brown just needs to the game to slow down which should occur in this his sophomore year and the drops will dissipate.
Philly could also be a dynamic guy if Drayton has been able to coax Bollman and Fickell into installing an updated screen package for both the backs and receivers. I fully expect Brown to be the leading receiver in yards and TD's through five games before becoming Posey's chief sidekick in week six, making him my #2 pick to be a big time contributor this fall.
Rod Smith
Finally, we've arrived at my top pick to be the breakout offensive performer. I like the I Told You So bonus points that come with touting Smith, a 6'3", 230 lb. redshirt freshman, as he hasn't yet carried the ball in a college football game and to earn the right to carry it frequently, he'll have to beat out Berry, Hall and Carlos Hyde for the first five games before hoping to share carries with Boom starting with game six.
Even with the stiff competition for carrries, I'm encouraged by comments from players insinuating Smith really began to assert himself during workouts preceding the Sugar Bowl and his combo of size and speed sets him apart from the other backs.
More powerfully built to run between the tackles than either Berry or Hall, Smith is also quicker and more versatile than Hyde as both a runner and a receiver. He's got the kind of measureables that stack up against a young Eddie George and, call me crazy, but I think Bollman and company are much more committed to finding out exactly what their players do best and dialing up plays to take advantage of those skills than maybe we want to give them credit for.
A wildcard with Smith will be whether or not he took full advantage of the redshirt year to absorb the entire playbook while refining his skills as a blocker and receiver. It's with a bit of blind faith but I just have a feeling Smith is going to put on a show in fall camp making the staff comfortable with truly using Hall as an all purpose guy that lines up all over the field, leaving more carries for Berry and Smith to fight over.
T.Y. Williams
A 6'5", 228 redshirt freshman from Cleveland, Williams could be another guy to help the Buckeyes keep defenses from crowding the line of scrimmage with safeties as his height could create a little heartburn for defensive coordinators if they choose to allow a corner to check him without any help over the top.
I'm not sure how confident I am that he'll be able to consistently get behind defenders - I know he managed to do it in the spring game agaisnt a ramshackle secondary - but if he can do that and/or fully exploit his size advantage by positioning himself between the QB and defender on routes like slants and posts, he could be a surprise performer.
He's another kid that will be given ample opportunity to succeed when you look at the depth chart. With Posey out for five games, only Brown projects to be a definite starter meaning Williams will compete with redshirt sophomore Chris Fields and a gaggle of other unproven freshmen in James Louis (RS), Devin Smith, Evan Spencer and Verlon Reed.
Whether or not he will seize the moment, evolve into the second coming of Spring Taurian or fall somewhere in between remains to be seen.
Andrew Norwell
An offensive lineman may not make for a sexy breakout player pick but Norwell could easily be a guy that steps up to help solidify the offensive line. Initially, he could slide into the left tackle spot while we wait for Adams then he could move to a guard spot depending on what he and Marcus Hall show in fall camp.
Norwell held his own when forced into action as a result of injury to J.B Shugarts at right tackle, so much so that he earned a spot on Rivals all conference freshman team. If he can build upon that experience and emerge as a stud up front, regardless of position, to assist Brewster, Shugarts and Adams, the line has the potential to exceed expectations.
If the line can do exactly that, it takes significant pressure off Miller and the unproven receivers as OSU should be able to move the ball on the ground which would help minimize the frequency of obvious passing situations.
There's really no scenario in which Norwell doesn't start at least the first five games so he'll have a ton of snaps to prove he can be an elite performer in 2011.
When it comes down to it, as much as we've been spoiled in recent years without having so many question marks at key positions, the current situation does add a flavor of excitement that hasn't been felt in Columbus in a long time. No doubt about it, I prefer having a higher volume of known, returning commodities but the lack of such guys does create an anxiously optimistic vibe that is certainly new, though not the ideal scenario.
I'm sticking with Smith and Brown as my 1-2 punch to breakout but knowing so many other guys could step up and surprise, I'm ready for camp to arrive so the competition can unfold. After such a tumultuous offseason, it's hard to believe we're just seven saturday's away from kickoff.