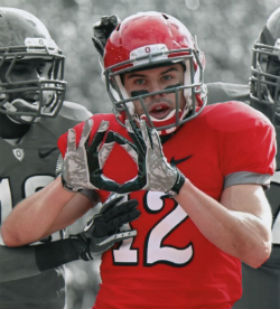 Bragging rights and program pride are an interesting thing when it comes to college football. While what we boast about or, more importantly, care about when it comes to individual player performance should be based solely on how they perform while in college, many times excessive pride comes in the form of gloating of your favorite teams' alumni success at the professional level. 
I'm not saying there's anything wrong with it, but this is the fact, and for good reason. Results while in college are important and are what makes or breaks our love for the player when it comes to fandom, there is something to be said about not only sending players to the NFL year after year, but also about those players having success at the next level. It's much easier to sit in the living room of an elite high school offensive lineman and talk about Orlando Pace than to have to talk about Alex Boone right?
I'm guessing we're all in agreement, unless we're talking about winning drinking contests in which case Boone probably makes Pace look like a pee wee football player trying to avoid a Beanie Wells stiff arm. That being said, the NFL lockout officially ended last week, allowing a flurry of transactions including free agent signings, roster cuts, trades, and more. With so much activity things are extremely hard to keep track of and if you're not on your smartphone every second of the day like yours truly, you're sure to miss a beat of fresh news.
Among the hundreds of moves already made was news of plenty Buckeyes finding new homes. Some players who didn't have the opportunity to be drafted in April found homes period, some that got picked signed their deals, some that have been bouncing around the league for a while traded places, and some that have been around the block for a while are adjusting to the tough life of an aging NFL veteran. It was definitely an eventful week if you're a fan of Buckeye alumni doing well in "the league" and we're about to break down who went where and what the latest buzz is on your favorite OSU players of both recent and long time past.
Cameron Heyward was the first Buckeye selected in the 2011 draft and "Little Ironhead" cashed in this past weekend, signing his first NFL contract. The deal, which is for 4 years and $6.7 million ($3.3 million guaranteed), is subject to the new NFL rookie wage scale, may not be as rich as it would have been in year's past, but it's still better than my current contract at work. Heyward is going to compete for playing time right away in the Steelers' 3-4 scheme, where I expect him to have tremendous success at defensive end.
The other players that joined Heyward in being selected in April's draft were Chimdi Chekwa, Jermale Hines, Brian Rolle, and Ross Homan. Chekwa quickly signed his rookie contract with Oakland just after the lockout ended, but it appears his season has gotten off on the wrong foot as he is currently in a sling for a shoulder injury. Hines agreed on a four year contract with the Rams and it appears he will be in the two deep right away for St. Louis. Rams fans can expect him to have a major impact on special teams in year one. Rolle is now officially a member of the "Dream Team" Philadelphia Eagles after inking a four year deal, and Homan can now call himself a member of the Flying Purple People Eaters, as he has signed his contract and will even have the opportunity to compete for a starting spot at weak side linebacker.
Filling out the rest of the 2011 Ohio State senior class, Dane Sanzenbacher signed with the Bears, Devon Torrence signed with the Vikings, Dexter Larimore signed with the Saints, Justin Boren signed with the Ravens, Brandon Saine signed with the Packers, and Bryant Browning signed with the Rams. I think all of the former Bucks have an opportunity to at least stay with their current teams as members of the practice squad, but early bets are on Sanzenbacher to have the best shot at cracking the 53 man squad. Best of luck to all of these true blood Bucks in their journey to make it in the NFL.
Looking at the veterans, there was a flurry of activity as well. Nate Clements has long been considered one of the best corner backs in the league, but apparently he was too expensive for new 49ers head coach Jim Harbaugh and got the boot from San Fran. Clements didn't waste any time in staying unemployed as he came home to the Buckeye State and signed on with the Cincinnati Bengals who lost top corner Jonathan Joseph in free agency to Houston. At 32 Clements may not be as swift as he was when he signed a 7 year/$80 million deal with the Niners in 2007, but he can still play and should be a nice veteran presence in the Bengals locker room. 
Michael Jenkins will always be held near the hearts of Buckeyes fans for this play (never gets old), but apparently time had run its course for his stint in Atlanta. After 7 years and over 3,500 receiving yards, the Falcons decided to let MJ walk, where he was quickly scooped up by the Minnesota Vikings. Jenkins has never been a flashy player but has been consistently solid throughout his career and has a great opportunity to make a difference in a Vikings' receiving corps that lost top receiver Sidney Rice to Seattle via free agency. Expect Donovan McNabb to rely on Jenkins heavily throughout the season.
After three season in the St. Louis Rams' defense, Larry Grant is returning home to San Francisco as the newest member of the 49ers defense. Grant started eight games for the Rams last season and has had a career far better than most of us expected. He will likely be a back up for the 49ers at inside linebacker, but has the opportunity to be a high impact player on special teams. He joins Thaddeus Gibson, Ted Ginn, and Alex Boone as members of "OSU-West", but loses Clements and Troy Smith who was non-tendered by the team this off-season.
While Grant has exceeded expectations, one alumnus who hasn't is Vernon Gholston. The former 6th overall pick by the New York Jets failed to register a sack in his three years with the team and was cut loose following the 2010 season. He was signed by the Bears over the weekend where he will work with defensive line guru Rod Marinelli, who hopes Big Vern will be more productive in his natural position of 4-3 defensive end. I'm not sure if Gholston will ever be a pro-bowl defensive lineman, but I do believe he will be a lot more productive for Chicago at end as compared to linebacker in the Jets' 3-4 system. Vern played end his entire life and it's not easy for someone to make the move to linebacker at any level, especially the NFL. I'm not making any excuses for the workout warriors, but watching him get his first career NFL sack will be a happy moment for Buckeye fans.
Another player who has underachieved severely during his time in the league is Bobby Carpenter. The former Buckeyes' linebacker has bounced around from Dallas to Miami to St. Louis and finally to Detroit after being selected in the first round by the Cowboys in the 2006 NFL Draft. It looks like Carpenter may be making some progress with the Lions, as it appears the team will bring him back for another year where he can provide depth at linebacker in rushing the passer and can contribute on special teams. It's still amazing to me how Carpenter has failed to have success in the NFL thus far, but he is still young and Detroit is a great place to try and turn things around.
Finally, ending with a "feel good" story, the Lions have also brought in former All-American defensive tackle Quinn Pitcock. Pitcock was a stud prospect coming out of OSU and was drafted by the Colts in 2007. After a successful rookie campaign, he retired due to anxiety issues which lead to depression. Quinn started his comeback campaign last season with Seattle (released on final roster cuts) and continues on the trek back to the top. In his lone NFL season he registered 18 tackles and 1.5 sacks in 9 games of action (1 start). There is no question the talent is there, but rather if his head his right and if the motivation still exists. If it does, Pitcock can be a nice addition to the defensive tackle rotation in Detroit that includes Ndamukong Suh and Nick Fairley. 
BONUS: While I'm not sure I consider him a true alumnus the way I do the aformentioned players, Terrelle Pryor has drawn interest from the Dolphins, in addition to the Browns and Buccaneers. It is still unkown whether the NFL will allow Pryor to be entered into any supplemental draft the league may have, as his eligibility is in question still despite a letter from Ohio State saying Pryor would not have been eligible to play any games in 2011. If he has to wait until 2012 to join the league, other options for TP include the UFL or the CFL.