Vacated wins: Ohio State has them.  Lots of schools have them.  When players or coaches are caught breaking rules after the fact (or in Ohio State's case, during the fact) erasing the wins earned improperly is one of the NCAA's punishments of choice.
It can be argued about how significant of a punishment vacated wins are, but as far as the NCAA is concerned, it's a serious punishment. 
This is why they publically battled the University of Kentucky earlier this summer over its premature celebration of coach John Calipari's 500th win in February, since 42 of those wins were previously vacated by the NCAA.  UK eventually acquiesced and apologized for the celebration.  Those 42 wins that happened on the floor technically cannot count toward Calipari's career win total.
Recently, Georgia Tech was investigated and punished by the NCAA (all very quietly, without a single shred of reporting - are ya jelly, Buckeyes?) and subsequently forced to vacate its 2009 ACC title and its three final games in which wide receiver Demaryius Thomas, who received a whopping $312 in improper benefits, participated.
You already know that ESPN is the Worldwide Leader in Selective Reporting, so it shouldn't surprise you that this is how ESPN.com still records Georgia Tech's 2009 season.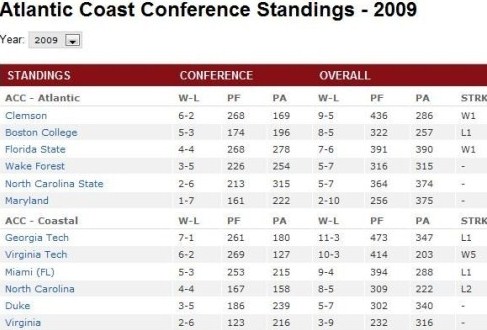 Despite ESPN's own report that Georgia Tech was vacating its final three games of the 2009 season, no changes have been made yet to the Yellow Jackets' record.  The word yet is deliberate; Tech's vacated title and wins happened very recently - actually, more recently than Ohio State's.
Vacated wins are technically removed from NCAA records, not ESPN's.  How diligent is ESPN.com about vacating wins from its own pages?  Here is how ESPN shows the final 2005 SEC standings: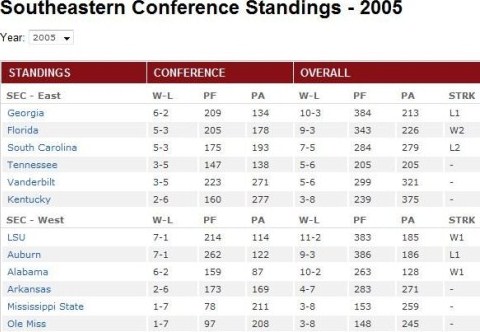 Looks normal, except that Alabama was forced to vacate 21 wins between 2005-2007.  As with the Georgia Tech penalties, ESPN also reported this story. 
Below are ESPN's final SEC standings from 2006 and 2007, which show 13 more wins for Alabama that the NCAA has vacated: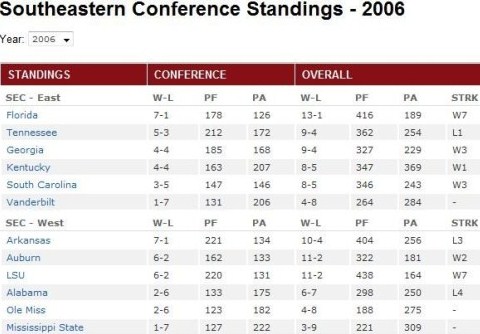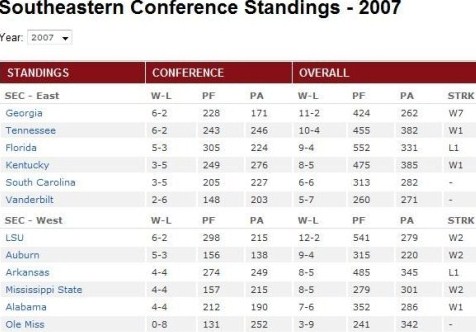 Four years is more than a reasonable amount of time for ESPN.com to make an adjustment, so based on this data, it should be safe to assume that it is not a standard practice to vacate wins.
But is this consistent across different sports?  Thirty-eight of the 42 wins that Kentucky erroneously credited Calipari in celebrating his not-500th win came at Memphis, where all 38 wins from the 2008-9 season were erased.  ESPN.com does not reflect the NCAA's decision in those standings either:
Calipari's vacated wins from that season are all still there, completely intact, years later.
ESPN almost went out of its way to avoid reporting on the three-year investigation into USC's football troubles, leaving all of the heavy lifting (and actual reporting) to Yahoo! Sports. 
When the NCAA reached its final verdict, only then did ESPN actually bother to acknowledge that the Trojans were not only under investigation - certainly a shock to those who only get their sports information from ESPN - but had gotten the blunt, business end of the Committee on Infractions' punishment stick.
Not surprisingly, USC's vacated wins were never vacated by ESPN either.  Besides, even if ESPN reflected NCAA decisions on vacated wins - and we've demonstrated with several high-profile punishments that it does not - vacating USC's wins would require someone to inform ESPN that it actually happened: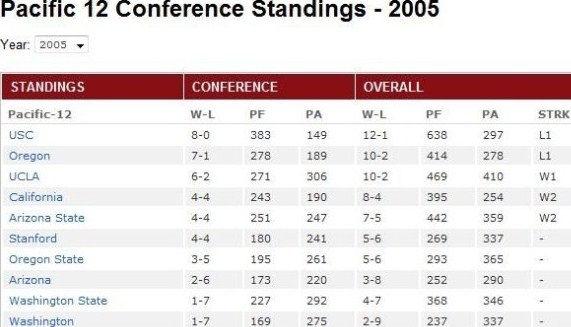 Pete Carroll's no-title "dynasty" is stlil alive and well at ESPN.
So by now you probably know where we're going with this.  Ohio State's vacated 2010 should still be intact too, right?  Behold, the work of the dilligent and incredibly selective ESPN historian: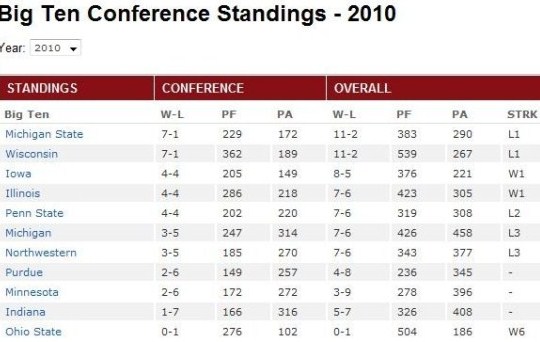 It was nice of ESPN to keep Ohio State's six-game win streak to end the season intact, considering the Buckeyes finished 0-1.
Sure, it's possibly just the work of a single rogue Web administrator, but this definitely does nothing to support those of us who have suggested ESPN's eggregiously slanted and inaccurate reporting of Ohio State's misfortunes this summer were on account of bias or a personal grudge.
For the sake of fair balance - yes, as with the other stories, ESPN also reported this.  And reported.  And reported.  And reported.  And reported.  And reported.  And reported.  And sued Ohio State.  And reported.  And reported.  And reported.  And reported.  And reported.  And reported.
Author's note: Thanks & salutations to JakeBuckeye of the 11W Commentariat for noticing this.  We love you Jake, but it's time for you to make like ESPN and update your profile, specifically the part about your favorite current Buckeye.