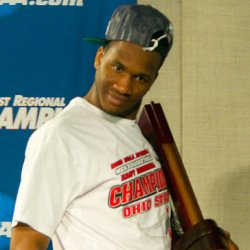 JakeBuckeye
Columbus, Ohio (via Fullerton, CA)
Member since 30 August 2010 | Blog
Helmet Stickers: 1,889 | Leaderboard
I've only played chess once in my life, and I lost.
Favorites
SPORTS MOMENT: St. Jimmy Tressel squeezing Oregon like a python in the 2010 Rose Bowl & Ohio State's 2012 Final Four run.
COLLEGE FOOTBALL PLAYER: Theodore "Ballgame" Ginn, Jr.
COLLEGE BASKETBALL PLAYER: Willie "Buckets" Buford
Recent Activity
Very helpful. Thanks for the breakdown, Jack!
That's true, we do need to beat Sparty on Sunday for the 4th seed. For some reason though, I have blind faith in this team!
No its not. Its winter until March 20th.
I'm pretty sure (almost 100%) that Marshall, Smith, and Thomas all redshirted. And I'm sure Clark will be eligible for a medical redshirt should they pursue it (which why wouldn't they, so yeah).
You must be really confused/upset/angry every home game when the band spells out "Ohio" every home game then, huh?
What did you call me?
He can take care of the basketball when he's not being forced to drive into the paint against three defenders because that's virtually our only option on offense sometimes.
So I guess you're right, he's a liability when he's being forced to be something he is not at all. But then again, that sounds pretty damn stupid because who the hell wouldn't be? Imagine a world in where Shaq was forced to take threes because somehow that was the best option offensively for his team and the supposed shooters weren't playing up to par. I don't know about you, but I wouldn't be calling Shaq the liability, I'd be calling the shooters the liability.
But whatever, I guess we can call Craft a liability because we're disappointed and looking for scapegoats.
Its like you're mistaking me for saying this team is playing well or well enough. How do I respond when you just formulated an argument opposing something I didn't say or believe?
Craft is not the liability. The other guys who are supposed to be our scorers but haven't been able to come through are our liabilities. Craft has continued to play well in the situations where he is supposed to be playing well. Craft's lack of offensive luster is nothing new, that has always been his game. I don't think it was ever the plan for him to have to be our offense.
Correct. They're not a good team. For whatever reason, whether it be something they have or something we don't have, they had our number this season. That can happen. We also have road wins against Wisconsin and Iowa. This Buckeye team is not horrible. We've had our great moments and our bad moments, but the magic of March should never be questioned. Any team that simply makes it to the big dance has a shot at a run, especially a defensive-savvy team led by seniors and upperclassmen, no less.
The only reason Craft is a "liability on offense" this season is because he's being forced to take charge on the offensive side of the ball because we don't have much else to work with there. Craft's skill is mostly defensive and non-scoring offensive, obviously, and its to no fault of his own that he is being forced to do something he is not meant to do which is be our offense. Craft is a unique player that you only see once in every decade or more. His defensive skill is equaled by none. But I guess don't color me surprised that we are scapegoating him for this team's lack of success in Big Ten play, nothing I hear from Buckeye fans during basketball season surprises me anymore.
You're right in that bandwagon was the wrong term, apologies for that. However, it is a pattern that every year (sans 2010-2011 when we were unreal good during the regular season) there is complaints about the basketball team. I think it has to do with us being a football school so our fans aren't able to grasp losing 5-8 games a year yet it not being the end of the world, but that is just a guess. My rant was influenced by years of stupid, unreasonable complaining about the basketball team, so even if this year's complaints are more reasonable than others, I can't take them seriously with the track record some people have on this site in regards to basketball.
I like the optimism. I like to think like that as well. Way crazier things have happened in March. We have a senior-led team with a lot of upperclassmen. I wouldn't even be that surprised to see us make a run. Regardless, I can't wait for my favorite time of the year (MARCH MADNESS)!
LOL at the Aaron Craft dissing. He's not meant to do much on offense. The kid is unbelievable and if you think his best attribute is "playing hard" and that he doesn't have to much help then okay, guy...
Great point. Losses to Michigan State, Minnesota, Nebraska, Penn State, and Indiana aren't as bad when you consider they were on the road. Most of them still shouldn't happen, but in March no team is going to have a distinct home court advantage.
I hope the season never ends, because that means I miss out on the enjoyment of watching the Bucks until football season rolls around. You can keep on being the "fan" you are, while I and a few others on this site stick around to support this team and enjoy March. One of my least favorite things about the general 11W population is its attitude toward the basketball program. No one really gives a shit unless the team is doing incredible, and when the team isn't doing incredible they act like they're entitled to an incredible basketball team.
I'm with this team and this program until the day I die, through the shitty losses and the great March runs. What's sad is that you and every other person on 11W will jump back on the bandwagon if this team somehow pulls together a run in the tournament.
P.S. As of today Lunardi has us as a 6 seed in the tourney, so yeah.
You do not remember Diebler's freshman year if you think ADV is worse than Diebler's freshman year.
That is a weak brawl. Give me Artest.
Likewise, I was at school. And wow, that was my freshman year of high school. It feels like just yesterday. Its crazy how time flies.
Why not? Its football offseason and it was posted in the "other sports" section..
I missed it too. It is by far one of my biggest regrets in life and a lesson to never miss a Buckeye game no matter the cost.
I think we get to the Big Ten Championship game, at the very least. This team is going to surprise in March.
Oh gosh, you'd have to. I don't know how you'd sneak that though.