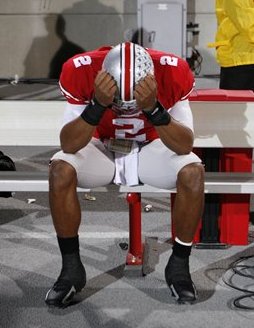 Closing in on a week removed since Jim Tressel's resignation, we still have what feels like an eternity being able to completely turn the page on the impacts of the scandal that has rocked the program.
We're dealing with reconciling the Vest's tainted legacy, trying to understand potential ramifications of the recent barrage of new gear-for-ink/cash allegations involving additional of players beyond the previously known six, attempting to determine who will be our new permanent head coach and playing the guessing game as to how severe the penalities might be while pondering if our quarterback's career is as done as being reported, and if we even want him back regardless.
Obviously, what compounds all of these issues and unknowns is the the element of time. It's the off-season so we can't get back on the horse. Instead we're forced to sit and wait as the OSU and NCAA investigations take place amidst the backdrop of national scrutiny.
The time festers speculation, fear and a defense mechanism that is running low on juice. Even worse, our defense mechanism usually always reserved for defending our own is shrouded in turmoil especially when it comes to Terrelle Pryor.
Though Pryor isn't responsible for Tressel's demise, his role as a root cause for the birth of this mess has triggered much of the fanbase to turn on him. It's also fair to surmise the locker room is divided as few have come to his specific defense with most seemingly electing not to touch the subject either via twitter. Influential former players in the media have taken their shots with Herbie and Spielman leading the charge.
With all the chatter about TP's career in scarlet and gray all but over, one has to wonder if Ohio State won't be more than willing to play along and do whatever they can to appease the NCAA which could come in the form of suspending Pryor for the rest of the season assuming the Pryor-specific portion of the investigations causes the NCAA to postpone the currently scheduled August 12th hearing or if any new evidence comes to light ahead of the hearing prompting OSU to take proactive action in hopes of gaining points with the infractions committee. Certainly they'd never advertise such a plan but there are worse ideas than distancing themselves from Pryor should the opportunity arise after having already cut ties with Tressel.
Trying to look at this as unbiased as possible, I just don't see how Pryor can get back on the field in Ohio Stadium if he actually regains eligibility (despite statements out of legal guardians or any other entity). It would look awful for the university to see him out there with more than half the stadium showering the field with boos in front of a national TV audience.
It may not be totally fair that Posey, Adams, Boom and Thomas likely won't suffer the same degree of backlash should they too once again suit up for the Buckeyes but it seems the reality at this point.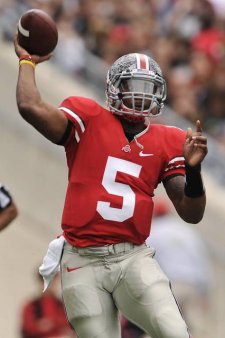 Considering nobody wants to see such a debacle and the program really needs to jumpstart the process of attempting to move on, my vote is for the Braxton Miller era to commence with an unwavering commitment to letting him gain a full season of experience.
The season is already unfair to the rule abiding seniors and I refuse to be convinced Fickell would be compromising the best chance to win by putting a true freshman under center.
It's a risky move but made less so by examining an offense line replacing three starters for at least five games and at least two starters after that. The result could be a sometimes pourous pass pro offset by Miller's ability to create in space, or at the very least, avoid as many sacks as Bauserman is likely to surrender.
Guiton would fare better than the Baus but would it be worth setting Miller a year back? Not for me. Throw in the fact the wideouts are largely young and unproven and it seems like the perfect time to let the chemistry lesson commence.
It's hard to fathom looking at an OSU football season as a rebuilding year but that's where I am with it. I've already got one eye on next year and the bonus is that starting Miller isn't an act of giving up on this year.
I'm more than ready to move on with this current dark chapter in Ohio State history and permanently turning the page at the QB position is a great place to start.