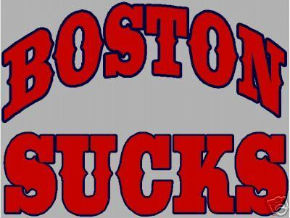 Good morning Buckeye fans and to all you 11W groupies. This is your Thursday Skull Session and I welcome you back once again with the most open of arms.
I woke up in a bit of a damper mood this morning for the sole reason that the city of Boston won another professional championship. No, not the Celtics, but for those of you who don't know or don't care to know what hockey is, the Boston Bruins took home the Stanley Cup with a 4-0 victory in game 7 against the Vancouver Canucks.
Not only was I upset that former Buckeye Ryan Kesler didn't get to hoist the cup and represent Buckeye Nation, but I absolutely despise the city of Boston. Granted I've never actually visited the place, although I've heard good things, I am from the New York/New Jersey area and can't help that I was raised to hate everything that has to do with that city. Whether it be hockey, baseball, basketball, football, or indoor women's lacrosse, I absolutely despise Beantown and seeing their team winning a sport I couldn't give a darn about still leaves me in a bad mood this morning.
Enough of my ranting. There's plenty of things to talk about in the sports world, so let's get to them as we take you to the Thursday Skull Session.
JaQuay Williams is not a Buckeye. Sandy Greek (GA) WR JaQuay Williams made his announcement yesterday and the lifelong Buckeye fan chose Auburn over OSU. Yes, you read that right, Williams grew up his entire life as a Buckeye fan after growing up in the Pittsburgh area, but chose the Tigers due to their wide receiver coach, proximity to home, and the fact that he didn't feel as comfortable with Ohio State after Jim Tressel resigned.
That's right folks, one of the top receivers in the nation would most likely have ended up in Columbus if Jim Tressel had not resigned. Williams is not the first casualty of the Tatgate situation (Tom Strobel defect up north) and he certainly won't be the last. Until the permanent head coaching situation is sorted out at OSU, don't expect too many players of this caliber to come running to the Scarlet and Gray.
Kehoe Getting Props. We knew it wasn't going to be Terrelle Pryor, but out of the other handful of quality candidates, the OSU athletic department named Steven Kehoe Male Athlete of the Year yesterday. In case you missed it in the forums, the volleyball standout lead the school to its first ever national championship, while earning First Team All-America honors and was named MIVA Player of the Year.
To top things off, Kehoe was named as the Big Ten's Medal of Honor winner, recognizing him as the most outstanding male student-athlete at OSU. He earned his degree from tOSU on Sunday in business administration. Think he'll have trouble getting a job? It's fair to say Kehoe is #winning.
Mavericks Liv It Up. Speaking of #winning, the Dallas Mavericks have done plenty of that, not just for their own city, but for the entire city of Cleveland, who sat watching the NBA Finals hoping LeBron James would fail to get the coveted championship he bolted Cleveland for. They certainly got their wish and the Mavs did their job in celebrating hard enough for both cities as well.
Following game 7 on Sunday, Mavericks' owner Mark Cuban broke the bank in spending thousands of dollars for a team celebration at Club Liv in South Beach. You can see a bunch of photos from the event in which Lil Wayne made an appearance here, but that gallery doesn't include the best picture. That would be this little baby right here, in which Mark Cuban takes the championship trophy into the restroom with him because he just doesn't want to let it go. Boy do I wish I could have been a fly on the wall when David Stern had to hand that trophy over to Cuban.
Tater Tot at it Again First it was Miami. Then it was UCLA, San Diego State, Auburn, Kansas State, or Montana. Following that was rumors of San Jose State. Now, the latest rumors have former Michigan quarterback Tate Forcier reaching out to the University of Hawaii in hopes of potentially transferring their to continue his football career. 
Interestingly enough, the Forcier brothers' twitter page is denying this report, but either way this situation is just getting sad. A once promising college prospect has ultimately done a complete 180. Michigan fans were calling "Tate4Heisman" about 5 weeks into his freshman season and now he can't even find a place to take whatever talents he has left. One thing that will remain the same though is that he still can't beat Ohio State.
Big Ten Bits. Michigan State is about to blow-up on the national scene says Ben Glickman. Penn State and Pittsburgh will resume their in-state rivalry in 2016 and 2017. Speaking of Pitt, Wisconsin running back Zach Brown is considering transferring there after realizing Montee Ball and James White stand in his way of playing time. Adam Rittenberg has a list of Big Ten Heisman candidates. Nebraska could be the B1G frontrunners now that OSU is without Terrelle Pryor. Danny Hope talks about how he polices his players (if you even call them football players). Finally, Northwestern landed two more commitments yesterday.