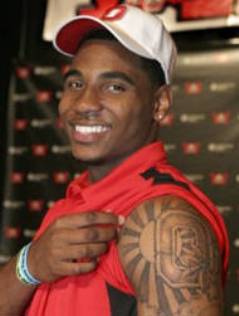 There has been a predominant narrative pulsing through the coverage of the Ohio State offense for years now. While the tenor of the argument may change, depending on the source, it largely follows the same pattern:
Ohio State runs a "3-yards and a cloud of dust" offense, so conservative that even the John Birch Society calls it "buttoned-up." Under Tressel, top quarterbacks committed. Yet they worked as glorified hand-off specialists, only to waste away their talents in mediocrity until finally squeaking onto draft boards as last-minute afterthoughts. 
There's plenty of reason to believe that narrative is wrong. Troy Smith developed from an "athlete" into a Heisman winner, Craig Krenzel won a title and earned a starting spot in the NFL for half a season despite little pure talent as a passer, and Pryor's issues with mechanics and decision-making could be the result of sever arrogance as much as bad coaching. 
With Tressel's resignation, the primary architect of the Quarterback position over the last decade is gone. Whether he held back the supreme talent at his command, or he developed fundamentally flawed players into effective, if limited, college players, without his guiding hand future quarterbacks face uncertainty on the horizon. 
The player who no doubt feels this most keenly is Braxton Miller, the Saviour du Jour and the latest in a long line of heralded Dual-Threats. 
We don't know who will start against Akron, or even if the starter will stay the starter all season, but it's safe to say that Braxton Miller is the future at Quarterback. Pryor had a freakish combination of size, speed, and arm-strength. Miller likely falls short in all three categories in comparison, with the possible exception of speed. Yet he has far better throwing mechanics, and presumably a much better head on his shoulders. 
After Ejaun Prince left for Pittsburgh, and Kyle Kalis potentially joining him in exodus, it's commonly thought that the recruiting fallout will be the biggest crater left by Tressel's exit. Yet the disruption in quarterback coaching may be even greater.
The danger is that we'll face a situation similar to Michigan's, or a mirror image of what faced Michigan when they first hired Rich Rodriguez. New coach Brady Hoke, a staunch West Coast Offense devotee, is working to develop Denard Robinson into a pocket passer. Despite breaking all kinds of records as a sophomore, and almost saving RichRod's job singelhandedly, Robinson apparantly isn't good enough as is for Coach Hoke.
While the same criticism was often leveled at Tressel, the truth is that Tressel had consistently developed effective scramblers throughout his tenure at Ohio State. While the offense was never going to resemble Florida's, West Virginia's, or Vince Young's Texas, quarterback runs have been a constant feature of a Tressel-coached team. 
Fickell was "hired" for continuity. He provided the best way to maintain the fundamental characteristics of a Tressel-led team, while the Athletic Department gears up for a more comprehensive coaching search for 2012. So Miller shouldn't be entirely constrained by the playbook in the same way it's looking like Robinson will be. Yet continuity is one of the most important aspects of a quarterback's development. 
Luke Fickell is a stellar defensive coordinator, and a great recruiter. He lives and breathes Ohio State, and by all accounts is pure as fallen snow. But he's never been a QB. Nick Siciliano was the "QB coach" in title, but Tressel was an especially hands on coach when it came to his quarterbacks, and there is a huge void where he once dwelt. Hopefully Siciliano is able to step up and fill that void, or Fickell will need to find someone who will.