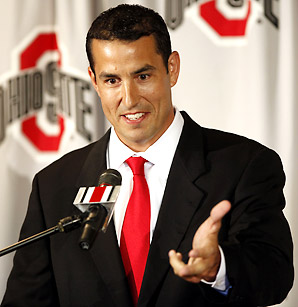 Good morning and welcome to your Monday Skully, denizens of Elevendubland.
We're still coming down off of the high of De'Van Bogard's weekend commitment and the window of hope St. Ed's tackle Kyle Kalis created when he cut short a visit to Ann Arbor Friday1. Kalis is correctly exercising his due diligence here and we can't blame him in the least. Ohio State is not the same program he originally committed to many months ago.
Kalis did say his Michigan visit was "awesome" and the Wolverines may still have to be considered a slight leader for his services, but he may also want to visit Alabama and Miami. Kalis would look best in Scarlet and Gray, but if we do lose out on his services, for the love of God, let it be to anyone but Michigan.
Luke Fickell and staff were busy working on other components of the current and future classes during the school's camp over the weekend, extending offers to a couple of backs.
Erie (PA) running back Greg Garmon was offered as a defensive back. Garmon is Scout's #10 running back in this class and the Buckeyes will have to overcome the lure of other elite schools (FSU, Iowa, Michigan, Penn State, etc.) giving him a shot at his preferred spot in the offensive backfield, but he is a multi-year camper so there's something about Columbus that he likes.
Running back Derrick Green, a teammate of linebacker Curtis Grant at Hermitage High School (Richmond, VA) picked up an offer to become a member of the 2013 class after earning MVP honors at the junior camp late last week. Ohio State has a better than solid shot at the kid considering he wears #27 to honor Eddie George.
Why wasn't Lighty drafted? A lot of us were shocked to see Mr. Buckeye, David Lighty, go undrafted last Thursday night. It turns out, he could have been.
The Dispatch's Bob Baptist caught up with Lighty's agent for the back story:
"Several teams called when they were picking" in the last third of the second round, Lighty's agent, Joel Bell, said yesterday. "They said, 'We'll draft David if he'll agree to (play) overseas for a year because we don't have a spot for him this year but we think we'll have a spot for him the year after.

"David and I discussed it, and we decided that would not be a good idea. There was no need to commit to going overseas while there were still a lot of teams that had interest."
Lighty will visit Atlanta today and plans to also make a trip to Phoenix , but the NBA's impending lockout might prevent him from cashing a check right away.
OMG JAKE BALLARD TOTALLY GOT A FREE TICKET TO THE SUGAR BOWL!1!! Also, so did a lot of what we can only presume to be girlfriends given the overabundance of female names in the data. What data, you ask?
The Cleveland Plain Dealer took the time to sift through game ticket records to determine useful things like the total amount given away by players during the last three years (15,000) and how many of them went to non-family members (3,600). They even put the set into a nice, searchable database for us (Bonus: the alphabetical radio buttons on the search form have a small problem).
Of note: Ted Sarniak and wife Kathleen received a lot of game tickets. Ted received tickets 36 game tickets from 2008-2010, while his wife received 21 game tickets during that span. They were 1st and 3rd, respectively, on the list of people that received the highest number of tickets, which is how you take care of a father figure that's been an important voice in your life since you were in middle school.
Photographer Dennis Talbott (eight games, all in 2008) and tattoo parlor owner Edward Rife (one game, New Mexico State - 2009) also turned up in the list, but you already knew that.
The paper reached a few recipients for comment and Jay Gebhart of Youngstown, depicts a compliance office doing its job:
"They ask a bunch of questions. They want to know how I know the player, when I met him, whether he sold them to me or gave them to me."
Yessir.
Jackson drops the "O" word. In an interview with the AP, former OSU wide receiver James Jackson alleges Jim Tressel suggested he transfer in so many words:
"They had an oversigning issue. They had to free up a few scholarships, and coach (Jim) Tressel told me I probably wouldn't play and maybe Ohio State wasn't the place for me."
Gene Smith, in a follow-up statement, disputed this assertion, but unfortunately, it's all that's needed for rivals to lump Ohio State in with the Alabamas and LSUs of the world. Unfortunately, while those schools systematically flaunt the 85 man limit for rosters, Ohio State was at 85 on signing day and has never been above the limit at any point during the previous decade.
If Jim Tressel is guilty of anything, it's of stockpiling scholarships for walk-ons.
Did you hear about the Land Rover, BMW and Acura driven by North Carolina football players? Of course not.  Because nobody cares about Tar Heel football, despite 317 parking tickets and fancy rides.
Wut?

That right there is the suggestion of two impossible things happening. Unreal.
Meanwhile, Brooks has blocked us from following his Twitter account. Which is what honorable men do when another party has the audacity to question what they're reporting, right? Right.
Random Bits: Mike Vrabel as LB coach is starting to generate some serious heat... We have to assume Texans are smarter than this... Iowa adds a kicker. He's 6-7... Happy Independence Day, Djibouti... Dave Chappelle got his swole-on... Shot or pint? Doesn't matter... Breathe Right strips, surprisingly racist... Finally, Why?