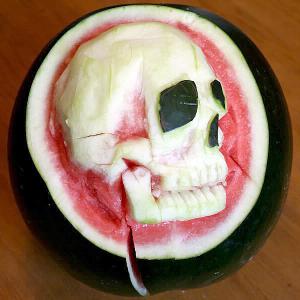 It's our first Summer weekend this year, and like some of you I'll be on the road for most of it, doing my best to sleep while someone else does the actual driving. Naturally, summer is usually the slow season when it comes to Buckeye sports, with no games to be played and recruiting largely in the bag. This year will hopefully be no exception. This spring was eventful enough. 
Unfortunately, I'm not on the road to the beach for a picnic, but rather I'll be apartment shopping in the heart of Duke-country after being called up to the Real Life big leagues and finally landing an adult job. I can't say I won't feel like kind of an outsider wearing red amidst so much blue, but it will be nice living among Big Time College Sports again. 
Anyway, here's your Friday Skull Session!
His only remaining fan? Chad Ochocinco, at least, sits firmly in Terrelle Pryor's camp. Despite legions of detractors, both of his mechanics and passing ability, and of his decision-making on and off the field, Ochocinco says he's one of the best he's seen.
I don't care what ESPN said, I don't care what the report, I saw with my own eyes. I've seen every NFL quarterback play. Dude, it was unbelievable, with the right coaching, listen to what I'm saying, with the right coaching he can become a great NFL quarterback because he has all the tools. He has all the tools that these scouts look for in a quarterback.
Strong words.
Of course, it helps that they share the same agent, and as much as I love Ochocinco's attempts to liven up the staid and boring No-Fun League, he's hardly one I would consider a sober and judicious voice. Plus, screw Terrelle Pryor. 
Nails for Breakfast. John Simon, the undersized Tackle with gorilla arms, says there's no hint of turmoil in the locker room. Simon stands firmly behind his long-time coach Luke Fickell as the Boss, and says that the rest of the team is just focused on helping the new guys transition into the program.
We have a lot of great guys coming in. We have a lot of great players coming back. Like I said, we really closed ranks this summer and past winter, and we're biting at the chops to get after it, and it's going to be a fun year
Sure, it's just more coachspeak, but coachspeak is itself a pretty good sign that discipline and unity remains high among the players. You don't trot out the party line unless you still believe in the party, so to speak.
More interestingly, he revisits the Sports Illustrated allegations, which targeted him among other athletes, reiterating that his own tattoos were legitimately paid for. 
"I don't even know where the place is, so you guys don't have to worry about me," said Simon, who noted that he added one tattoo at Ohio State to the two he had in high school.
He wasn't the only person falsely accused in the hackjob article, and personally, John Simon is the last player I'd want to get on the bad side of. . .
Out of the frying pan. . . The AP reports that the OSU Board of Trustees have decided to investigate the compliance department in the wake of the latest controversies. Not unexpected. The move is mostly an effort to dot the i's and cross the t's in anticipation of the thorough fine-toothed-combing the NCAA is expected to bring to the Athletic Department in the future. 
Quoth Schottenstein:
We want to assure ourselves that there are no new issues in any existing athletics matters that have not been dealt with, and I will say today that we believe that is the case.
Leaving aside the question of why a basketball arena is giving quotes to the Associated Press, this meeting, intended to mitigate any NCAA violations, may have commited an Ohio legal violation of the state's public-meeting laws. 
We've already discussed why not much will come of this, other than a few chuckles at Les Wexner's expense, but if ever there was an a better example of the Keystone Kops nature of the Ohio State leadership the past few months, I haven't seen it.
Phase 1 begins. The USA Today reports that Urban Meyer's first job at ESPN may be. . .  Ohio State. Whether a conscious decision by ESPN or a coincidence (it was a conscious decision by ESPN), it's certain to churn the rumor mills. No doubt, having Meyer commentating during the first Ohio State game will draw many viewers curious to gleen any hint of his future intentions, and that's just what ESPN wants. 
He'll be joining Buckeye favorite Chris Spielman in the booth, and had this to say about working with his friend and former player and watching his former (future?):
The human side of it is you'd like to stay away from certain topics when you're dealing with friends, great institutions, players you've dealt with. But I have a job to do. I've talked to (ESPN's) Jon Gruden about this. You don't have to criticize, you have to analyze — but not get personal.
So you heard it here first, Jon Gruden and Urban Meyer both discussed which of them would take the Buckeye Head Coaching job (we're not really saying that).