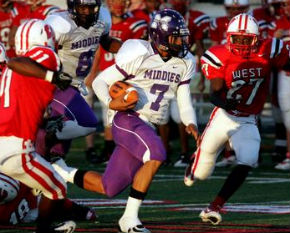 The Buckeyes aren't even close to finished with recruiting their class of 2012, but that hasn't stopped Luke Fickell and the rest of the coaching staff from starting to get to know some of the top prospects from around the state in the recruiting class of 2013.
One of the best, if not the best, prospects in that group from the Buckeye State,is Middletown QB Jalin Marshall. Marshall currently stands at 6-1/190 and has been consistently clocked at in the 40-yard dash at around 4.5 seconds. To say he is a freak of an athlete is a bit of an understatement and many feel he can play a number of positions when he gets to the college level.
Marshall was an attendee at the OSU senior advanced camp last weekend and like always made quite the impact. He worked out at both quarterback, where he wants to play in college, as well as at wide receiver, where many project him to play in a couple years. He performed so well at the camp that at one point he had four Buckeye coaches, including Luke Fickell, watching him at once and apparently those coaches were drooling over what Marshall was doing against some other top notch prospects.
He also performed well enough to receive an offer from Ohio State, the school he has loved growing up. We got a chance to sit down with Jalin to talk about his experience at the OSU camp, how he feels about the offer, what position he is being recruited for at Ohio State, and much more. Get to know Jalin Marshall after the jump.
You were just at OSU camp. How was that experience and how did you perform there?
It was great. The experience was great. I think I performed really well, as good as anyone at the camp.
You walked away from camp with an OSU offer. How did that feel?
​I felt great finally getting the offer, especially knowing they had been showing interest in me for a while.
What coaches did you get to talk to while you were down there? Have you gotten to know Coach Fickell? 
I spoke to all of the coaches at different points while I was down there. I have gotten to know [Luke Fickell] pretty well.
Is OSU your favorite now? What other schools are you looking at?
Ohio State is my favorite and is currently tied with Notre Dame at the top of my list.
What position is OSU recruiting you for? 
The coaches told me I can play any position I want to play if I end up going there.
When do you want to make your college decision?
​I'll probably make my decision after my junior season.
What are your strengths as a football player? What are some things you need to work on before college?
 I think my strengths are definitely my ability to see the field and to just make plays. I think I can work on being more patient as a passer and play maker.
What are your goals for the rest of your high school career? What are your goals for your college career?
​My goals for next year are to win a state championship. My goals in college are the same, to win a national championship.
What are your opinions of the issues OSU is currently dealing with? Will those have any impact on your decision?
Whatever they're going through will have no impact on my decision. I will go there to play football and get an education. Nothing else matters.
Finally, if you can say one thing to Buckeye Nation, what would it be?
I love the Buckeyes!
HIGHLIGHTS: