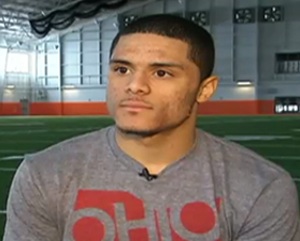 The top seniors from Ohio and Pennsylvania went head-to-head for the 24th time last night in the Big 33 Classic and for the third year in a row, the good guys emerged triumphant. But while the previous two affairs were one score games, this one was never really close.
Behind a dominant defensive front, the Ohio squad forced an interception on the game's first play and then turned things up a notch while holding the Pennsylvania side to zero first downs deep into the 2nd quarter. The offense did its part as well, scoring repeatedly on the ground and through the air on the way to a 50-14 rout1.
Six future Buckeyes were on hand for the drubbing (the 50 points were the 2nd-most scored in the game's history), but wide receiver Devin Smith of Massillon and cornerback Doran Grant of Akron SVSM had the highlights. Leading 14-7 in the 2nd quarter, Glenville quarterback Cardale Jones (who likely will be a part of OSU's 2012 class) found Smith wide open on a skinny post for a 54 yard strike to extend the lead.
After Pennsylvania had driven deep into Ohio territory on their next possession, Grant stepped in front of a pass in the endzone and returned the ball 101 yards behind a caravan of blockers to put his team up 28-7 with just under two minutes left in the half.
The second half was more of the same, with Smith getting another touchdown and the defense, led by Buckeyes Chase Farris and Steve Miller limited Pennsylvania to -8 yards rushing on the evening.
Akise Teague, Ohio's Mr. Football, captured team MVP honors, finishing with 102 yards on eight carries and 66 more on two receptions. The future Bearcat was electrifying, scoring Ohio's first two touchdowns on runs of 52 and 20 yards in the first half and then followed it up with a 40-yard touchdown reception from Jones in the third quarter.
Teague, from Youngstown's Ursuline High School, would have been a Buckeye if the school had offered him, but the staff took a pass on the 5-9, 176-pounder. This did not please a very vocal subset of fans and you can expect them to resume the "Why not Teague" chatter after this performance, which means you'll hear "Tyrell Sutton" and "Javon Ringer" thrown about.
In other news from the night, OSU signee Ejuan Price confirmed that he has been released from his scholarship and plans to attend Pittsburgh. This had been rumored, confirmed, re-rumored and re-confirmed for some time now, so it doesn't come as a shock. After all, Price took guidance from a coin when making his initial decision:
"It had nothing to do with the allegations. I know what kind of people they are. Everybody makes mistakes, but that's just not where my heart is. I don't think that's where I wanted to go in the first place. They're still good people whether all of that stuff happened or not. Coach Tressel is still a good guy. They're still all right with me."
That's a pretty classy exit line from Price and if the kid is homesick, we want him to go to where he'll be happy. Curtis Grant will help mitigate Price's departure from a talent/depth standpoint and if we're being honest, the 50 points he watched go up last night will go a long way towards calming the fears of fans.
1 Perhaps paying homage to Woody, head coach Matt Dennison (New Philadelphia) went for two -- and got it -- to put his team up 43-7 late in the 2nd half.