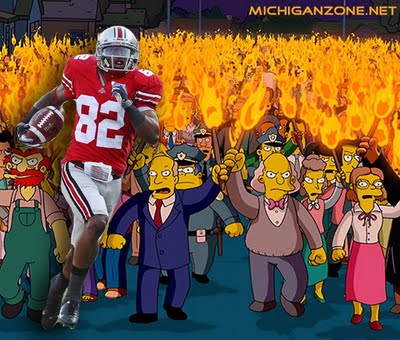 We haven't even had a full day to digest the Lantern's interview with Ray Small in which he bravely spoke on behalf of hundreds of Ohio State players by revealing how they all thought and behaved while he was (barely) there, but the reaction has been swift and unkind.
If Small was an easy target for Ohio State fans who never forgave him for sucking out loud during those staccato-like instances when Jim Tressel allowed him to exit the doghouse and actually dress for games, he's now the only target.  Ohio State fans and players (more after the jump) have not taken kindly to a serial punk who was forgiven dozens of times by his coach now taking kerosene to the school he pretend-attended for free.
Whether the national media or general outsiders realize this now or not, they soon will: This is not the whistleblower whom you seek.  This is not the evidence you desire.  This is not the character witness you want.
This is a kid who could not be bothered to go to class even when he knew there would be people checking to see if he was there.  This is a kid whose number four was "downgraded" to number 82, who was suspended routinely by Tressel and forgiven, then suspended again, and again, and eventually failed to stay eligible for what would have been in last game in Pasadena against Oregon.
This is a kid who was so toxic that younger players *cough* Duron Carter *cough* were encouraged to stay away from him out of fear that they would "learn" from him.  For every opportunity that Small was handed by Tressel and Ohio State, he exploited nothing.  He was deliberately ignorant about what it took to be successful at Ohio State or anywhere else, nor was he visible or present enough to speak for all of his teammates, let alone the handful that unwisely chose to run with him.  Those facts, by themselves, make it incredibly hard to take anything Small says seriously.  Terrelle Pryor is Plato by comparison.
The validity of what Small told the Lantern is lost in two ways: One, the national media is not running the full Lantern story; it's running much smaller, more abbreviated and juicy parts.  The Lantern piece explicitly shows that Small knew what he was doing was wrong, and that he simply ignored the rules.  He blindly speaks for "everyone" and almost copes with his transgressions by suggesting all of his teammates did the same thing. 
"What I did was okay because everyone was doing it."  Right.  That's how unruly five-year olds try to take down the rest of the playground with them, and it doesn't work there either.
By providing a sketchy tell-all in during the negative climate that Ohio State has already put itself in, it really does not matter what Small actually said.  It's going to be digested as just more of the same for Busted University and - not that he possesses a shred of critical thinking ability - does nothing for Small.  He's now, incredibly, more toxic than he ever was before.  Without any of Maurice Clarett's charisma, ability, supporters or marketability, he has destroyed what miniscule equity he had in Ohio and Ohio State.
I've wasted enough words on Small.  Enjoy the comments of his teammates, who are clearly thrilled that Small was gracious enough to speak for them: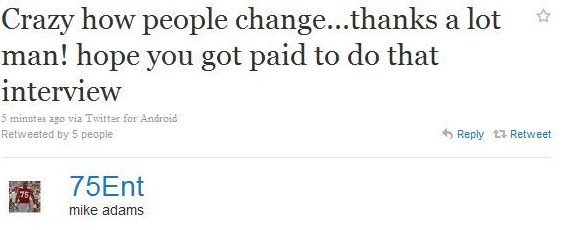 ...says the guy who's suspended five games for doing what Small says everyone does.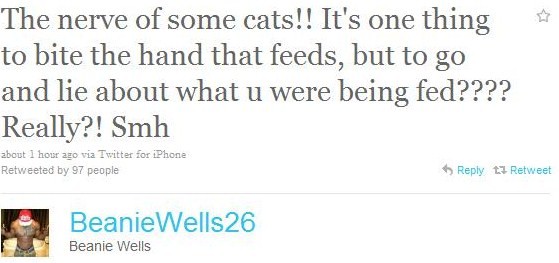 Beanie never thought Small was much of a downfield blocker either.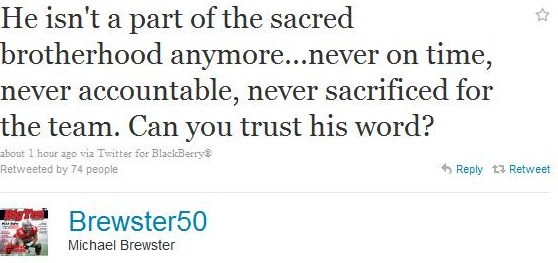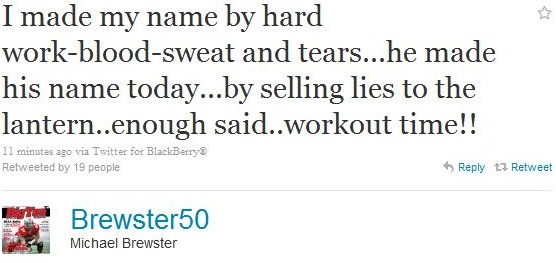 Mike Brewster rarely gives one fuck, let alone several.  This is classic, noseguard-shredding Brewster.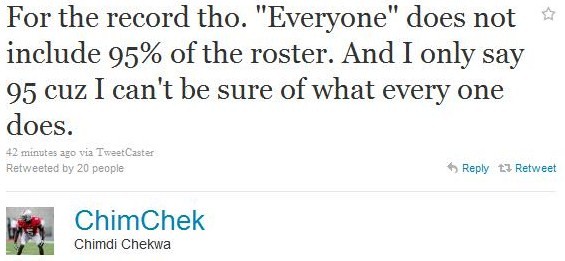 Chekwa graduated with a degree in Accounting.  Apparently he also learned to audit bullshit in business school.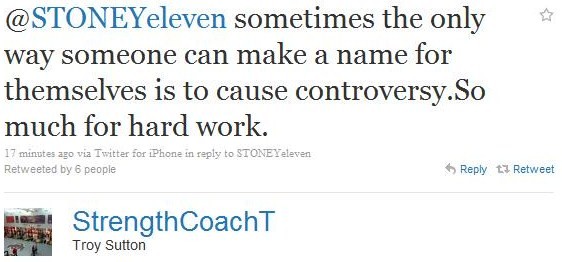 Troy Sutton dropping philosophy on Jake Stoneburner.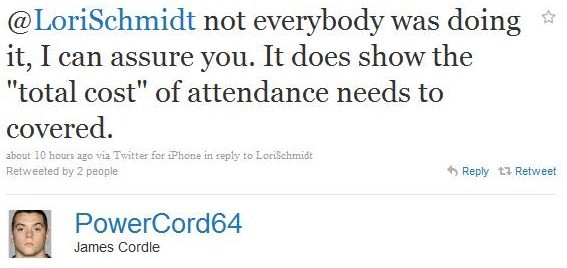 Jim Cordle, lead blocker for one of the ideas the B1G is kicking around.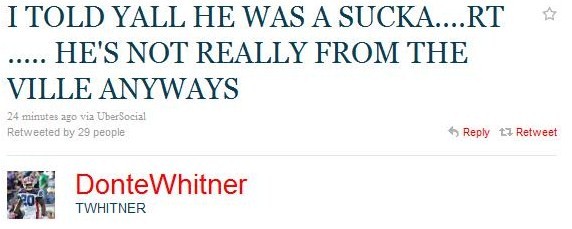 Donte has no love for Ray-Ray.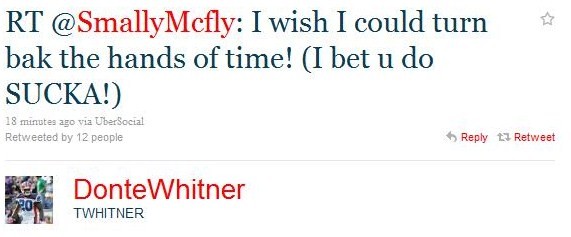 This is called "Liar's Remorse."  Small almost immediately deleted the tweet, which Whitner immortalized.

 Simple.  Betrayal.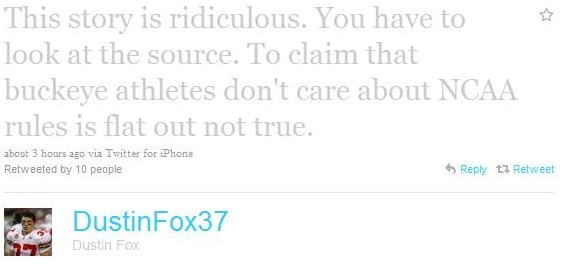 It's more than flat-out untrue.  It's lazy and impossible to prove, the latter of which the NCAA requires.

 This is especially scathing considering it comes from a receiver who caught less than two balls per game.

 Wisconsin Badger/Ohioan Kyle Jefferson.
 The world needs more Malcolm Jenkinses, and they all need to go to Ohio State and start for four years.

 A Tressel long-snapper not getting paid?  This is prima facie evidence of institutional control.

 Jack Mewhort subscribes to the Book of Brewster for giving fucks, i.e. he does not do so.

 Yes, yes Verlon.  Smh.

 Brian Rolle is appalled.  Someone is going to die.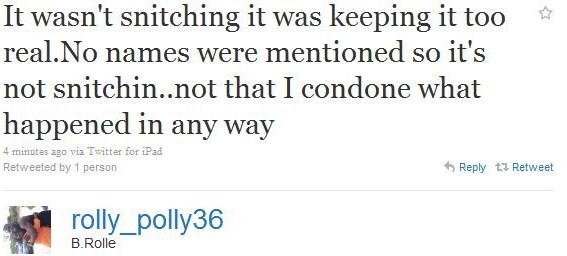 Brian Rolle is clarifiying the mob's position with semantics.  Someone is going to die.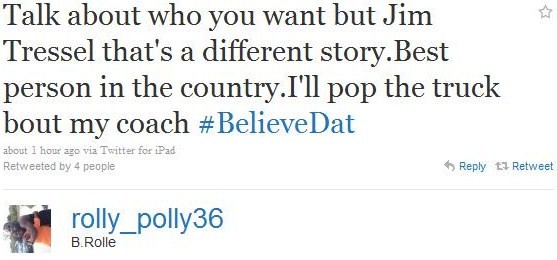 Someone is fronting on Jim Tressel and Brian Rolle is not amused.  Someone is going to die.

 In classic Shugarts fashion, he tweeted this one second before the proverbial ball was snapped.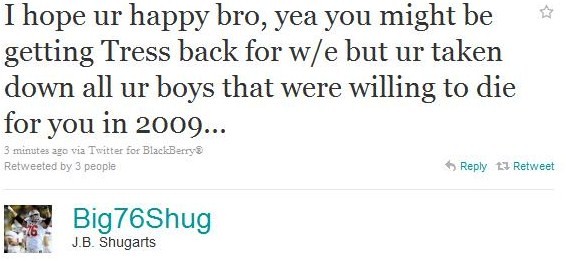 ...and then came back the following play angry and crushed a guy.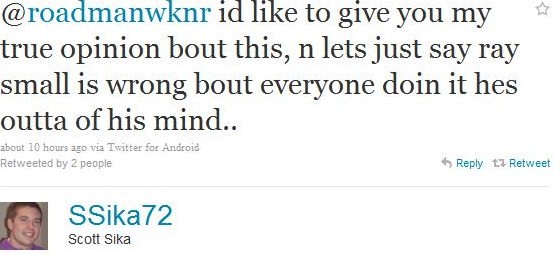 Scott Sika has more to say, but he's going to stay mysterious.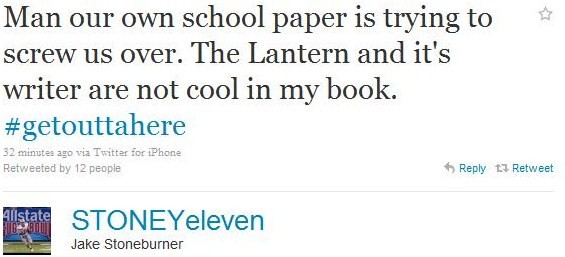 I will fight anyone* who disparages the Lantern or the role of the media in responsible reporting.  *Except Stoney, because he's much bigger than me.

 Small missed all of the Sacred Brotherhood meetings.  Too busy chilling.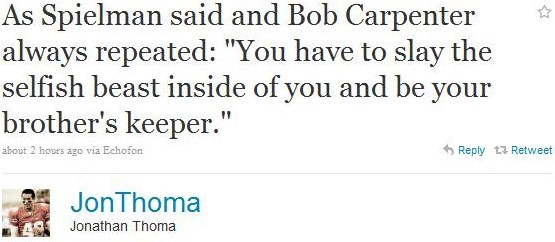 Proof that at least *one* of the players listened and behaved.  This puts a gaping hole in Small's claim.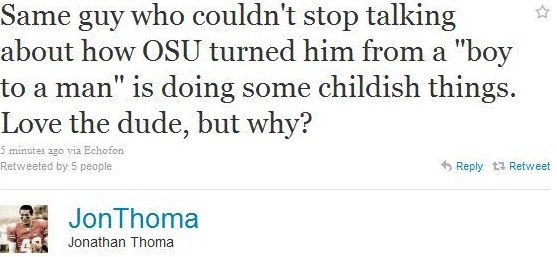 Thoma remembers Small's idiotic and now ironic comments before the 2008 USC game and is still resentful.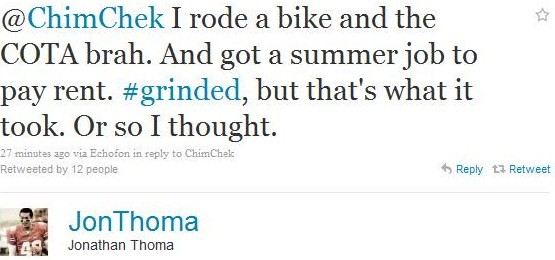 A Tressel punter riding a bike and taking the bus?  Again, institutional control.  Times infinity.
And one more time, for you and your loved ones, ladies and gentlemen: Michael Brewster:

Ouch.