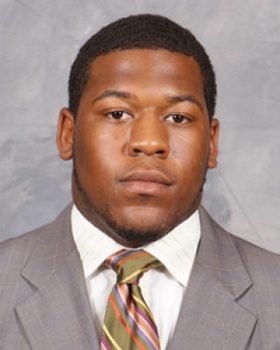 Ohio State will need to replace 10 starters this year and that's not including the five contributors that will be out for the first five games of the season. As such, we'll be profiling several of the potential new contributors over the coming weeks. Previously: Ken Guiton.
Marcus hall

| POS | # | HT/WT | YEAR | HOMETOWN |
| --- | --- | --- | --- | --- |
| OT | 79 | 6-5/315 | Sophomore (RS) | Cleveland |
As a standout for Ted Ginn Sr's Glenville Tarblooders, Marcus Hall drew the attention of scouting services (and Buckeye fans) after being named All-Senate League as a sophomore. In what may have been an even bigger honor, he earned his own Buckeye Planet thread that very year, becoming the rare soph to show up on the site.
Fans and recruitniks weren't the only ones watching Hall's progress as the mammoth tackle began receiving mail from the heavies during his junior season. Ohio State, USC, Illinois, Iowa, LSU, Alabama and Florida, among others, expressed interest in securing his services at the next level. Hall received a Christmas present of sorts when he picked up the coveted Ohio State offer in December of that year, but like all Ginn kids, kept his options open.
In January of his junior year, he took an unofficial visit to Columbus with his father, Melvin Fellows and Fellows' father and had nothing but good things to say about the experience, but also stated that he was considering Illinois, USC, Florida and Michigan at the time. Two months later, his offer list had swelled to 24, but he was still publicly considering USC and Illinois along with the Buckeyes (though Fellows switching from Illinois to Ohio State only cemented OSU as his leader). Shortly after, Hall formed a friendship with Jack Mewhort, with Mewhort doing his best to sell Ohio State to the uncommitted lineman.
That summer, while still keeping his options open, Hall participated in the annual Ginn Bus Tour and also attended Ohio State's advance senior camp. Soon after, he dropped USC from his top schools and added Florida State and Michigan to the mix, saying they (including Ohio State) "were all pretty even right now."
Hall's list would remain dynamic for most of his senior season with the Buckeyes at the top, but joined by a different set of rivals depending on the day and recruiting service relaying the information. He would take another unofficial visit to Ohio State in October and then an official visit early in December, coming away impressed after each trip. Fans dreaming of Hall joining Shugarts, Adams and Brewster on the line were in full-on hyperventilation mode by now and for good reason. After leading Glenville to an 11-1 record, he would go on to earn first team all-Ohio accolades to go along with Parade All-American honors, and bids to the U.S. Army All-American game as well as a spot on the Big 33 squad.
In January, shortly after the Army All-American game, Hall took an official visit to Michigan and dropped Illinois from consideration upon his return. In even bigger news, Hall claimed Michigan was now the leader, which caused mild heart attacks all over Ohio. Two weeks later, Hall had seen the light and dropped Michigan, saying it was now down to Ohio State and Miami, and that he'd make a decision shortly after returning from an official visit to Coral Gables. Surprising absolutely nobody, Hall indicated Miami was his leader upon returning from his visit, mentioning the Hurricane depth chart as providing a better chance for early playing time. Things would be settled, it appeared, by final in-home visits from Jim Tressel and Randy Shannon.
Tennessee would make a late run for Hall's services, but ultimately, he chose the home state Buckeyes two days before signing day, no doubt pleasing his mother (and thousands of Buckeye fans), who wished to see her son play close to home. Hall wasted little time endearing himself to locals with quotes like this, soon after signing day:
"They told me that they wanted me to be a Michigan Man and I was like 'What is that supposed to mean?' -- is that like the Marlboro Man? I don't want to be no Michigan Man. I'm a Buckeye"
Hall earned more love (at least from this site) by checking into fall camp with a trash bag as his choice of luggage, which is really the only way to ride if you're a lineman with a nasty edge.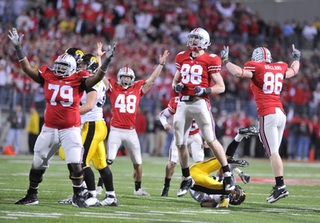 As a true freshman that year, Hall earned playing time at right tackle, seeing his first action of the season against the Hoosiers in October due to injuries suffered by Jim Cordle and J.B. Shugarts and backup Andrew Miller coming down with the flu. He would go on to earn the first start of his career, thanks again to injuries in the starting rotation, in the win over Iowa that sent Ohio State to its first Rose Bowl in over a decade. After capturing a letter as a true freshman, the future indeed looked bright for Hall heading into his sophomore season.
At the start of camp last season, Hall was playing 30 pounds lighter and at left tackle, per his own request. Less than a week into camp, however, it was announced that Hall would be taking a redshirt because he didn't take care of his obligations in the classroom. The tackle issued the following statement at the time:
"Due to the fact that I didn't satisfactorily complete my academic responsibilities, I will be redshirting during the 2010 season. I'm looking at this in a positive way: as an opportunity to get better on and off the field, to get stronger in the classroom, and be better prepared all-around for the rest of my time at Ohio State. I will still be practicing every day, not just to help myself get better, but to help my teammates get better."
By all accounts, Hall used the redshirt to better himself and his teammates, earning honors for scout team play throughout the season. It would have been nice to have him on the field, but with depth issues on the line, the move appears to be a blessing in disguise with Adams and Shugarts entering their senior seasons.
2011 Outlook
After a slow start, Mike Adams saw the light last year on the way to earning all-Big Ten honors at left tackle. Unfortunately, he's one of the players that will not be available for the first five weeks of the season as he serves out his suspension for improper benefits. Finding a replacement for Adams is near the top of the list of concerns for this team as it heads into the 2011 season and Hall figures to have a great shot to be that guy. Currently, he's rotating between guard and tackle -- both sides, left and right -- with Andrew Norwell and Corey Linsley and Jack Mewhort, but Hall's experience and talent figure to maybe give him a slight edge in the race.
Assuming he took the redshirt year to better himself and gain additional knowledge of the offense -- and by all accounts he did -- Hall will likely be the starting left tackle when the team takes the field against Akron for the opener. He'll be pushed by Andrew Norwell, who himself saw plenty of minutes as a true freshman last season, but I think Hall will ultimately emerge. Until Adams returns, that is.