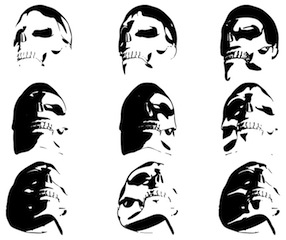 Greetings 11W ladies and gents. Welcome to your Monday Skull Session. The following ~800+ words were written to a soundtrack of Tyler, The Creator, Jimmy Eat World, The Strokes, Bob Schneider, The Raveonettes, amongst others (<3 you iTunes random). They were also fueled by the delectable tastes of Convict Hill Oatmeal Stout by Independence Brewery here in Austin, Texas. If you ever get a chance to visit this fine city for any variety of great local events (ACL Fest, SXSW, Fun Fun Fun, etc), I strongly encourage a tour (or at least a perusal) if time permits. You will not be disappointed.
So why do I share this otherwise seemingly meaningless aspect of the post? Because it was another problem free Ohio State weekend, and celebrating accordingly is the only way we'll get to August 12th sanely. If you let the bad outweigh the good without any levity, distraction, or otherwise, it's going to be an awfully long off-season. If you take each blow, one after the other, with a sense of humor and with the patience afforded the situation necessary, it'll be easy breezy, come whatever may. Monday's suck, but I suspect if we keep the right perspective it'll be Tuesday, then Wednesday, then ultimately Friday before we know it. Let's do this:
1) Men's Volleyball National Title and Tennis Final Four 2) ???? 3) Profit! Today's Skull Session is an homage to the (mostly) anonymous student athletes that don't happen to suit up for one of the money sports. They're doing their thing, in some cases for just a partial scholarship, but their particular skill sets and opportunities are every bit as lofty in some cases as those from more of the glamor sports. For those that feel we don't pay enough homage to these young men and women, well, you're probably right. But today's the day we tip our hat and celebrate all Ohio State student athletes, regardless of what sport is helping make their Ohio State experience a possibility.
Not even a month removed from the Men's Volleyball Team's unprecedented national championship, the Ohio State Men's Tennis Team has similar goals on their minds. The nationally fourth ranked men's tennis team took down fifth ranked Baylor Saturday to advance to the sport's Final Four. No time for the Bucks to rest on their laurels, however, as they face the number team in the nation, the Cavaliers of Virginia, Monday at 3 pm Eastern. This is Ohio State's second appearance in the sport's Final Four in school history and their second since 2009 when they ultimately fell in the sport's finals. Hat tip to Coach Ty Tucker and all the guys making all Ohio State alum, fans, and well wishers proud. O-H gents.
 Beals and co. Doing Work. Despite the pressures of following a relatively successful coach in his own right in Bob Todd, first year Ohio State baseball coach Greg Beals helped oversee the Bucks en route to a 3-0 win over the Golden Gophers of Minnesota and the fourth overall seed in the forthcoming Big Ten Tournament in Columbus. Now's the time to go ahead and put in your request off for Wednesday afternoon as the baseball Bucks head to Huntington Park to meet the very same Golden Gophers side at 12:05 p.m. Help wish Coach Beals and the rest of the side the very best en route to a potential NCAA tournament berth
Golf? We Got That Too. Keeping up with the joneses, Ohio State's men's golf team recorded a two under third round to clinch a berth in the NCAA tournament themselves. Coach Donnie Darr and the men's golf team will be headed to Oklahoma City at the end of the month with aspirations for a national championship. Best of luck, gentlemen.
Sketchy Bro Says It's All Good. Contentious used car salesman Aaron Kniffin says all of his dealings with numerous Ohio State athletes and associated family members over the years were all carried out according to the letter of the law. Good enough for me, right? Kniffin had this to say on the matter:
"I am just the guy people like," Kniffin said.  "I didn't make the deal.  I didn't finance the deal.  I didn't do anything but share that friendship with them.  The notion that we gave someone special deals because of who they are, that's just ridiculous.  They were just car deals to me."

...

"Ohio State athletes are given the same deal as any other customer that would come in, bar none." Kniffin said.
Case closed, you guys. Am I right?
Alabama and Auburn Not Morally Scrupulous? Unpossible. Not even two months removed from Auburn fans brazenly teasing their counterparts in the 2011 BCS National Championship Game for being associated with paid recruiting services, the Sporting News' adept usage of Freedom of Information Act revealed the following thoroughly unsurprising bit of information: both Alabama and Auburn have utilized recruiting services extensively during the last several seasons. From the aforementioned report:
Through a Freedom of Information request, The News found out how much Alabama and Auburn, the reigning BCS national champion, spent on recruiting services the past three years. These recruiting services were thrust into the spotlight earlier this year when it was reported that Willie Lyles and his recruiting service, Complete Scouting Service, received a $25,000 payment from Oregon for video of running back Lache Seastrunk, who eventually signed with the Ducks, according to The News.

 

Gene Chizik and Nick Saban are spending thousands of dollars on recruiting services. (AP photo)
During the same time period, The News reported that Auburn spent $99,022 on recruiting services. According to the report, Auburn spent $43,871 in 2008-09, $15,083 in 2009-10 and $40,068 in 2010-11 through March. Alabama spent $85,025, $80,977 and $52,626 (through March 22) during the same time.
THIS IS CLEARLY A CONSPIRACY PAAWWWWWWL. While what, if anything, is gained is still somewhat open to debate, some of the murkier areas of these recruiting services could fuel some of the more cynical opponents of these particular programs.
Gallimaufry. For all your best goose clothing needs... (H/T Jake) You probably need to buy this. C'mon guys, we're trying to defend your sport over here. Most of us have been there Wolverine. How Chit Fest unquestionably ended at at least one flat this weekend.