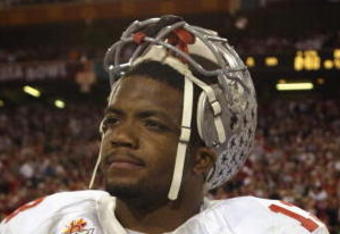 There are few stories more fraught with anger and emotion then that of Maurice Clarett's rise and fall in the hearts and minds of Ohio State fans. Flashing onto the scene in a stellar Freshman season and peaking with the epic ball-strip of Sean Taylor, there was little idea of the mess to follow. We all, of course, know what came next. 
First, Clarett engaged in all kinds of sketchy behavior. He filed a false police report, accepted illegal benefits, and even "borrowed" cars from a local dealership (telling, no?). After being suspended for the 2003 season, he left the university and sued to enter the 2004 draft, ultimately losing on an NFL appeal. 
After a humiliating 1-month stint with the Broncos and an arrest for robbery, Clarett was released and the trial delayed. Clarett wasted little time in violating his terms of bail, and eventually led police on the most bizarre chase in sports history. 
Who knew Clarett had an assault rifle with him the whole time? Or a 9mm gun between his legs? Or that he had a hatchet? Who knew the next morning I'd wake up and hear he was under custody on alleged weapons charges, that he'd been Maced and tasered, that he'd been wearing a bulletproof vest, that he'd probably been wearing it as we spoke?
But more than a story of decline, Clarett's has been a story of redemption.
Even before his 2nd arrest, he'd made peace with Jim Tressel. Having called many of the people who he'd wronged or who he'd felt wronged him, Clarett was moving on emotionally from the tumult of the last few years. 
While in prison, he kept his thoughts in a blog of his own, edited by his girlfriend. Rather than a selfish psycho, Clarett came across as thoughtful, humble, and matured by the years he spent estranged from reailty. Integral to this process was Jim Tressel, his one-time enemy and now one of his closest mentors. So when word went out that Clarett was again in the news for legal reasons, the first reaction was a rolling of eyes and en exasperated "here we go again." 
But, this time is different. No charge has been filed. The lawsuit is being led my Maruice Clarett in regards to confiscated cash and the issue of probable cause. We don't know the facts of the case, entirely, nor do we know why he was lugging around $30 large in his car, but it doesn't really matter. The truth is, a get like Clarett is a career-maker in a small city like Youngstown. He's a target, and he will be so long as he remains, even the tiniest bit, in the spotlight. 
Clarett has turned his life around, playing in the newly minted UFL with the Omaha Nighthawks. His is a story of redemption, and the greatest living proof that Jim Tressel is a good man. Clarett, most importantly perhaps, is also a Buckeye, no matter the circumstances of his exit. And, until and unless the facts as they exist change, I've got his back in this. I'm with MoCo.