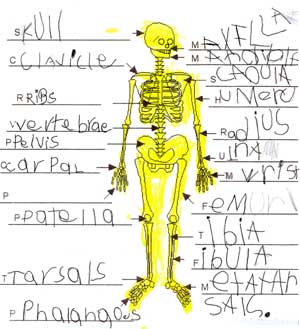 Happy Tuesday, Adam Neft, of Columbus-based radio station 97.1 The Fan, and welcome to your morning Skull Session. Yesterday you admitted on air (foolishly, some might say), that part of your morning routine is to check out the latest chicanery on Eleven Warriors dot com. Detrimental effects that this admission might have on your career aside, I personally question the mental soundness and overall sanity of someone who would willingly subject themselves to our potentially health threatening ramblings on a regular basis. Please seek professional help, if not for yourself, then for the sake of your loved ones who have to watch you suffer through Skull Session after Skull Session.
Still Adam, if you find yourself unable to turn away yet again, take comfort in the idea that the internet actually is talking to you this time. Your dog still remains incapable of human speech, however, and you shouldn't follow any advice that he gives you.
Hey Adam, Remember Evan Turner? Haha of course you do, you work in sports radio. In fact, I wouldn't be surprised if you watched the game between the 76ers and the Heat where he was pretty easily the best player on the court for Philly, scoring 15 points (including going 3-3 from behind the arc) and grabbing 6 boards. I also wouldn't be surprised if you had turned off the game once you realized that any potential for suspense or an upset in the game, and maybe the series, went out the window in the second quarter as the Heat crushed all of my personal hopes and dreams. I assume that they also crushed the hopes and dreams of 76er fans, but I think you would agree with me that it's much harder to get worked up about that. Still Adam, it should be fun watching The Villain in the playoffs as he goes through another stage of his NBA development, don't you think?
Adam, If You're A Golfer You're Gonna Love This Really Adam, probably one of the last guys that I thought would comment on the whole Jim Tressel situation would have to have been Jack Nicklaus. Now, I know what you're thinking, "Well of course Doug Lesmerises would want to see what he thinks, the Golden Bear is a huge figure in OSU sports!" and once again your excellent instincts prove correct as Nicklaus drops some very interesting tidbits concerning his take on the situation:
"I don't know what really happened, but I'll promise you that Tressel wasn't the only one that knew what happened," Nicklaus told The Plain Dealer.

...

"I can't imagine that the university didn't know what was going on," Nicklaus said. "Unless Jim, who is a terrific guy, maybe he decided to take it on his own shoulders. That could be, I don't know. I just like him a lot. ..."
I think that this is probably a pretty common idea among a lot of OSU fans, and it may have some merit, although it also may just be wishful thinking among people who are reluctant to give up on their image of the Senator.
I Don't Know About You, Adam, But This Is Just Ridiculous Hey Adam, if I told you that someone at ESPN had decided to draw up a March Madness bracket for 2012, would you jump out of your seat and yell "YES!! I WANT TO READ THAT!!"? Of course you wouldn't, it's a terrible idea and I think we both agree that there's really no reaso-oh wait, they gave OSU a #1 seed? Well, it couldn't hurt to look.
Turns out, Adam, that Joe Lunardi sees OSU in the same bracket as Duke and Florida, which means that apparently he lives in the same fantasy world that I do where the hero must slay the twin dragons of evil and also evil after beating up on a 13th seeded Butler squad. Er, and I guess in this scenario one of the dragons dies before it gets to the hero. Look, it's not a perfect analogy.
Hope You're a Browns Fan, Adam I'm not, but I have to admit, I have always admired the way that Browns fans remain so devoted to a team that is A) based in Cleveland, B) generally terrible, and C) actively seems to conspire against their happiness. But hey guess what? Browns fans, maybe like yourself, now have a small glimmer of sunshine in their otherwise dreary and ultimately mirthless lives; Peyton Hillis, slightly above average NFL running back, will grace the cover of Madden '12 after winning round after round of voting by fans against the likes of Danny Woodhead, Aaron Rodgers, and Michael Vick. Hillis also beat the guy who should've been on the cover, Ndamukong Suh, by a margin of like 50%, which I think you'll agree with me Adam is totally ridiculous.
ESPN Said It, It Must be True Based on a Facebook poll of write in votes where people picked their most hated team, Adam, guess which team ended up taking home top honors and figured most prominently on a word cloud where the larger the text, the more hated the team? Go on, guess.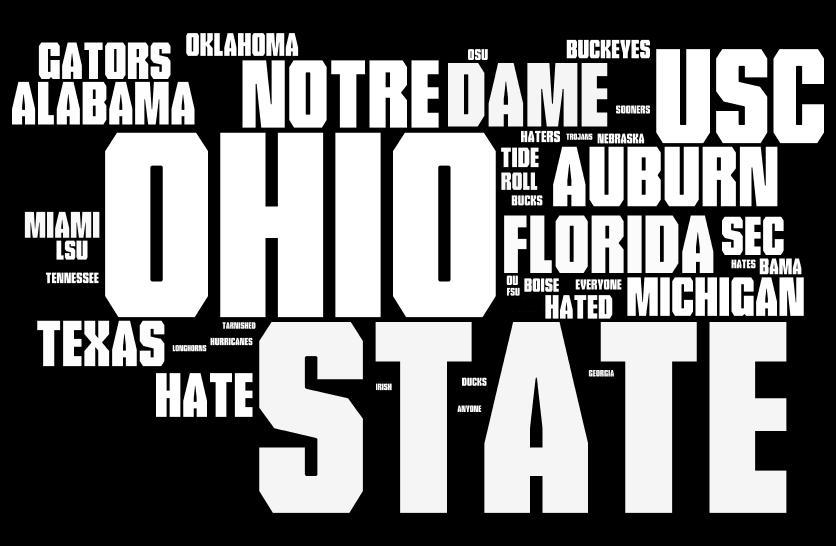 My favorite part? Ohio State actually shows up three different times on this. Second favorite part? "Everyone"
And that's that, Mr. Neft. In all seriousness, thanks for repping Eleven Warriors to the masses, and also if you can find it in your heart to exclude us from any future lawsuits involving severe emotional disturbance, that would be awesome. Thanks again.