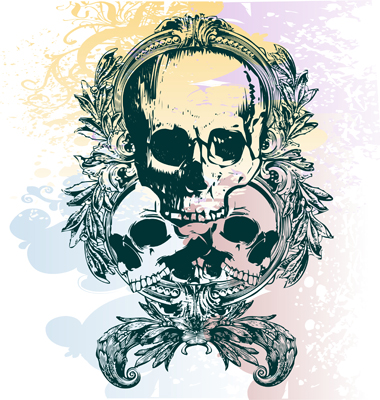 Happy Tuesday everyone, and welcome to your morning Skull Session. I love baseball. I really do. I was born/grew up in southwest Ohio, and some of my favorite childhood memories are going to Reds games with my family, which I did 5 or 10 times every summer for years. Chris Sabo was my favorite player because he wore the same Rec Specs that I did when I played tee ball, and my least favorite player was anyone who played for the Braves because they beat us in the NLCS when I was 10. Moral of the story is, baseball is great and I love it.
It is also horrifically boring. In one incredible sequence in a game against the Padres last night, it took a Padres middle reliever 5 minutes to throw 5 pitches to Joey Votto, as he repeatedly attempted to keep Brandon Phillips on the bag at first and also initiated a conference with the entire infield. Then he walked Votto. Then I think I fell into a rift in time and space where reality became recursive and I was forced to relive a ten second sequence of my life where I had a corn kernel stuck in my teeth. Then the Padres put in a new pitcher. Then they cut to commercial. Then someone flied out, ending the inning. Then the Padres went up to bat. Then I grew old and died, as all mortal things must. Then universal entropy set in. Then Dusty Baker put in Cordero, and the Reds won.
I love baseball.
Money! Tattoos! Charity! Spencer Hall is a better man than I, because homeboy is using his massive internet sway to not only stump for his annual EDSBS charity drive, but should the denizens of the online sports world find it in their hearts to donate a total of 50,000 dollars to the Refugee, Resettlement, and Immigration Services of Atlanta, Mr. Hall will allow said frothing mob to choose a tattoo that he will have permanently etched on to his Herculean frame. Pretty cool, right?
What's even better is that the donations page has been calibrated to accept donations to the cent, which means that if you're feeling especially schadenfreudey, you are encouraged to donate an amount that reflects the score of a game that you hold near and dear to your heart. Like, say, $42.39 or $42.07. Or, if you're feeling especially generous, go whole hog and drop a truly spiteful $2698 on those poor families. The donation page is here, so have at it (and hopefully sometime in the future 11W will be able to work out something similar).
What Is The Deal With The South And Bronze Statues? Look, I get the appeal of a statue. You take someone beloved who isn't around anymore, make a nice statue, and all kind of people and pigeons can enjoy that person for years to come. With that said, I think some of the SEC schools are going a little crazy with the idea. Alabama has a Nick Saban statue ready to go, while Florida has recently unveiled statues of Spurrier, Wuerffel, and Tebow, their three Heisman winning QBs. Really? I know that Spurrier could probably strangle a bald eagle with the American flag in Florida and people would be pretty okay with it, but somehow I feel that 3,200 pounds of bronze could be better used than on life sized statues of an overrated guy who graduated a year ago and another guy who might just be the greatest QB in the storied history of the Rhein Fire.
Tab Bamford Breaks Into A Cold Sweat Sports reporting in the internet age is hugely competitive, and he who scoops first, scoops best. So when Dave Miller, of the National Football Post (which is apparently a thing that exists), got a hot tip from a source that Terrelle Pryor was possibly going to declare for the supplemental NFL draft, he decided to go live with it. As we've noted in Buckshots, Pryor himself has refuted this rumor, and of course Mr. Miller is being put through the wringer by Buckeye fans.
Which is understandable. There isn't a whole lot more irritating than an outlandish rumor given credence by a writer gullible enough to believe it. But on the other hand, one of those few things is an outlandish rumor that turns out to be true. This whole thing is pretty dumb, but it'd be a lot easier to shrug off if OSU fans hadn't spent the past three months or so parsing through rumor and conjecture on the internet.
Sully Sully Sully Sully Rockin' Everywhere I'm still kind of mad that the Big Ten hasn't officially named their Freshman of the Week award after Jared Sullinger yet, but I guess the Wayman Tisdale Award for best college freshman will have to suffice. I don't know if there's an award for best sophomore in the country, but if there isn't, party at my place next year as we present Sully with the Dave Thomas Award, which is a swan made out of tinfoil hamburger wrappers from Wendy's.
If This Is Basketball On Grass, Then Carson Wiggs Is Reggie Miller Carson, the placekicker for Purdue, hit a 67 yard field goal in the Boilermaker's spring game. Watch the video, and then look down at your puny legs in shame.