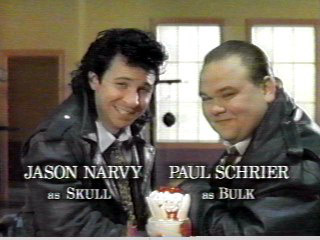 Howdy ho neighborinos! Welcome to your Gauntlet referencing, pop culture milkshake'esque sports leisure land! I'm your host, Luke. Much has happened since sun last fell and rose. You worked 8+ hours and probably at some point resented what you were doing. If you didn't, well, no one wanted to hear from you anyways. You probably retired for the evening, had yourself a nice dinner. Maybe instead you ate a candy bar on the way to some far off destination (see: Toledo). Maybe, it wasn't nice at all, but like it or not, sports continues without regard for your culinary (and in some contexts, social) inclinations.
And speaking of not having something necessarily appreciable at the dinner table, waiting for you, how about the plight of those seriously in need? No, seriously, if you haven't already gotten off your tail and done something good for your fellow man (and tax writeoff'able if you're a special kind of cynical and/or baller) in 2011, now's your chance. As first mentioned Tuesday, Spencer Hall and EDSBS gang are putting together a campaign to raise funds for Refugee Resettlement & Immigration Services to help people making a transition from a war torn hell hole abroad to a gang torn hell hole in these United States of Americas. Life ain't easy, but if the man upstairs/fate bestowed upon you a burden of wealth, it's only right you use some of it to make someone else's existence a tiny bit better. If you're unfamiliar with the plight, I strongly encourage (and even if you are) Warren St John's phenomenal "Outcasts United". These are the very sorts of families you'll be aiding. If you're still riding the charitytrollwaves, just consider this: maybe someday one of these kids (or their kids) will suit up your very Buckeyes. Then you can either silently take pride that you helped someone truly live the American dream or brag to everyone you knew how you made it financially. Either way, win-win-win. It seriously takes all of 2 minutes. Go here, click the single donation radio box at the top, then put a dollar amount into the top choice and continue. Remember, on the ensuing page at the bottom, be sure to choose "SPECIAL EVENT" and put in EDSBS[The Ohio State University]. I know so far just 4 Buckeyes have donated (and given that one was me, just 3 others; how's that for peer pressure?). I'm broke as hellllllllllllllll, so surely you can dig a little deeper and help us give Spencer a ridiculous tattoo in the process. Besides, some uppity Texas fan donated a smooth G. I know us Buckeyes are surely way more stuntastic than these Texas boys.
Oh, hey look sports!
Grades 'N Stuff. The limbo bar was lowered (upped?) ever so slightly Wednesday as student athletes are now obligated to earn more credits than they were previously. For our SEC brethren, that ensures that for the first time ever, student athletes will have to take a minimum of one class (try the veal). In all seriousness, with the repercussions set to be a player miss four games (that's ~1.5 tattoos on the tattoo:credit hour conversation rate), don't be surprised if a marquee name at a major school pays a cost that goes beyond the controversial 2011 celebration spot foul penalty sure to draw your ire shortly.
Big XH Ca$h Money. The Big XH (that's a line through the II) is far wealthier than you are but now but a higher earning second class citizens to college sports' elites following the revelation of their new 13-year deal worth somewhere around $180 million dollar annually. CFT's John Taylor has the economies of/to scale on the situation (tip your waitress):
That $150 million-per-year total falls well short of conference financial behemoths the Big Ten ($214 million) and SEC ($205 million), but is on par with the $155 million the ACC is expected to bring in with their newly-minted deal.  All of the BcS leagues could be looking up to the Pac-12 in the very near future, however, as that conference is expected to sign new deals that would bring in a rumored $222 million annually.

FOX is also believed to be one of the two frontrunners for the Pac-12′s new TV package.
The Pac-12's deal is stated to be somewhere in the $220-250 million dollar range, though would obviously run far beyond the windfalls of the SEC and B1G. Particularly given that specifics of the contract seem to imply that Fox' get the top choice of whatever ESPN/ABC/Longhorn Network don't take, enjoy seeing the Texas Longhorns every contest broadcast nationally in a way only rivaled by Notre Dame. Look, I certainly get that Commissioner Dan Beebe is setting up "historic exit fees" for any school that attempts to leave the conference (and agreement) early, but that has to amount to what, one, one and a half year of Texas TV money? The Big XH death clock watch lingers.
New Head Coach Mike Golic Intends To Take Teams Talents to South Beach. Detroit Free Press, I'm doing your jobs for you. Lame likeness comparrisson plus horribly dead horse beaten cliche = W.I.N. But really now, noted pizza impresario Dave Brandon and rich alumnus Stephen Ross have designs on bringing Michigan to a neutral field Dolphins Stadium opponent in the next several years to come. With Florida sure to hide their tail between their legs in between consecutive home games against Jacksonville State and the University of South Alabama, Florida State, Miami, and USF jump to the logical forefront. Don't rule out a progressive SEC opponent of some type who'd be more than willing to play a rebuilding Michigan team, but only in a stadium they're more easily able to minimize the home field and/or climate acclimation shortcomings they'd face. Looking your way Mississippi State. That last game against the Wolverines in Florida went pretty alright, no?
Speaking of Miami... Al Golden's Canes are said to be in talks to be in a lighter/basic cable safe type version of HBO's acclaimed "Hard Knocks" with ESPNU. I imagine it will mostly consist of scenes like this:
Gallimaufry. When unbelievable swag goes wrong. The war... It beckons. Freddie wins forever. Go buy this; c'mon, you know you want to.