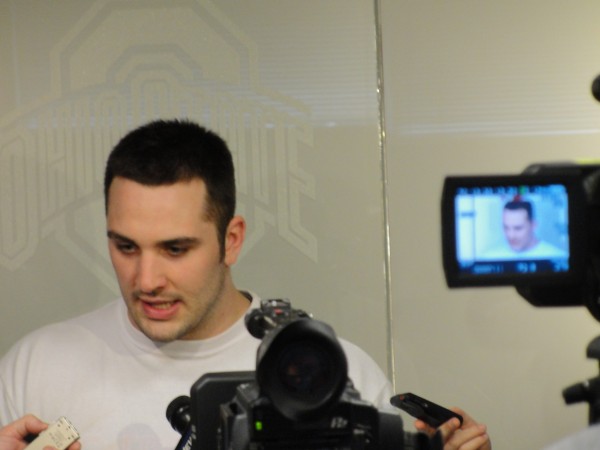 According to the calendar, spring has sprung, and I was foolish enough to believe that as I rolled on up to Columbus for an open practice in Ohio Stadium in a flimsy Levi's shirt. Under an overcast sky on a chilly day, both the offensive and defensive units for the Ohio State football team put in work, and during the three hours or so of practice, everyone inside the Shoe was given a pretty good look at the skills and talents of a lot of new blood. And also probably wondered a bit why that tall lanky idiot wasn't wearing a jacket.
It's kind of weird that there is a heated quarterback battle even though there is a semi-healthy three year starter on the sidelines (Pryor, still recovering from surgery but walking around just fine, did not practice), but suspensions make fools of us all, and this is the position I watched most closely during practice. Broadway Joe Bauserman is still your leader at this point, but honestly at this point I think it's time we start giving the guy some props. He's not an All-American, but in relatively limited action he showed today that he had a firm command of the offense, displayed a live arm, and consistently made good decisions with the ball. The decision making will continue to be key for him, and if he can prove to Tressel and company that he can take care of the ball, I wouldn't at all be surprised to see him starting against Akron.
At this early juncture, there is a pretty clear hierarchy among the quarterbacks, which goes Bauserman, Guiton, Graham, and then Miller. Both Guiton and Graham showed flashes of good play, although the two couldn't be any more different in terms of size and playing style. Guiton is still looking pretty slight which allows him to be much more mobile in the pocket, whereas Graham is the prototypical Big Ten pocket passing QB. Both had just an average practice, with Guiton being inconsistent with his accuracy and Graham overthrowing his mark more than a couple of times.
Braxton Miller physically is ready to play now. He has an absolute cannon for an arm is and solidly built, but it's going to take some time for the offense to come to him. In drills at the beginning of practice, he struggled to find his receiver, and generally looked every bit as lost as Tressel has said he did. However, when the offense and defense squared up against each other in a game simulation, he also led a spectacular drive down the field, making a number of terrific throws and finally diving in to score after at least a 10 yard scramble. One the mental part of the game comes to him, he is going to be an excellent player, but it remains to be seen if that will happen before September or not.
I have no idea how the coaches are going to try and figure out the running back position. Everyone, including Hyde, Berry, Rod Smith, and Jordan Hall had moments where they looked like they could step up and be a feature back. The most consistent was probably Jaamal Berry, who has an incredible first step and reaches top speed in nothing flat. Rod Smith, who people had been raving about in pre-bowl game practices, also had a few very good runs. Smith, who is every bit of the 6 foot 3 he is listed as, maybe more, showed some good shiftyness and upper body strength.
One interesting formation that the offense showed was that when they went with five wideouts, often two of them would be running backs. I was surprised to see Carlos Hyde in a lot of these sets, but he made a couple of nice catches, as did Berry and Hall.
Speaking of receiving, it still doesn't appear that the coaches have decided on any leaders at this point. T.Y. Williams was in quite a bit, but like the rest of the WR's, didn't really display anything amazing. Consistency is going to be the most difficult task for this group, and getting on the same page as their QBs is going to be another significant hurdle. With that said, I think the tight end as a major part of the passing game is here to stay. Both Stoneburner and Fragel were targeted early and often, and I think their role is going to be essentially to be the Dane Sanzenbachers of the team, in that they will be the safety net for any QB in trouble.
The defense is in utter flux. Coaches made sure to rotate guys constantly throughout practice, and it seems like all but maybe three or four spots are up for grabs. As the most veteran guy on the defense, Andrew Sweat now appears to be the leader and a future captain. Nate Williams is going to have to be a factor in the coming year, and a few other names that stood out in practice to me were Adam Bellamy and Melvin THAT DOG IS WEIRD, TELL THAT DOG TO STOP LOOKING AT ME Fellows on d-line. Travis Howard also had a great practice, and was flying around the field making several tough plays on the ball. He also did a great job in run support, which will make Heacock happy.
What I took away from today is that this is a team in rebuilding mode, due to both massive losses on defense and extremely inconvenient suspensions on offense. The talent is definitely there, but in the five months between now and September, the coaches for the Buckeyes are going to have to put in a lot of work at constructing this team if they want to get through the first five games unscathed.