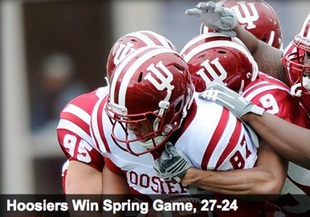 Seven of Ohio State's 2011 opponents concluded their spring camps with intra-squad scrimmages yesterday and although smart fans know not to take too much away from these exhibitions, we are nothing, if not obsessed with future foes.
Miami
The Hurricanes welcomed 8,000 fans, or about 70% of what they see for a regular season game, to Fort Lauderdale for new coach Al Golden's first spring game. The Green squad, led by sophomore running back Lamar Miller and his 166 yards on 10 carries, topped the Orange team 30-17. Miller had touchdown runs of 70, 64 and 3 yards on the afternoon -- much better output than the three carries for 8 yards he put up in the Shoe last September.
Pass attempts were made to Hurricane receivers which means that Jacory Harris threw an interception. Two of them, in fact. No sweat, though. His counterpart, Stephen Morris threw two picks, as well.
Colorado
Another first year coach, Jon Embree, took in his first spring game in Boulder after stepping in for the canned Dan Hawkins. Senior quarterback Tyler Hansen finished 8-15 for 124 yards and one touchdown as he continues to pick up Embree's offense and its emphasis on Hansen's passing over his running.
Sophomore running back Josh Ford rushed for 164 yards with 56 of those coming on a touchdown scamper.
15,655 fans came out to see the Buffs play, the second-biggest spring game crowd in school history.
Nebraska
The Cornhuskers didn't reveal too much of what they have in store offensively for 2011, at least from a schematic standpoint. From a talent standpoint, the 66,784 on hand witnessed freshman Jamal Turner's coming out party. Rivals' 7th-rated dual-threat quarterback enrolled early and appears to be settling nicely into his new role as a receiver, piling up 228 total yards on the afternoon, including a 49 yard reception for a touchdown and 54 yard kickoff return.
Nebraska fans looking for a reason to abandon Taylor Martinez may have found it in redshirt freshman Brion Carnes. On the way to finishing 11-15 for 173 yards and two touchdowns, Carnes outplayed Martinez and if that's not enough, he's a blood relative to Tommie Frazier, which entitles one to statewide jaywalking rights and a sales tax waiver in addition to the love he's sure to collect from the faithful.
Indiana
If he was curious heading into the affair, Kevin Wilson should now be acutely aware of the difference between a gameday setting in Bloomington and one in Norman. The Hoosier squad defeated the Indiana side before a crowd that could not have numbered more than 5,000 (IU did not provide a number, but they did their best to encourage fans to show up by providing a free pancake breakfast to go with the free admission).
Penn State
Bolden and McGloin. The Magic and Bird of Central Pennsylvania hill country. But without the, you know, God-given ability to dominate a sport.
Neither quarterback did much to lock up the top job as Bolden tossed an interception on the very first play from scrimmage and McGloin finished just 5-10 for 109 yards (though he did lead the game's only touchdown drive). Mercifully, heavy rains ended the affair two minutes into second half, but Paterno had seen enough to at least rule Kevin Newsome out of the mix. Wonder if Joe will grant his release when he asks for it?
Michigan
This is going to come as a shock: Shoelace is having difficulty adjusting to a pro-style offense. Other earth-shattering news: The Wolverine secondary still has problems tackling and the kicking game remains awful, missing their first two field goal attempts of the day.
If you're a Michigan Man, the good vibes from the day came from the football alumni out in full force to support new coach Brady Hoke. At least 50 of them were part of the 20,000 (tops) on hand to witness the team's spring game. Oh, and the Wolverines did lock up a verbal from LB Royce Jenkins-Stone, so there's that.
Elsewhere
Iowa fans were treated to their least patriotic spring game in four years, but the buzz was on a potential crackdown on the sale of foam fingers.
Purdue actually played their spring game last weekend, but this video of kicker Carson Wiggs banging in a 67-yarder deserves some extended love: