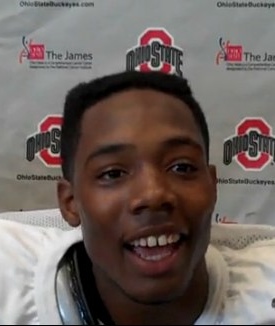 Ohio State will need to replace 10 starters this year and that's not including the five contributors that will be out for the first five games of the season. As such, we'll be profiling several of the potential new contributors over the coming weeks.
Ken Guiton

| POS | # | HT/WT | YEAR | HOMETOWN |
| --- | --- | --- | --- | --- |
| QB | 13 | 6-2/190 | Sophomore | Houston, TX |
While starring as a three sport star for Aldine's Eisenhower High School just north of Houston, Guiton received overtures from several Big 12 schools during his junior and senior seasons, but ultimately, his size, or lack thereof in the eyes of recruiters, scared many away. When signing day rolled around, he was a three star quarterback holding offers from Wyoming and Prairie View A&M, among other schools nowhere near the caliber of BCS programs.
The first time Buckeye fans had even heard of Guiton came on signing day, when he was a surprise late addition to the 2009 class. Our Honor Defend sums up the stunning turn of events nicely:
On January 30th, 2009, the name "Kenny Guiton" curiously appeared in some Buckeye blogs and Ohio State recruiting websites.  Within a minute or so of his name appearing, there was confirmation that he was going to sign with Ohio State on National Letter of Intent Day.  Well how about that.  As far as Buckeye fans knew, that was it for his recruitment.  His commitment was his recruitment.
After being spurned by Tajh Boyd and then options B and C at quarterback, recruiting coordinator John Peterson took a late trip to Houston, returned with some film and the staff had what many considered to be a project.
As a freshman in 2009, Guiton redshirted behind then sophomore Pryor, working with the scout team while picking up the Ohio State offense.
The following season, the quarterback entered spring camp third on the depth chart behind Pryor and Bauserman and while most of the focus was on Pryor's improved mechanics, Guiton continued to plug along, picking up the playbook and looking to make his mark in the Spring Game. And boy did he ever. We should have been tipped off when his Gray teammates selected Guiton ahead of Bauserman in the team's annual senior-led player draft, but the selection was validated when the redshirt freshman finished 11-21 for 167 yards, both to Mr. April, Taurian Washington, including a beautiful 45 yard strike with just over a minute remaining to provide the final points in the Gray side's 17-14 comeback victory. Though Ohio State had an entrenched star at the position, Guiton buzz was palpable after the performance.
The Dispatch's Ken Gordon spoke for many of us when he said the following:
Ohio State fans who came into yesterday hoping star quarterback Terrelle Pryor wouldn't get hurt suddenly were holding their breath that Kenny Guiton was OK.
Following the performance, an elated Guiton spoke with the press:
Unfortunately for Guiton fans, the spring game performance didn't translate into more playing time in the fall. Still relegated to third string on the depth chart, Guiton saw mop-up action in just four games, finishing 1-2 for just 5 yards on the year (compared to Bauserman's appearances in eight games).
With Pryor out for the first five games of 2011, Guiton has a real chance to grab the starting job in his absence. His throwing motion is smooth and he keeps the ball near his chest on the drop while using a pretty standard two-finger, across the laces grip. Perhaps what is most interesting about Guiton is he has above average athleticism but he rarely looks to run first.  His mentality is to go through all his progressions, even going so far as taking a few coverage sacks (four in last year's Spring Game) when he probably could have turned upfield for positive yardage.
2011 Outlook
Ask four different people and you'll get four different responses as to who will replace Pryor while he's suspended. Bauserman has been the de facto backup for two seasons, Taylor Graham has the pedigree and frame, Braxton Miller is the new hawtness and the quarterback of the future, but I see Guiton capturing the job and performing well. Then, when Pryor returns, Ohio State will be in the enviable position of having a star as the starter, an experienced backup with skills in Guiton and the youth movement in the form of either Miller or Graham waiting to take over in a few years, if not sooner.