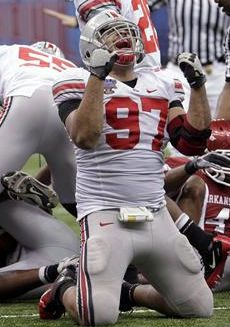 Now that the Spring Game is all done and the players begin their summer-time prep, the unofficial "dead" period of the blogosphere has officially begun. Fear not Buckeye fans, as the staff here at 11W is well seasoned for what we like to refer to as our "off-season", and will continue to bring you great information and analysis on your beloved Scarlet and Gray athletic programs.
That starts today, as the NFL Draft kicks off this Thursday evening in New York City. The draft will take on another new format this year, as the first round will be held Thursday in primtime, the second and third rounds will be held on Friday, and the fourth through seventh rounds will be held on Saturday. The new schedule should be more fan-friendly, as you will not have to sit in front of the TV from the hours of 10am-9pm waiting for Kirk Barton to be selected 247th overall in the final round by the Chicago Bears, and instead can manage your expectations over three days at less viewing time per day. It will also allow for the analysts to keep their heads on straight, as many times it sure does seem like Mel Kiper Jr. and Todd McShay have their brain fried after talking about running backs from Southeastern Central North Texas State being the steal of the 6th round after putting in a previous full day of work talking about players who they really don't know anything about anyway.
The Buckeyes are hoping to see a number of their seniors selected over the three day event, and out of 11 players who realistically have a shot at being selected, it is likely that at least 7 or 8 of those will hear their names called at some point this weekend. While most of those players will most probably be chosen on Saturday, it's still exciting to take a stab at not only when our beloved 2010 Buckeye seniors will be chosen, but also by which team will be lucky enough to land these stand out individuals. Without further adieu, I bring you a look at where the most recent OSU alum may call home next year (that is, if there is a football season).
Cameron Heyward
Heyward is a likely first round selection, and at worst won't last past the early second round. A underwhelming middle of his senior campaign, coupled with off-season Tommy John surgery have slid him down draft boards, but I still think he is the best 5-technique defensive lineman on the board. All the chatter has him going to a 3-4 team to play defensive end, and I agree with that sentiment. The likely candidates are Baltimore (26th), Pittsburgh (31st), the Jets (30th), and Green Bay (32nd) in that order. I think in the end, the Ravens select "Little Ironhead", but if he is there at 31, Pittsburgh will surely grab him as well. I expect Heyward to start from day one on whatever roster he is on and I think he will have a very successful NFL career.
Chimdi Chekwa
Chekwa also suffered an injury in the Sugar Bowl, but an impressive 40-yard dash time has him floating around the 2nd or 3rd rounds. I think he will definitely be chosen Friday night, but am going to say he slides to the 3rd, which will not make agent Drew Rosenhaus happy. Chekwa likely fits in as a dime back and special teams player in year one of his professional career, and I think he will have to work on his coverage immensely if he ever wants to start in the league on a consistent basis. I can see him being a very good nickel back in the league for a long time, though, and I think that with the 81st pick in the draft (3rd round), the Oakland Raiders will not be able resist Chimdi's athleticism, speed, and measurables and will make him the second Buckeye selected in the draft.
Ross Homan
It is no secret that the Philadelphia Eagles have a man-crush on Ross Homan and I think it is a matter of where they pick him, rather than if they pick him. There may be a couple teams who want to beat them to the punch, but right now I can't deny all signs that are pointing to Philly making an early Saturday selection of Ross Homan in the 4th round. Homan is extremly valuable in the NFL as a 4-3 linebacker who can play any of the three defensive positions, and as a rookie, is likely to end up helping out on special teams in year one. Having former Buckeye Kurt Coleman on the team with him would definitely help, as they are cut out of the same mold of having a great work ethic, attitude, and a non-stop motor that helps make up for what they may lack in talent or ability.
Dane Sanzenbacher
I think Dane is going to be an absolute steal for a team late in the draft. Everyone is overlooking him because the Buckeyes offense doesn't put up gaudy numbers through the year and, well, because everyone has always counted him out. I try arguing with my friend that if Dane was on Colt McCoy's Texas team that he would have been just as good as Jordan Shipley and I will stand by my belief that he will be better than Shipley in the NFL due to his ability to block and his knack for making big plays. I think he will slide to the 5th round, but look for the Seahawks, Chiefs, or Rams to snatch up the Great Dane and add him to their arsenals.
Brian Rolle
We know Rolle is "undersized" and many have questioned his ability to get it done as a linebacker at the next level, but the bottom line is if you turn on the film, this kid can flat out play football. Another kid with a great attitude and a great udnerstanding of the game itself, Rolle will be a big time special teams stud at the next level and could help add depth at linebacker or even safety, where some teams project him in the NFL. I think Rolle will end up going home to the Miami Dolphins in the 6th round, but the San Diego Chargers and Eagles are also said to be very interested in fan favorite, B-Rolle.
Jermale Hines
Hines started out as a linebacker, made a move to safety, and then spent time as a safety/linebacker hybrid (STAR) during his four years at OSU. The former Glenville stand-out made tons of big plays and showed a tremendous ability to stop the run. His weakness came against the pass, where he was average at best, a reason why teams are tentative to take him as a strong safety. With James Laurinaitis's blessing, I think Hines could be selected by the St. Louis Rams in the 7th round, with the New Orleans Saints and Buffalo Bills as options as well.
Justin Boren
A player who was once thought of as a top-three round pick, Boren has slid on draft boards due to questions with his work ethic, as well as his size (6-3/309). Boren was a mean run blocker during his time at both Ohio State and Michigan and certainly held his own as a pass blocker as well. He will definitely need to work on his speed and mobility, and will constantly need to fight to stay on an NFL roster in the early goings, but I think the Cincinnati Bengals will get very lucky to land a player of his caliber in the 7th round of the draft. Other possibilities here could include the Houston Texans, 49ers, or the Packers.
DeVon Torrence
Torrence could have been picked a lot higher than the 7th round if he ahd given up baseball a little earlier in his college career, but over the last two seasons, he has developed very nicely as a cornerback. Considering he has really only played the position for three years, Torrence has a lot of potential and his athleticism and physical play could make him an appealing player to pick in the last round on Saturday. I think Dick LeBeau will not be able to resist grabbing a Buckeye this late in the draft, and Torrence will fit in very nicely with the Buckeye-like environment that exists in Pittsburgh.
The Rest
After the aforementioned eight players listed above, the players remaining that could end up on NFL rosters are G Bryant Browning, RB Brandon Saine, and DL Dexter Larimore. I think out of respect to the OSU program, and the fact that all three of these players saw meaningful snaps in at least three seasons, that you will definitely see these guys end up on rosters as undrafted free agents at the very least. Browning is a player who has a tackle's body, but has found his niche at guard, giving teams some flexibility if they pursue him. Saine is lightning fast, but for some reason has always looked better as a receiver, so I look for him to break into the league on special teams and possibly develop throughout his career as someone who catches passes more than he runs the ball. Finally, Larimore, a former wrestling champ, is a hard-nosed, blue-collar player who has a very high football I.Q. He doesn't "wow" anyone physically, but he has continually gotten the job done in Columbus, and I think that is enough to at least get him an invite to an NFL camp. Outside of those three, K Devin Barclay, S Aaron Gant, LS Jake McQuaide, and WR Taurian Washington will all try their best to catch on somewhere, but I fear they will not have as much luck.
It will certainly be interesting to watch and find out where our former Buckeye favorites end up this weekend. This group of players may not be the most talented to ever come out of Columbus, but one thing that's for sure is that they are a group that carries themselves with great class and will make Ohio State fans proud to say they come from their school.