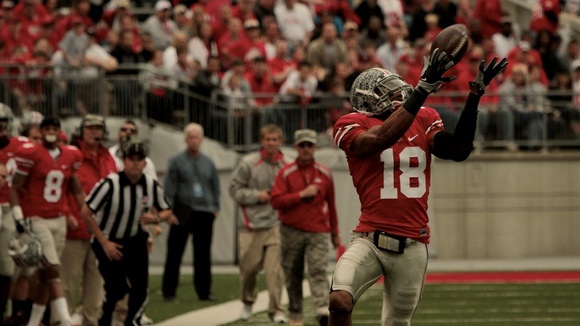 With the program seemingly under siege, camo helmets donned by the players and pants/hats worn by the coaching staff served as a fitting metaphor as Ohio State completed the annual Spring Game today in Ohio Stadium.
The rain held off which the announced crowd of 44,276 certainly appreciated, as did the four quarterbacks jockeying for end-of-spring depth chart position. Other positional battles took place as well, despite more than a dozen players watching from the sidelines including what was roughly 10 members of the secondary. When the whistle signaled the end of the scrimmage featuring a algebra-esque scoring system, the Scarlet (offense) defeated the Gray by a score of 59-27. Now, let's talk about some things...
 The Battle under center
The good news on the day was that each QB tossed a touchdown pass and none threw an interception. The bad news is they collectively went 20/43, albeit with a few drops.
By the numbers, Braxton Miller led the way going 7/12 with 73 yards and a score, a 15 yard strike to Philly Brown on a basic out route, and ran for 19 yards on four carries. Miller also showed the known ability to escape the pocket either to buy time or run with the football. I thought he settled down as the scrimmage wore on which was also a positive sign. As an example, on the first passing attempt on his first series, he dropped back on 1st and 10 and almost immediately scrambled to his right though there was virtually zero pressure coming from the left tackle slot. Upon rolling out, he located Posey but threw too high for an incompletion. Two plays later, he threw behind Fields on 3rd and 6 to kill the possession.
His next series was a bit better and he showed no fear going down the left sideline fighting for yards until Hankins nearly ended his life. After Philly dropped a Miller pass that was wide of the mark but catchable, Miller hit Posey for five yards on 3rd and 11 setting up a Basil field goal. That possession was just a teaser for Miller's third effort leading the offense. Looking to spark an otherwise dull scrimmage to that point, he engineered a 14 play, 92 yard scoring drive capped by a five yard Jordan Hall TD run behind a crushing lead block from Boren. Miller went 4/5 for 47 yards on the drive including a strike to Posey on a 20 yard crossing route and a 17 yard hookup to Hall on a quick hitter in the flat. The kid has promise. No qusestion about it.
Kenny Guiton went 5/11 for 43 yards and delivered a beautiful 17 yard tear drop to Verlon Reed on a fade route for a score. Interestingly, he never ran the football and he also avoided taking a sack. Still, the performance failed to really sway me either way. Based on his knowledge of the system, I'd still prefer he start if there was a game tomorrow since I figure Bauserman is the only other April choice when it comes to the coach's opinion, but thankfully it is only April.
Taylor Graham was 4/9 for 91 yards including probably the 2nd best pass of the day when he hooked up with T.Y. Williams for a 68 yard score. I preferred Guiton's fade as the best pass of the day since his target was actually covered but Graham definitely lofted the ball out there where Williams could glide under it on his way to paydirt. I have no question Graham can make the throws if given time, the problem is that he clearly has mobility that makes Bauserman look slippery. Graham was sacked five times on the afternoon and, if possible, looked even more stationary than that stat would suggest. With the Buckeyes having to break in some new guys up front, it's hard to see Graham's weakness not keeping him off the field.
Lastly, Joe Bauserman hit on 4/11 passes for 42 yards including a 16 scoring connection to Ryan Reed. Bauserman was also sacked twice and frankly, I just don't see enough upside to waste meaningful game snaps on a 45 year old senior anyway. Similarly, I'm not going to waste many words on him either. It's not hate, I just don't know that he truly gives this team the best chance to win by a wide enough margin, if any, to not focus on developing a younger player.
an abundance of running backs
This isn't new news by any stretch but damn does this team have some talent at running back. The game six starter, Boom racked up 40 yards on six carries (6.2 ypc) and looked cat-quick in the process. It's amazing just how much his vision has improved over his career and if it's possible to see brimming confidence in a guy's stride, you see it in Boom. He runs with a purpose that the other backs can emulate and should be a well rested beast as the team heads to Lincoln.
The Hall and Berry debate will continue to rage on and while it seems the public scales began to tip in favor of Berry sometime last year, I'm still in Hall's corner. He held his own racking up 58 yards from scrimmage on 10 touches including a 17 reception and a nine yard run. As usual, nothing overly spectacular but fairly consistent. Meanwhile, Berry got just four touches and responded with 30 total yards including a 12 yard scamper. These two are both very capable and should do some damage in Boom's absence especially if the gameplan utilizes their strengths, which brings us to Rod Smith.
Getting my first extended look, if you can call it that, I loved what I saw from Smith. He ran for 36 yards on seven carries (5.1) showing a sexy blend of size and speed. Getting a closer look at him walking up the tunnel after the game, dude is built to be a running back at Ohio State. I have to believe he gets a chance to earn meaningful carries in September especially between the tackles to complement Hall/Berry. How well he capitalizes on that opportunity will obviously determine if he sees the field after Boom returns.
All of that assumes, of course, that Smith passes Hyde of the depth chart which I think he well. Hyde ran for 11 yards on six carries today. It's only one game but I just can't get my eyes to make my brain believe he'll be more than short yardage back based on what I've seen from the other guys. Time will tell but I see Smith ahead of Hyde already.
The bottom line is the Buckeyes are stocked at running back and racking up yardage will be a no-brainer if any of the four QB's can do anything with relative consistency.
 It's a good thing the rb's can catch
It's hard to take much from a scrimmage in which about 30 DB's were out with injury but in the case of the wide receivers, I hoped to see more than I did. The lone surprise, and it was a great one, was the effort turned in by T.Y. Williams. The lanky redshirt frosh from Cleveland hauled three balls for 83 yards including the 68 yard strike from Graham. Williams gained easy separation from a 5th stringer but that being said, at 6'5", he's a guy defenses will have to account for. If he can emerge as a red zone threat with that size and possibly stretch the defense here and there to open up underneath stuff, we'll take it.
The one sure-fire starter at wideout, Philly Brown, continued his spring penchant for dropping the football with two today, though neither pass exactly drilled him in the numbers. He did haul in the aforementioned 15 yard score but dude needs to button it up ASAP. Chris Fields caught just one ball and at first glance he didn't seem to be running wide open against the rag tag secondary.  Right now, the QB's have no security blanket at WR and that's an obvious problem.
I did like seeing the TE's make five grabs today, three by Jeff Heuerman and two by Stoneburner. Stoney's day included a nice one handed stab of a Miller pass on the offense's first TD drive.
Bottom line here is that it's hard to not believe Wide Receiver is the weakest offensive grouping which is troublesome with the current state of the QB's.
who caught your eye?
One of the great things about the Spring Game is the chance for you to latch on to someone that caught your eye, trumpet them, and pray they shine in the fall so you can say, "I told you so" to all your buddies. Miller doesn't count since he's already on everybody's radar. So who you got?
I'm not sure I have a guy for this year that would truly be out of the blue. Obviously, Williams has a chance to see the field with Brown and Fields not exactly lighting things up. Rod Smith is also a guy that may not qualify based on hype but he's my choice at this point.
On the defensive side, I thought Jeremy Cash showed a nose for the ball as did Jordan Whiting and Ryan Shazier. I really just put this "Thing" in here because I'm running out of steam and was curious as to where you guys stand on a breakout guy.
Brewster is what ohio state is all about
I've always had love for Brewster as a player. You gotta love standout center's for not only their skill but their cerebral approach. Having observed him over the years, I guess I've just always vbeen impressed with how he carries himself starting with how effectively he recruited fellow high schoolers upon his commitment to Ohio State to what I witnessed today in the interview room.
Standing next to him as one of 10 mics in his face, he thoughtfully answered every question careful to avoid giving generic answers while also providing meaningful and valuable insight to the team. He talked about Miller and how the QB's have come along. He astutely talked about Shugarts injury, how that created a shuffle on the line and how Norwell etc played as a result. He talked about team chemistry as a valuable asset in the face of scandal. It doesn't sound all that exciting because they are just words and probably moreso because I'm sucking at skillfully describing it as I try to make my point but damn, the kid gets it.
Not only should he be one of the captains of this team, he should be the captain of the captains. That's a guy you'll always be proud to say played at Ohio State.