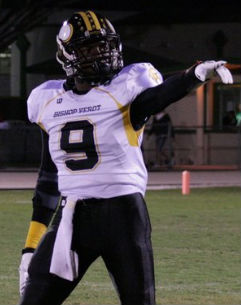 The Ohio State coaching staff has been quite busy this spring. In addition to preparing the players on the current roster for the upcoming season, they've also been trying to stock the cupboard full for the future, and have made some waves on the recruiting trail as well.
As touted as some of the past few classes have been, none may compare to that of the 2012 high school graduates. With a base of top notch national talent and a group of kids in Ohio that could the deepest and most talented collectively of all time, the future is certainly looking bright If you're a fan of the Scarlet and Gray.
The Bucks will only be able to fit between 17-20 players come National Signing Day next February, and already have five players committed. RB Warren Ball, RB Brionte Dunn, OL Jacoby Boren, OT Kyle Kalis, and LB Josh Perry have pledged their allegiance to Jim Tressel early, leaving room for about 12-15 more to jump on board. While things started fast, recruiting buzz has been slow lately, as the lull of the spring period combined with some uncertainty around what will happen with the ongoing NCAA investigation have put things in a bit of a standstill with regards to Ohio State adding to the class.
As summer heats up though and both prospects and players narrow down their lists, we start to get a more clear picture of how things may unfold. There's certainly many Buckeye offers out there right now, but in this edition of the 11W notebook we take a look at 15 prospects, who not only are on our want list, but also have a very realistic chance of donning the Scarlet and Gray in the near future.
WR Jaquay Williams, Franklin (GA) Heard County, 6-4/190
Williams is an absolute stud and is a consensus top ten player at his position in the nation. The fact that he visited OSU on his own dime last week and followed up by saying he will also take an official visit to Columbus is great news for Jim Tressel. Williams has family in the Pittsgburgh area and the Bucks have had some success in Georgia, so don't be surprised to see Williams pick Ohio State when he signs his name on the dotted line.
WR Dwayne Stanford, Cincinnati Taft, 6-4/210
This home state product doesn't have blazing speed but athleticism, great body control, and big play potential make up for that. I think Stanford is a very heavy Buckeye lean and I'll be shocked if he chooses anywhere else after enjoying the recruiting honeymoon.
WR/S/P Frank Epitropoulos, Upper Arlington, 6-3/195
This super athlete is a Buckeye legacy and while the hometown school leads, Wisconsin and to a lesser extent, MSU, are coming after him hard. His versatility to play on all three sides of the ball make him extremely valuable and it will be huge upset if he goes anywhere besides right down Lane Avenue.
OT Jonah Pirsig, Blue Earth (MN) Area Senior, 6-9/290
It will be an all Big Ten battle for this mammoth lineman and if I had to tell you how it would line up, I would go Minnesota, Wisconsin, OSU, and Michigan, in that order. Things can certainly change and Pirsig really enjoyed his visit to Columbus, but as of today I can't count him in this class just yet.
OT Jordan Diamond, Chicago Simeon Vocational, 6-6/290
This will also be a Big Ten race and is shaping up to be a classic Michigan-Ohio State battle. Diamond took a visit to campus this past weekend and loved what he saw, but will it be enough to overcome the early advantage Brady Hoke's staff gained? I am calling Michigan for now but this one won't be decided until after the officials.
OT Kyle Dodson, Cleveland Heights, 6-6/310
An ACT score away from earning an offer, the Bucks will once again have to fend off Bret Bielema for this star's services. If the score comes in OK, Dodson will be coming to OSU, giving the Bucks some tremendous anchors on the offensive line.
DT Tommy Schutt, Glen Ellyn (IL) Glenbard West, 6-3/290
OSU has done a great job early, but other Midwest schools as well as Florida are in the mix. Schutt fits very well to the OSU scheme in which fast, athletic defensive tackles succeed. I think this will be a win for the good guys and for now I'm putting this Illinois product with the in crowd.
DE Adolphus Washington, Cincinnati Taft, 6-6/240
I've confessed my love for this freak athlete on the site before and he might just be the cream of this class when you look backbin 6-8 years. I think like his teammate Stanford, Washington will too enjoy the recruiting honeymoon a bit, but in the end the UA All-American picks the Buckeyes.
DE Se'Von Pittman, Canton McKinley, 6-4/225
Shooting up boards everywhere, Pittman is finally seeing the national attention he deserves. He is a player you don't say no to and the fact that hi teammate and OSU signee, Steve Miller, is in his ear can only help the cause. Buckeye all the way here and he will be a very good one.
DL Chris Wormley, Toledo Whitmer, 6-5/250
Another Buckeye vs UM match-up and this one is interesting. Wormley grew up a Michigan fan, but Jim Tressel and the staff gained a big edge early as they out-recruited Rich Rod's staff by a ton. Brady Hoke and Greg Mattison have helped even up again, but OSU may have a nice x-factor in teammate and close family friend, Kenny Hayes. With a gun to my head today I say Michigan but this could go either way and won't end anytime soon.
LB Ifeadi Odenigbo, Centerville, 6-4/215
Pronounced I-fah-dee O-den-ih-bo, this kid is sure to be a fan favorite. A hybrid type player who hails from a school with great Buckeye history, Odenigbo is down to OSU, Notre Dame, Stanford, and Northwestern. While academics are a big factor, I think OSU edges out Notre Dame for this Centerville star.
LB Daysean Rippy, Mc Kees Rocks (PA) Sto-Rox, 6-2/200
Jim Tressel has done a great job in Western Pennsylvania and that has helped with Rippy who appears to have a top three of the Bucks, Florida, and Pittsburgh. Not many people have talked about Rippy of late but everything I've heard the kid say so far is positive. I think in the end the staff will cool in him as theres just too much in state talent and by a great position need, but keep an eye out to see how this plays out.
LB James Ross, Orchard Lake (MI) St. Mary Prep, 6-1/215
I think this comes down to OSU, Michigan, and Michigan State and right now the latter two are favorites. I put Ross on the list because he seems to have a very genuine interest in the Buckeyes and his personality and style of play give him re pedigree to be the next great Ohio State middle linebacker. Not sure where this goes but an spring game or summer visit would be a great next step.
S Jordan Diggs, Fort Meyers (FL) Bishop Verot, 6-1/185
Out of all the Floridians with offers, the staff's best shot is with Diggs. Early attention has paid off here and it seems that the Bucks may even be in the drivers seat. Pay attention to what he does regarding visits. An official is a good sign, but a "on his own dime" trip may sign, seal, and deliver.
DB Devan Bogard, Cleveland Glenville, 6-1/175
The Glenville pipeline has to keep flowing and Boggard fills a great need at safety. The kid has offers from schools nationally and will probably take all five of his official visits, but OSU is where he wants to be and where be where he'll end up after playing the annual Glenville game.