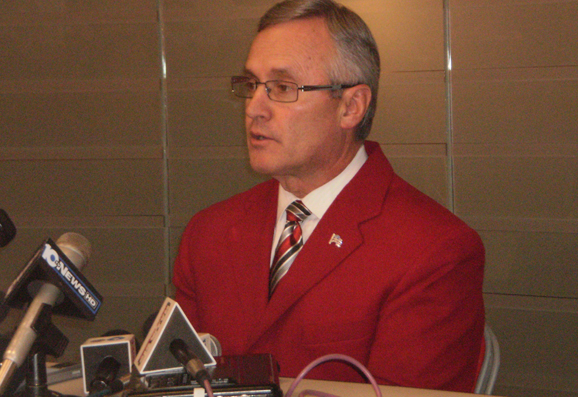 Per an anonymous source's account to Charles Robinson and Dan Wetzel, Ohio State coach Jim Tressel knew about Ohio State players' reallocation of memorabalia some eight months before he and the university professed he did back in December:
According to a source, a concerned party reached out to Tressel last April, alerting the coach that memorabilia transactions had taken place between Rife and a handful of Buckeyes players, including Pryor. The selling of items violates NCAA eligibility rules. The source said Tressel was troubled by the information, and the coach indicated that he would investigate the matter and take appropriate action.

Whether the coach initiated an investigation of the accusation is unclear, but all five players remained on the field in the coming months, playing out the 2010 regular season.
Smoke? Fire? Kirk Herbstreit owns a phone, no? While much remains to be seen whether this will materialize into anything substantive, we remain a long way from that point with but one faceless source attached to a rather bold claim and the NCAA's burden of proof and likely much digging still necessary before we're looking at a Bruce Pearl sort of scenario.