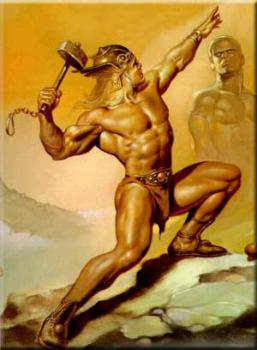 Good morning and welcome to your Thursday Skull Session. Thursday, of course, is actually Thor's Day, and like that torrentially ticked off teuton, it often hits like a hammer. It's been rainy all week, so make sure your sacrifices are especially bloody today. Wouldn't want to be struck down by a stray lightening bolt, after all.
Anyway, Wednesday was a pretty busy day in Buckeye-land. Spring football officially kicked off with a 1pm press conference during which Tressel proceeded to break down every single position on the team, from long snapper to quarterback to fluffer. Like any good politician, Tressel has the whole "deflection" process down to a science. Still, as much as the press hungers for more scandal-meat, the emphasis was and should be on the kids. There will be plenty of time to focus on the adults and their petty garbage over the summer. 
Hope in the form of Big Macs and 18-year-old kids. The McDonald's All-American Game was at 10pm last night, and it featured a future Buckeye on each side of the court. I heartily approve of this. While we weren't able to infiltrate the Kentucky bench, at least we could ensure a Buckeye win in the Battle for the Egg McMuffins. Shannon Scott and the East team ended up beating Amir Williams and the West team by an impressive 15 points, but either way Ohio State gets the victory. The 2011 recruiting class brings in a diverse group that should provide depth at every position, and as Williams and Scott demonstrate, it follows in the solid tradition of Matta's previous classes.
It's (Un) Official. Here is a scan of the official Spring Football Roster, complete with the usual plethora of Communications majors. Mucho kudos to Roderick Smith, who is apparantly pursuing 12 simultaneous degrees while fulfilling his "Humanities" major. 
 The kids are staying close to home. Darrell Hazell's first spring practice as a Kent State Golden Flash was Tuesday morning, and though he claims he was too nervous to sleep, I have no doubt he put The Fear into his guys. It's always nice when guys groomed at Ohio State step up to bat at their own program, and Darrell Hazell has earned it. He, along with Fickell, is considered a possible future successor to Tressel, and a spell at the head of a DI program is exactly the kind of experience necessary to prepare for that role. Urban Meyer notwithstanding, it's definitely good to know that if the worst comes, there are plenty of great candidates out there itching for a chance to lead the Scarlet and Gray. 
While Mark Snyder's brief foray at Marshall didn't go so well, Mark Dantonio has turned MSU into the top program in the state. While Kent is obviously not Michigan State, it'll be fun to watch how they do in the next few seasons.
Meanwhile, in Bizarrohio. . . I've always thought of Indiana as Ohio's less socially-adjusted cousin. They're almost identical demographically, and both are considered political bellweathers, yet Indiana is always slightly worse at pretty much everything. In that vein, while Thad Matta (whose reputation was originally that of a mercenary nomad who hopped from job to job) is firmly entrenched as the Ohio State head coach, Matt Painter of Purdue (a Boilermaker alum who has built the program into the best in a basketball-obsessed state) was reportedly ready to jump shimp for Mizzou, of all places. 
ESPN's Eamonn Brennan writes that Painter threatened to walk because the Purdue athletic department wasn't as committed to success as he felt they should have been:
Sure, his base salary of $1.3 million was the eighth-highest in the Big Ten this season. . . More than anything, though, Painter's decision to listen long and hard to Missouri's offer had to do with money outside his salary. Keady, the defining coach of Purdue hoops history, told the Indianapolis Star that Painter wanted to know that the Purdue athletic department was financially committed to national title aspirations, that he could have "the opportunity to win a national title with the backing of everyone," that "if an assistant coach needs a car, he can get it." Keady's comments created a perception that Purdue's athletic department frequently nickel-and-dimed the coach on minor issues, and it didn't take long for Mizzou to see that weakness and attempt to exploit it.  
It's nice to know that Thad Matta won't have to hold himself hostage to get the support he needs. 
Who knew Peanuts was so profound. Like Garfield Minus Garfield, sometimes you gain by subtraction.