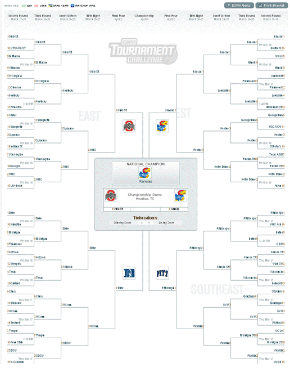 Happy St. Patrick's Day and a good morning to all you 11W readers across the world. You should all be in a great mood today, as the greatest weekend of the year is finally here. March Madness unofficially officially kicks off today starting at 12:15 PM when West Virginia and Clemson square off, followed by a slew of jam-packed, exciting action throughout the day. This year's coverage should be better than ever, as Turner Sports and CBS have teamed up for the next decade and a half to bring you every single game live on TV through CBS, TNT, TBS, and truTV. If you weren't one of those fortunate to be able to take the next two days off, fear not, as you can catch all the action live on your computer with the MMOD Live Player, which even features a "boss button" in case your higher-ups walk by. 
The Buckeyes won't kick off their tournament until tomorrow, so make sure you take in all you can today before you start focusing in on the road to Houston. Some games for today's slate that I think will turn out to be real barn burners include Butler and Old Dominion, Louisville and Morehead State (don't sleep on Phil Simms trying to punch Rick Pitino), Temple and Penn State, Richmond and Vanderbilt, Wisconsin and Belmont, Cincinnati and Missouri, St. John's and Gonzaga, and Michigan State and UCLA. Basically, unless it's a 1-16 or 2-15 game, you should be tuning in, as there are sure to be buzzer beaters, upsets, and more in "round two" of the NCAA Tournament.
"Experts" have their say. While we all think we're bracket experts, there are actually people considered "college basketball experts" that apparently have opinions on how this year's bracket will play out. The SI.com experts make their picks here with five out of the six putting OSU in Houston, and four out of the six having the Buckeyes winning it all. Seth Davis made a late switch from OSU to Kansas, and Stewart Mandel was the lone wolf putting Kentucky over OSU in the Final Four, taking the Jayhawks to win as well (we never liked you anyway Stewart). ESPN's Bracketologist, Joe Lunardi, has outlined his bracket, and has a Final Four of OSU, Duke, Kansas, and Pittsburgh, with the Jayhawks winning it all. He must have taken some notes from President Obama, who has the same last four and Kansas taking home the crown as well. Looks like Kansas and OSU is the consensus among most. I don't like that match up one bit, but to be the best, you got to beat the best right?
Buckeyes making the jump. If you missed our coverage and videos posted from OSU's Pro Day last week, you should check them out now. Jermale Hines was one of the plpayers who participated in the event and has the eyes of scouts at both safety and linebacker. Playing the STAR position at OSU for most of his career, Hines is a hybrid type player and at 6-1/220 has the speed and instincts needed to be a strong safety, as well as the strength and body size to play linebacker at the next level. Another player who you wouldn't think could be a hrbyid linebacker/safety, but is being asked to is Brian Rolle. Rolle is a bit small (5-10/229) for many, but that hasn't stopped him while at OSU. It apparently hasn't stopped teams from looking at him either, as both he and Ross Homan worked out for the Eagles on Monday. Other than Cam Heyward, there are no Buckeyes likely going to be picked that high in this draft, but I think this OSU class may be extremely underrated and I expect them to perform well as a whole at the next level.
Sully getting the goods. In case you missed it, Jared Sullinger was named Freshman of the Year by the US Basketball Writer's Association and was also the first freshman ever to be named a first team All-American by the group. More is sure to come for the young Buckeye, who many feel will return to school next year. Sullinger is likely to be named Freshman of the Year by all media outlets, and while he likely won't win the Naismith Award as the nation's best player, he will likely be an All-American choice across the board. "Deah Sully" is going to be in a tough spot at season's end, facing a decision of being a top 3 pick in the NBA draft or coming back for his sophomore year to the school he loves. I sure know that would kill me inside, as it's really hard to turn away all that guarenteed dough. Of course, the expiring CBA could cause a lock out, making it a non-choice for the OSU big man, but if you were in his shoes, what would you do?
PAC 12 in the house. Unlike the Big Ten, the new Pac12 has decided to unveil a logo that does the conference proud. I still don't get how Jim Delany couldn't have done better with all the time he had to get a sweet logo designed, and that's not even mentioning those dreadful division names. The good news is that a logo doesn't make you play better or worse on the field, although the addition of Utah (and maybe Colorado one day down the road) will definitely help strengthen a conference that was a bit down this year, sans Stanford and Oregon. What do you think about the Pac12 logo?
Rivalry Problems. For a few years now, the Big Ten has tried to build a rivalry between Penn State and Michigan State, including having the two teams clash on "rivalry weekend" in November every year. While the plan hasn't worked, apparently the schools are in synch on one thing: delaing with on-going issues that become distractions. Michigan State's latest troubles a few more players getting arrested over last weekend. LB Max Bullough and TE Brian Linthicum after trying to elude police at 1 AM following what appears to be events leading to a underage possession of alcohol charge and a misdemeanor assault charge respectively. As for Penn State, the Rob Bolden saga, which appeared to be over, continues. Bolden apparently will go through spring practice with the Nittany Lions, but isn't throwing out the idea of bolting Happy Valley just yet. Hey it could be worse----at least they don't have six players and a head coach suspended for the beginning of next season, right?
 Big Ten Bits. Brady Hoke is toughening up that school up North. Wisconsin landed their first commitment of 2012 in Illinois DL Dan Voltz. Iowa lost a lot in the trenches, but here is a look at replacing Adrian Clayborn and company. Penn State has a quarterback battle heating up this spring. Nebraska running backs look to get tougher as they enter the Big Ten. Jerry Kill is trying to generate some excitement amongst fans by opening spring practice to everyone. Finally Spiel's take on Chris Cicero's emails to Jim Tressel.