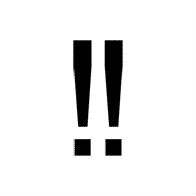 Wow. The past 48 hours have been absolutely nuts for anyone who has ties to Ohio State University. Tressgate, Tresselmania, !!, or whatever you are choosing to call this whole mess has certainly been overwhelming and the end just doesn't seem near. 
While we'd all love to sweep this under the rug and move on with our lives after both The Vest and the players involved in Tatgate serve their penalties, I fear this is something we will have to battle the entire season. The good news is that the program seems to be doing strong and what transpired in December appears to have only brought the team closer and prepared the players for any adversity they face as major college football stars.
I'd like to try and stray away from the negativity as much as possible in today's Skull Session, but before we dive into some more happy things, I just want to use my first few Block O's to share a couple things that have been floating around my mind and to catch you up on what has been written by the mainstream media on this issue. Having dealt with the MoC saga, Troy Smith getting improper benefits, Tatgate, and now !!, we as Buckeye fans have seen some bad things happen in regards to compliance over the last decade to go along with the complete domination on the field. There have also been many other rumors surrounding the program (see: our friend Tab) that have proven to be false, but the common trend when something like this comes out is that fans go in to an all-out panic. 
Fear not, Buckeye fans, as success and scandal is sure to come again in the future. I stand here before you today and kick off your Thursday morning with the solution on how to approach a situation when the Bad News Bears come calling. Check it out after the jump.
Dealing with it. I have come up with a six step solution on how to deal with things like the Tressel scandal when they first rise to the surface and it goes like this:
The first thing when you hear about something like this is to take a "wait and see" approach. Panicking/assuming the worst or, on the contrary, dismissing the rumor in it's entirety are not the way to go. Sit back, relax, and let the facts come to fruition.
Hear the news break and the story released, but continue to hold back from a knee-jerk reaction. Many times "further details" of the story will emerge and you want to get the entire story (well as much as you can get) before formulating your opinion.
Soak everything in once you gather the pieces to the puzzle and formulate your own opinion. This is extremely important as many people rush to just believe what is said by writers or TV personalities of major media outlets, such as ESPN. Take the facts and make your own judgment on the situation rather than letting people influence that decision.
Stay away from those major media outlets, especially ESPN. The worst thing you can do is read all the stories that were written for the sole purpose of creating debate. Well, maybe that's the second worst thing you can do, as one-upping that would be reading the comments from trolls of other fan bases that are bashing your school in that same article. Reading these materials will only make you more angry and not help the disappointment you're feeling.
Stay away from firing back at extreme fans from your own fan base. We all know every time something like this happens that fans of your team will either bash the accused party to no avail or defend them until they die trying to protect the guilty. While you're opinion may lie in either one of these territories, try not to stir up argument, as this will only make things worse.
Finally, take it for what it is. Stuff like this is no fun for you when it happens, but being realistic and having a good grasp on reality is the best approach at the end of the day. In the end, stick by your team through thick and thin, as putting the blame on others or turning your back and running when things get bad are not the answer (looking at you Mr. Carroll). 
I have finished going through all six steps of this process and if you want to see how it turned out for me, here is my take on the Tressel situation in an email response back to a close friend who wanted to know what I thought (and of course went to Michigan):
I know Coach Tressel personally from taking his class and being in the media the last few years and spending time with him through those events. The guy wrote me a letter of recommendation for grad school, so I will preface this with the fact that I think he is a high class citizen and a great guy.

That being he said what he did was wrong. If you read the emails and sift through the Senatorial comments he made last night, basically he knew about this but wasn't going to speak up in hopes this got swept under the rug and never picked up by the NCAA. I can't say I wouldn't do the same if 5 of my starters were facing substantial suspension and I knew there was a good chance nothing would come of this, or the fact that I had previous knowledge of the situation. He made a mistake and in retrospect I'm sure he wishes he went right to the AD or OSU legal counsel with this situation back in April-May.

I cannot stand the people who are calling this guy's character out. He is a great coach on and off the field and has given part of his salary to help build the new library and other buildings on campus, as well as year after year donated hundreds of thousands of dollars to the OSU Cancer Hospital. He is human. This mistake hurts a lot, but that should not affect anyone's view of who Jim Tressel is.

As for his reasoning last night I think he told a half-truth. I'm sure the confidentiality between the lawyer and the federal investigation were definitely reasons not to speak up, but as you said he blatantly knew his guys broke the rules and kept mum on it. He then signed an NCAA waiver on September 13 stating he had reported all violations he knew of. This tells me he either a) thought the players weren't going to get in trouble for this or b) he thought he would never get caught in having knowledge of this situation. He was clearly wrong in taking that chance and holding back tears last night. I think behind the Vest and Senator persona he put on, you can tell he was embarrassed and knew in his heart he should have went right to the AD to investigate this matter when he first heard of it instead of trying to protect his players from NCAA suspension and potentially a National Championship season.

I don't think the school deserves punishment here. I think if anything you can add a game or two to his suspension or bar him from spring practice and fall camp/practices (basically all football activity on the field until the suspension is over). I think you can also take away some of his in-home recruiting visits. I'm not sure adding all that plus more games is fair, but I would be fine with one or the other. He broke the rules and must pay the consequence, regardless of whether I want him to or not. Remember though, the two games and fine, etc. were just OSU's recommendation so the NCAA could go further. Obviously OSU isn't going to go over the top with their recommendation because if they can get away with this punishment, they'll certainly take it. I wouldn't complain if they made it 5 games like the players received, but I don't think they will. Keep in mind this very important part: unlike Bruce Pearl who lied about violations HE committed (recruiting), Tressel kept quiet/lied of having knowledge about violations OTHERS committed. I think those two things are VERY different.

In sum, I think what OSU proposed is pretty fair, but as I said, a game or two more or some of the other sanctions wouldn't be opposed by me. I think it's ridiculous the way people are attacking this man and his character after 20-something years in coaching and a track record that shows how great of a person he is. I understand how mainstream media works in a situation like this, but where are the articles saying that this man made one big mistake and that shouldn't tarnish the way you think of him? I know it hasn't for me as disappointed as I am that this happened.
The Outsiders. In case you missed it, here are some articles from "people on the outside". In case you wanted to know, these are the articles I pay no attention to. Among these are Stewart Mandel from SI, Bruce Feldman for ESPN Insider, Mark Schlabach from ESPN, Dennis Dodd from CBS, David Whitley from The Sporting News, and Mike Lopresti from USA Today. To summarize for you, they basically all bash OSU for the way this was handled and say Tress is full of a pile of Rich Rod. Surprisingly, one article clearly written for some arguments that comes from The Lantern, says Tressel should be fired. The Lantern belongs in the "Insiders" group below, but this piece of writing can go along with the junk I don't read. 
The Insiders. And now for some writers that I respect and actually want to read. Part of the Buckeye family with opinions on this matter are Dave Biddle of Bucknuts (my favortie piece and well worth the subscription), Ken Gordon, Bob Hunter, and Rob Oller of The Dispatch, Doug Lesmerises of The Plain Dealer, The good side of The Lantern, Jim Naveau of Lima Ohio, Mark Podolski and Jim Ingraham of the News Herald, Fox Sports Ohio, and Bob Knight via Tony Gerdeman. Enjoy as most of these guys are closest to the situation on a daily basis.
 Love and Basketball. Did you forget about that sport called basketball? It sure seems like a lot of people did, but remember that today marks the start of the Big Ten Tournament. The first five teams in the conference get byes and won't play until tomorrow, but squaring up today will be Minnesota and Northwestern, Iowa and Michigan State, and Penn State and Indiana. I am going to take the Wildcats, Sparty, and the Nittany Lions as my picks, although I should be careful what I wish for as NU could pose to be a problem for OSU in round two. Who do you have for tomorrow and who would you rather the Bucks play Friday-Northwestern or Minnesota? Chris will be in attendance all weekend, so if you're going to Indy, give him a shout. 
Buckeye Bits. You can help David Lighty catch up in the Lowe's CLASS Award voting here. OSU freshman Josh Dezse became the first two-time winner of the Big Ten Freshman of the Week award for baseball. Former Buckeye Jeff See recently won the men's USA Indoor Mile title. The men's fencing team took home the gold once again at the MFC Championships. 10 members of the field hockey team were honored as members of the NFHCA National Academic Team. Shawn Kaplan of the lacrosse team was named ECAC rookie of the week. Finally, some more Athletics Good Stuff from this week.