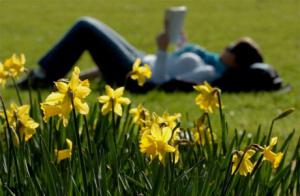 Buckeye fans spent most of March dodging firebombs and chugging pepto bismol like a frat-bro on his first natty light. While we had the success of the Basketball team to distract us for most of the month, that went unceremoniously out the window once Buford clanged a 3 with no time left. It wasn't his fault. The whole team left them in that position by playing down the whole game. Nevertheless, with Basketball season officially over for Ohio State, it's finally time to start focusing on what really matters: studying for the LSAT. (Also football) Spring ball is set to get underway, complete with stuffy noses, itchy eyes, and fluff pieces on ESPN.
The football season really starts in April, when the seniors have played there last game and all of the redshirts and underclassmen get another chance to show the coaches what they can do. While the Spring Game is largely a show for the fans, spring ball is extremely important in setting the tone for the involuntary voluntary workouts during the summer, and the momentum a player generates with a good showing early in the year can carry forward into fall. 
Of course, every year there seems to be a couple players who impress the hell out of everyone in April, only to dissappear off the map by September. Taurian Washington was the standard bearer for the Spring Warrior the last few years, barely seeing the field despite very impressive performances early in the year, and copious praise from the coaching staff. So who is the real deal, and who is a flash in the pan? Who knows? But here are the areas to keep an eye on over the next month.
The offense
Were it not for The Event, the offense would be returning almost entirely intact. We lose 3 1/2 starters; 2 lineman, a wideout, and a co-starter at halfback. Unfortunately, for the first part of the season we'll be watching an almost entirely new offense.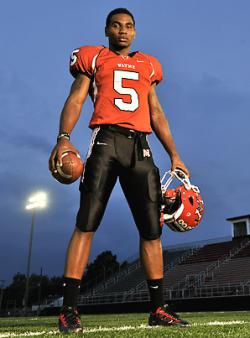 Quarterback
Terrelle Pryor has had a controversial career and is constantly criticized for failing to live up to expectations. Of course, when those expectations involve winning three heismans while bringing peace in Israel, it's hard to blame him for that. That said, his off-the-field conduct has put Ohio State in a serious bind. Rather than a grizzled 3-year veteran with defensive end size and wide-receiver speed, we'll have to choose from one of the four backups.
In keeping with Ohio State tradition, we have two slow, white QBs with howitzer arms, and two swift, black QBs who can keep the play alive. Kenny Guiton and Taylor Graham are likely not in the running for the starting job, despite Guiton's impressive display last spring (see Taurian Washington-syndrome). The real Zwick-Smith/Boeckman-Pryor battle will feature wunderkind Braxton Miller and veteran Joe Bauserman. 
I'm sure we're all well aquainted with Bauserman, the football team's 4th quarter hand-off expert. If Bauserman gets the nod, it's because Bollman isn't comfortable giving the reins to a true freshman (see Boeckman in 2008). Miller is a speedy, tall, smart kid with a rocket arm. He was injured during his senior year, but he was widely recognized as the top dual-threat quarterback in the country. Braxton entered school early this year and will be practicing with the team this spring.
Braxton Miller is taller, faster, and has far more upside passing the ball. If Bollman goes with Bauserman, it will be out of an excess of caution. Even with all of the suspensions, we should be favored in every matchup except possibly Nebraska. Whether Miller or Bauserman gets the start will tell us whether the staff is going for broke, or just trying to keep their heads above water.
Offensive Line
No unit on offense sees more attrition than the Oline, but that's probably because the Oline makes up half the team on the field. In any case, for the first five games, at least, the line will be breaking in three new starters. Justin Boren takes his mean mug and deliciously double-crossing dalliance to the NFL along with fellow hopeful Bryant Browning. Mike Adams, the perennial underachiever who finally broke through over the second half of last year, sits out with the rest of the Tat-5. 
Taken together, this makes the O-line the shallowest group on offense. While 2010 saw an embarassment of riches jockeying for playing time up front, with no less than eight Rivals 4/5 star players and thirteen total linemen, this season sees only nine lineman on the roster (including longsnappers). Luckily, most of those eight 4/5 stars remain a part of the nine linemen this season. Of the two returning starters, Brewster, as we all know, is possibly the best center in the nation, while J.B. Schugarts has been solid-if-unspectacular at RT. Adams, when he returns, will look to continue to develop as a dominating presence on the money-side.
The two question marks are at the guard spots, with Adams' backup at tackle likely transitioning to guard when the big man comes back. The two most likely candidates for those spots are Andrew Norwell and Marcus Hall. Both players were supposed to back J.B. Schugarts at RT, with Marcus Hall looking like he might even press Schugarts or Adams for time. Unfortunately, academics threw a curveball at his no-doubt massive head, so he'll be spending this spring getting back in football form. Thus, Norwell is the most likely candidate to spell Adams through Nebraska, and he's a shoe-in for the RG spot once Adams comes back. 
This spring, pay attention to the battle at LT, because if Hall wins the job, we could be looking at an even better line this year than last. Keep an eye on Corey Linsley and Jack Mewhort as well, while they jockey for the other starting guard position.
Receivers
As thin as we are on the offensive line, at least they'll have a couple veterans to help along the newbies. With "The Great" Dane Sanzenbacher scrapping and moxying his way to the NFL and Devier Posey sporting a few ill-gotten tattoos, the wide receiver position will be completely new for the first five weeks of the season. Unfortunately, our offense last year rarely utilized a third option at wide-receiver, so the backups didn't get nearly as much experience as they would have in previous years.
Luckily, the backups are overflowing with talent. Corey Brown and Chris Fields didn't get much thrown their way, hauling in a collective 10 catches for 105 yards and 1 touchdown, but they showed loads of potential last spring and there's little doubt that they will get the starting nods. One interesting possibility at wide receiver lies in Ty Williams, a redshirt freshman from Cleveland variously listed at 6'5" or 6'7". With a plethora of speedy wideouts at their disposal, the Buckeyes could look to Ty to provide a threat to come down with the jump ball. While it won't necessarily be noticable from the couch, the biggest story may be how new WR Coach Stan Drayton adjusts to the job.
As for the tight ends, not much will change. Stoneburner will occupy the Dallas Clarke role of receiver tight end while Fregel will be used primarily in blocking situations.
Runningbacks
If there's one name that Buckeye fans have been whispering to each other in rapturous glee over, it's been Jamaal Berry. He averaged 8.3 yards per carry in limited action last season, and with Saine graduated, Berry should slide comfortably into the role of the change-of-pace. What will be interesting to watch is the dynamic that develops between Jordan Hall, the scatback, Jamaal Berry, the burner, and Rod Smith, the bruiser. Dick Tressel has an embarassment of riches at his disposal, and if there's any position that will pick up right where 2010 left off, it will be runningback.
We all know Berry and Hall, but Rod Smith is an unknown quanitity. He redshirted last season, but he brings a 6'3" frame and speed to match. He's been compared, physically, to Chris Wells and Eddie George, but he's bigger than both. The question is whether his tall frame prevents him from getting the leverage necessary to push the pile at the college level. We'll get to find out this spring.
Defense
The defense has been positively gutted by graduation, unlike the offense. However, also unlike the offense, the defense was largely spared the hammer. So while the prevailing storylines on the offensive side involve which players will fill the gap until the starters come back online, the defense has serious position battles all over the place.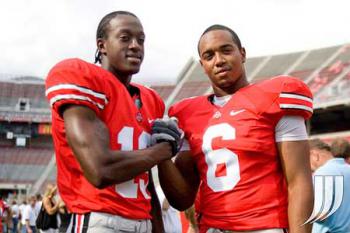 Defensive Line
You don't just replace Cameron Heyward. You especially don't replace Cameron Heyward when you get dinged by the NCAA for violations, like Solomon Thomas. Largely a ghost for 12 games, he exploded on everyone's radar with a game-sealing interception off of the zone-blitz. Sadly, he won't get the chance to build on that performance, and his presumed starting spot is still in serious jeopardy.
Modern-day Atlas John Simon and DE-LB tweener Nathan Williams will lock down their starting spots, respectively. The other tackle spot, vacated by Dexter Larimore, and Heywards old position will be Garret Goebel and Melvin Fellows' to lose. But it will be a close competition, and with the myriad young guns waiting for a shot, don't be surprised if someone you've never heard of gets the nod in September.
Linebackers
There are few schools that so readily reload star after star at a position than Ohio State at linebacker. Ross Homan and Brian Rolle graduate, but not even the runningbacks can compare to the depth at linebacker. The two most recognizable names might be Etienne Sabino and Dorian Bell, two uber-recruits that have been patiently waiting their turns. While Andrew Sweat will likely keep his current starting position, these two both boast blazing speed and plenty of hype. Not to be forgotten, Storm Klein played sporadically, but ably last season and will certainly be in the mix as well.
The only certainty at linebacker is that the corps will get bigger. Rolle was 5'11" and 220lbs, while Homan was 6'0" and 225, likely the smallest Buckeye linebacking duo in quite a long time. By contrast, Sabino is 6'3" and 240lbs, Storm Klein is 6'2" and 230lbs, and Dorian Bell is roughly Homan's size. If nothing else, our linebackers will look a lot scarier.
Secondary
The secondary is the biggest question mark on the team. Almost every position has holes. The only returning starter is safety Orhian Johnson, who had a relatively quiet season. C.J. Barnett started at safety for the first half of the season before being injured against Miami, so he's the likely starter up top next year too. However, this spring could see a position battle between him and Jamie Wood, the back up last year, or even between Barnett and Johnson. Don't be surprised if the safety spots remain relatively fluid until the season starts.
At corner, the departure of standbys Chimdi Chekwa and Devon Torrence opens the door for the teeing masses. Christian Bryant, Corey Brown, Travis Howard, and even transfer Dionte Allen will all be fighting for a spot. Bryant has the advantage of playing time at the Corner/Linebacker-hybrid Star position, and could end up there again next season, but the outside corners far more important and the staff could move him outside if they feel he's the best available possibility. Corner has also been a spot that the coaching staff has been willing to play freshmen at pretty regularly. Like Defensive End, it's possible that a relative unknown could swoop in and snag a starting position.