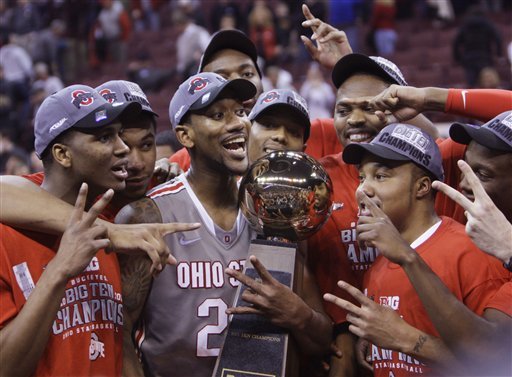 Guten Morgen fellow Buckeyes, and welcome to your Friday Skull Session. Around here, at least, there's been a harsh return of winter after a false spring at the end of February. Troll weather is getting all metaphorical on Buckeye nation. So with Libya descending into violence, our Senator mired in scandal, and snow falling in March, I (un)officially dub this the worst week of the year. That said, let's not forget the week started with the Epic Victory on Sunday, and March Madness is beginning in earnest very soon. I'm more than ready for the Basketball Buckeyes to resume dominating the headlines. 
Conference Tournament News. Several big games in the conference tournaments last night. In the Big East, Pitt may have cost themselves a 1-seed after falling to UCONN in the opening round, offering Notre Dame a chance to swoop into the pole position after their devastating victory over Cincinnati. San Diego State and BYU both won their first games in the MWC tournament, but they'll have to go through each other to win the conference tournament and even then a 1-seed may be out of reach. Kansas squeaked by Oklahoma State, but in all likelihood the Jayhawks share a guaranteed 1-seed with Ohio State. 
Tomorrow figures to be even bigger. Our own Buckeyes face off against Northwestern in what looks to be a tune-up to the bigger games ahead. Both Duke and UNC kickoff their tournament bids in what looks to a race for a 1-seed. Duke needs UNC to lose in order to lock down a 1-seed, while UNC needs to win the ACC tournament to stand a chance of their own 1-seed. If both win out, the last Duke-UNC game of the season could be the biggest one as well. 
The Big East are basically the squatting hippies of college basketball, looking at sending 11 teams to the tournament, almost 1 in 6 teams and almost 70% of the conference. The Big Ten bubble is a mess, with 4 teams of comparable records all jockeying for position. Illinois seems pretty secure. Michigan State, Michigan, and Penn State don't look so secure. Penn State and Michigan State have worse records but tougher schedules than Michigan, while Michigan holds the head-to-heads with MSU. Of the three, Michigan holds the easiest path to the tournament, but all 3 could concievably make the tournament if they all upset their 1st round opponents. 
Head Coach Luke Fickell? The Dispatch reports that Luke Fickell is the favorite to replace Tressel during his two day suspension this fall. If so, it would be a rather surprising elevation. Conventional wisdom had Heacock, a veteran assistant with 16 years at Ohio State, as the likely substitute. He has long been considered a sort of heir-apparant to Tressel, and if this is true, it would only feed those rumors. With Darrell Hazell at Kent State, Fickell becomes "The Man" the look for in the future. 
 Other Tressel Chatter I'm still in sit and see mode, but here is the best analogy I could think of to describe the situation: It's as if you used the office petty cash to buy something for yourself. Then, in order to cover up said minor misdemeanor, you falsified documents to cover your tracks, thereby commiting a felony. Instead of owning up to the relatively minor original offense, you made the situation 100 times worse by trying to hide it. Anyway, Ivan Maisel over at ESPN offers his commentary, while Mark Schlabach says the university considered tougher penalties. Over at Yahoo! Sports, Jason King dredges up the original scandal and bemoans a double standard that I'm not sure is even illustrated by his example. This is going to be around for awhile, and may get worse before it gets better. In the sage words of Samuel L. Jackson: Hold on to your butts. Also this.