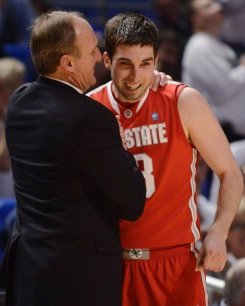 Jon Diebler drained his first triple, missed the 2nd then caught fire connecting on nine straight, pouring in a career high 30 points as the Buckeyes clinched at least a share of the B1G regular season conference title by routing Penn State 82-61 tonight in Happy Valley.
Diebs had plenty of help as William Buford got going early and often scoring 21 on 9/14 shooting. Jared Sullinger added a 10 point, 10 rebound dub-dub as the Buckeyes moved to 28-2 overall and 15-2 in league play.
How sick were Diebs and the WB? Sick enough to outscore the entire Penn State team 48-47 through the first 35+ minutes of the game as Diebler's 9th trey of the evening put OSU in front 71-47 with 4:33 left in regulation.
Buford was the man early as OSU used an 18-4 spurt to turn a 9-8 lead into a 27-12 bulge just before the under 4 TV timeout. Buford unleashed his full repetoire flashing two post up bank shots, a controlled baseline leaner, a nifty dish to Sullinger form the top of the key for a layup, a breakaway dunk off a steal, and a deep jumper from the right wing off a shot fake.
His night was still overshadowed by the Diebler Show as the spot up shooter drained 5/6 treys in the 1st half. In one textbook sequence that surely gave Matta a chub, Aaron Craft stole a backdoor pass with a fundamentally dreamy left arm denial of the passing lane before racing up court and finding a wide open Diebler for three from the left wing.
Craft's effort was a microcosm of Ohio State's suffocating defensive effort in the opening 20 minutes. A focused team defense that was shredded at times in the previous contest held Penn State to just six field goals (6/23) and 26% from the floor overall. The Buckeyes also swarmed the boards recording a 20-8 edge putting a damper on senior night in State College.
Meanwhile, with WB and Diebs combining for 25 points on 10/14 from the floor with five dimes, the Buckeyes used 50% shooting to build a 33-18 lead at intermission.
The 2nd half was nothing more than a carryover as Craft stroked a triple and converted a layup in traffic before Diebler splashed two more triples, one of the I'm-on-freaking-fire-step-back variety, to cap a 13-5 blitz that pushed the cushion to 51-27 with 14:42 left in the surgical exhibition.
The game began to take on an open gym feel after that with even the PSU faithful getting into Diebler's magical night. After a Lighty tip-in and back to back midrange strokes from Buford, Diebler took a feed from WB on the break and splashed his 8th trey of the evening from the left wing giving the Buckeyes a 60-35 lead with 10:18 remaining.
With the game well beyond out of hound, Diebs connected for trey #9 with 4:33 to play and, finally, with 2:39 left Diebler bottomed his school record 10th trey of the game off a feed from Jordan Sibert putting OSU on top 77-52. Diebler's 10 treys also tied the conference record.
Led by the 19/26 combined shooting performance from Buford and Diebler, the Buckeyes shot a flammable 55% for the game and 60% in the 2nd half (18/30). Ohio State also owned the boards 31-18 including a 10-5 edge on the offensive glass.
Craft stuffed the stat sheet with five points, six assists and five steals while Lighty chipped in six points, four boards and four assists. Deshaun Thomas came back to earth but played decently with six points (2/5) and five boards in 18 minutes.
Talor Battle led Penn State with 18 points and David Jackson added 12.
The win clinched OSU's 4th regular season conference crown in the last six seasons with a chance to own the title outright Sunday in the grudge match against Moe Sizlack's Bo Ryan's Badgers.