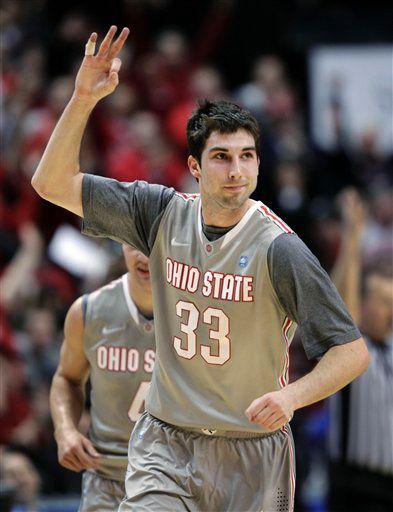 Ohio State used a 14-4 run stretched across the end of the 1st half and beginning of the 2nd to take a 36-25 lead and moments later an 8-0 spurt creating a 46-29 edge with 13:09 left on the way to a 71-60 victory over Penn State to wrap up the B1G tournament championship. The win gives the Buckeyes a pair of conference titles in the last week.
William Buford led the way with 18 on a much improved 7/14 from the field, while Jared Sullinger added a 15/11 dub-dub and Jon Diebler tossed in 15.
Diebler was key during the 14-4 run splashing a triple at the halftime horn to make it 29-23 and draining another bomb to open the 2nd half.
The 8-0 run saw Buford and Aaron Craft drop in triples after two free throws from Sullinger.
The win secures the #1 overall seed in the NCAA Tournament and gives OSU three B1G Tourney titles ('07, '10, '11).
Ohio State shot 51% on the afternoon while holding the Lions to 39%. The defense also added eight swats with Dallas Lauderdale racking up three in limited minutes along with another three from Sully.
Sullinger takes home the tournament's Most Oustanding Player Award with Buford and Diebler joining him on the All-Tournament Team. Michael Thompson, Kalin Lucas and Talor Battle also received All-Tourney accolades.