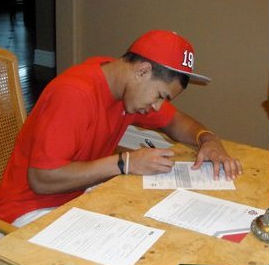 With the basketball Buckeyes' latest domination in the NCAA tournament completed, it's kind of a weird feeling that most of the focus in OSU land has been on the hoops team rather than the football team that usually hogs the headlines. Most likely, nobody is happier than Jim Tressel to have Thad Matta's squad pushing the Tat Gate scandal off the front page and the run to Houston in the limelight for at least the next 10-15 days. We are certainly giddy about basketball over here at the 11W headquarters, but as always we have the pigskin in the back of our minds, and were able to get in touch with another one of the fine gentlemen that will be calling Columbus home for the next four to five years.
Evan Spencer has become the next victim in our "Catching Up With" segments and it was pleasure in getting to know this second generation Buckeye better. As many of you already know, Evan is the son of former OSU player Tim Spencer, currently in his seventh season as the Chicago Bears' running backs coach. While dad knows how to get it done on the ground, son will be making it happen through the air and through a very stellar high school career at Vernon Hills, Evan has become one of the nation's top prep receivers.
At 6-3/205, Spencer has the size to make an immediate impact at the next level, and with DeVier Posey suspended for the first five games, it looks like the Bucks could use any help they can get at the receiver position. Having a father who played on a big time stage has allowed Evan to get a good perspective on the game, as well as expanded his football intelligence level way beyond that of the usual high school prospect. Couple the high football IQ with speed, athleticism, good hands, excellent body control, and toughness, and clearly a formula to success lies ahead for this budding star. In fact, if I had to make the call today, I'd say he reminds me a lot of a former Buckeye who also had an NFL coach as a father, none other than Brian Robiskie.
We were able to catch up with Evan to talk about how it feels to officially be a Buckeye, what it means to follow in the family footsteps, what he is doing to prepare for OSU, how he feels about the Stan Drayton hiring and basically anything else that doesn't have to do with Jim Tressel's current situation. Enjoy getting to know Spencer after the jump, as I'm sure you'll be just as excited as we are to be having such a fine young man join the Buckeye family.
Now that it's official, how does it feel to be a Buckeye?
It feels great to finally go go home. I can't wait to get on campus and get in the mix of things.
Have you gotten to know any of the other players in the class? Do you know who you're rooming with yet? When are you coming down to Columbus?
Yes, I have started to get to know some of the guys but not everyone yet. I know that I will be rooming with Devin Smith for sure, but I don't know about the other two. I will be in Columbus for the Spring Game, but I report the 19th of June to begin classes and move in.
What will you major in at OSU?
I'm not sure what I will major in yet. I might try to take classes in different areas to see what I truely like.
With Dane Sanzebacher gone to graduation and DeVier Posey suspended for the beginning of the season, there appears to be opportunity at WR for playing time. What have the coaches told you about your opportunity to play as a true frosh and what are you doing to prepare for that?
We haven't talked about playing time, but I know I will have to take care of business and get in the play book in order to play at all. I am running routes every other Friday with Johnny Knox, a wide receiver on the Bears, as well as with Davaris Daniels (son of NFL DE Phillip Daniels), my teammate that is going to play at Notre Dame.
Why did you choose to attend Ohio State? How big of an influence was your father and being a legacy at OSU?
I chose Ohio State because of the tradition, the love I had for the program, the coaches, and it was always my childhood dream. My dad was a big influence but he wanted me to have an open mind when I was in my decision making process.
What does it mean to you to get to play with Terrelle Pryor this year and then to get to play with Braxton Miller in the future?
It means a lot to get a chance to play with players of their caliber, and I can't wait to get on the field with them.
Darrell Hazell is gone but Stan Drayton is the new WR coach. Have you gotten to know Coach Drayton at all? What is your opinion of him becoming your new position coach?
Yes, I have gotten to know coach Drayton. He called me a little after he got the job and we got to know each other a little and have remained in contact since then. I am excited to have a chance to be taught by him and develop myself as a receiver, as well as to get to know him better as a person.
What are you looking forward to most about OSU other than football?
Getting to know all of the other guys that are coming in with my class.
What do you feel are your greatest strengths? What do you feel you need to work on before you get to OSU?
I feel my greatest strengths are catching the football and my route running abilities. I think the thing I will need to to focus the most of my attention on is learning the offense.
If you can tell Buckeye Nation one thing, what would it be?
WE ARE GOING TO THE SHIP!!!!!!!!
HIGHLIGHTS